Tribe sets MLB single-season strikeout record
Staff has fanned 1,431 batters in 2014, setting a new mark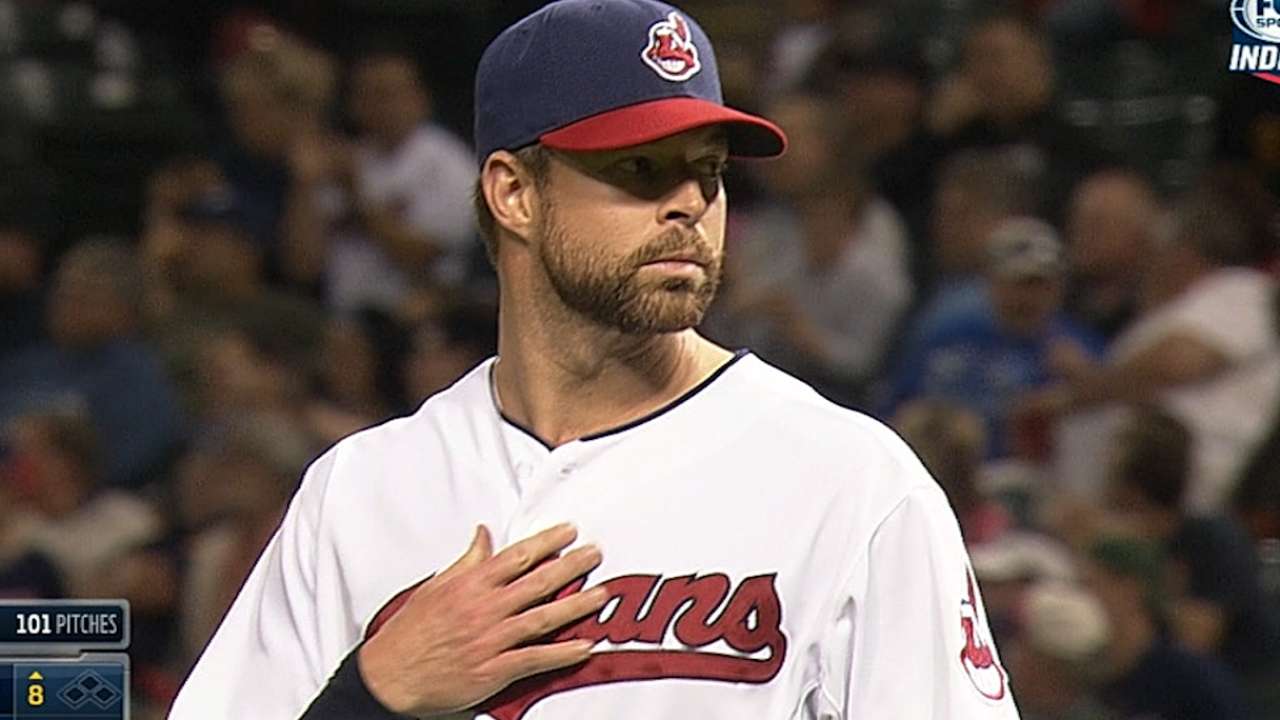 CLEVELAND -- Corey Kluber unleashed his signature sinker in the eighth inning on Friday night and pushed the Indians to a Major League record.
When Tampa Bay's David DeJesus swung through the 95-mph two-seamer from Cleveland's Cy Young Award candidate, the Tribe established a benchmark for team strikeouts in a single season. The Indians ended Friday's 1-0 victory with a dozen punchouts, giving their pitching staff 1,431 on the year.
"It says we've got good pitchers on our staff," Kluber said. "I guess that record probably speaks volumes for what kind of stuff we have as a staff. There are times throughout the year when we probably didn't pitch up to our capabilities, but I think that's a reflection of what we're capable of when we do."
The previous standard for team strikeouts in a season was established by the 2013 Tigers, who fanned 1,428 batters en route to the American League Central crown. Detroit surpassed the 2003 Cubs' mark of 1,404 strikeouts, which is still a National League record. It is worth noting that this year's Rays have 1,419 strikeouts.
Kluber's strikeout of DeJesus in the eighth inning gave Cleveland the MLB record, but the right-hander then extended the mark with a strikeout of Evan Longoria to end the inning. In the ninth, Indians closer Cody Allen added a strikeout of his own.
"It's nice. It's fun," Allen said of the record. "It's pretty cool, but it doesn't always translate into a ton of wins. We'd be willing to trade that record for about five or six more wins. But, it's pretty cool to be a part of."
Kluber, who ended with 11 strikeouts to give him an MLB-leading 269 this season, has led the charge. His 269 is the sixth-most in a single season in the franchise's long, storied history. Behind Kluber on the staff are Trevor Bauer (143), Carlos Carrasco (130) and Danny Salazar (120). Allen's 91 strikeouts are the most in a season by an Indians reliever since 1999, when Paul Shuey had 103 in 72 games.
"I think it talks to stuff," manager Terry Francona said of setting the MLB mark. "Those types of things happen when you are pitching correctly -- working ahead -- and add it in with stuff, it is going to equate to more strikeouts."
Jordan Bastian is a reporter for MLB.com. Read his blog, Major League Bastian, and follow him on Twitter @MLBastian. This story was not subject to the approval of Major League Baseball or its clubs.