Wong battling to keep his swing in right spot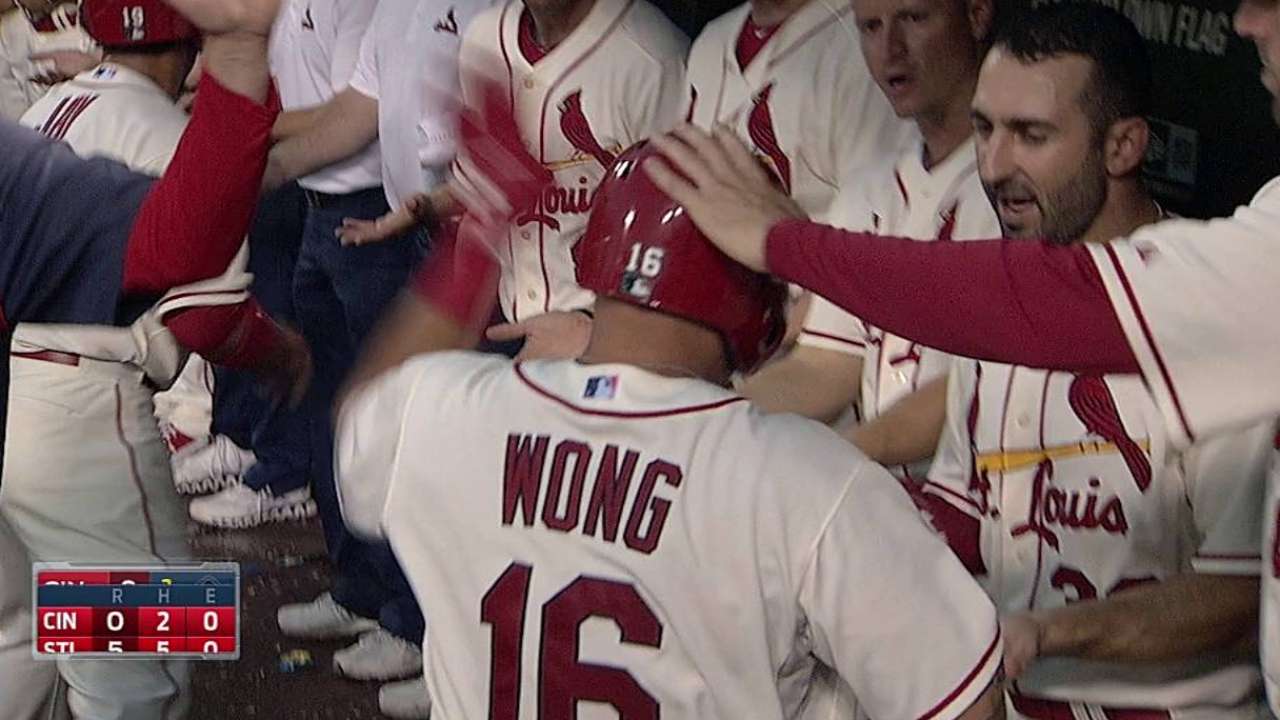 PHOENIX -- As he gathered with the media following a three-hit game on Sept. 20, Kolten Wong spoke encouragingly about the recent work he had been putting in to shorten up his swing. In a season where that swing has come and gone, Wong believed he was finally back in a good spot.
Entering Friday's series opener against the D-backs, however, Wong had gone hitless in 12 at-bats since. But, Wong said that skid had more to do with the trouble he had picking up pitches under the lights at Wrigley Field than it did his swing getting too long again. He stills likes where he's at.
"Definitely hitting at Wrigley at night was a totally different experience for me," Wong said. "Something about it threw me off a little bit. All in all trying to see spin was difficult, I think because of the lights and how it's laid out. But for the most part, my swing felt good. I just felt late and wasn't able to pick up pitches."
The key to an effective swing for Wong is when he stays short to the ball. That is when his power shows, too.
"He's done that to us before where he doesn't look quite right and the next thing you know, he has four hits," manager Mike Matheny said. "I think the one thing that we're going to continue to talk to him about is just continuing not to try and get so big all the time. There are times he gets into an advantage count to go ahead and let it fly. There are other times where you should just take what they give you. I think that's part of that maturing process. He's taken steps in the right direction."
Wong said he has fought his swing more this season than he had at any point during his climb through the Minors.
"I think just because of the long season in general. And better pitching," Wong said. "Guys up here, if you make a mistake or have a little fault in your swing, they'll find it. And they'll exploit it until you figure out how to change it."
Though Wong is fighting through fatigue like most everyone else at this point in the season, he said he had actually added more pregame work recently in order to get and keep his swing right.
Jenifer Langosch is a reporter for MLB.com. Read her blog, By Gosh, It's Langosch, and follow her on Twitter @LangoschMLB. This story was not subject to the approval of Major League Baseball or its clubs.