MLB.com Columnist
Mike Bauman
Selig has been No. 1 for Milwaukee
Commissioner brought Major League Baseball back to city in 1970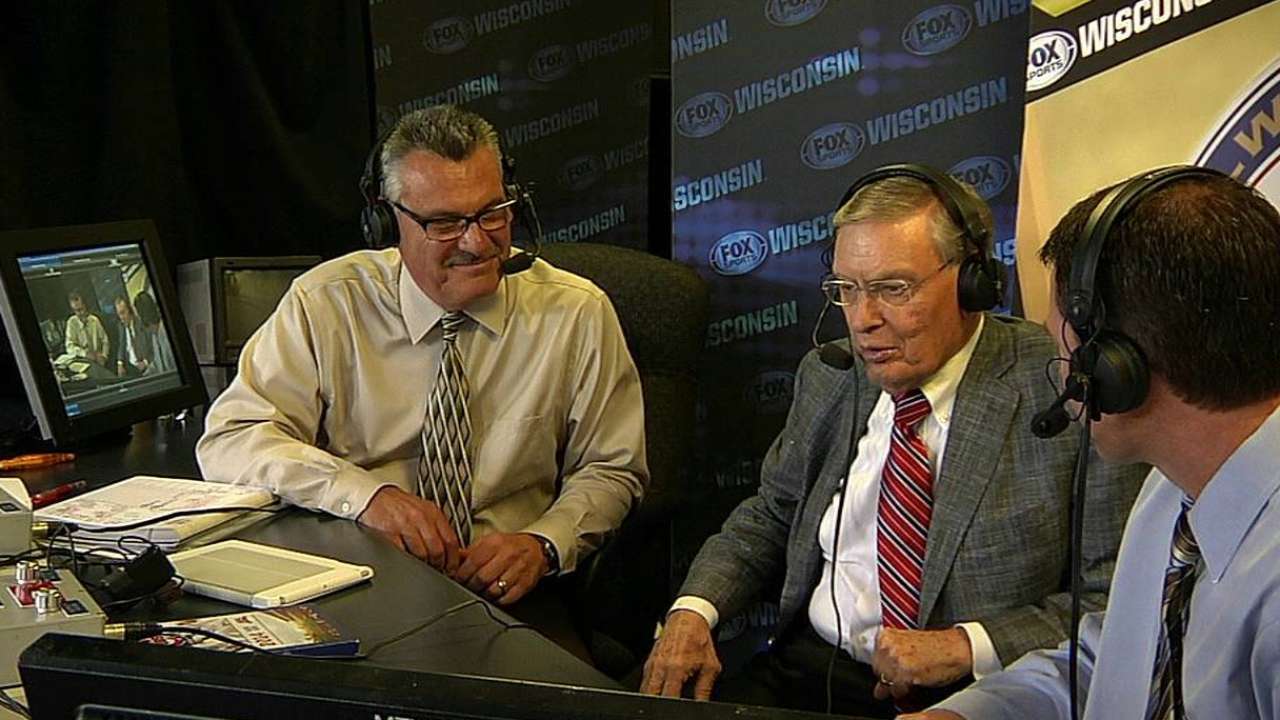 MILWAUKEE -- Commissioner Allan H. "Bud" Selig said that he was made speechless by the honor. So you knew that this was truly an historic occasion.
The Milwaukee Brewers announced Friday that they would retire uniform No. 1 in Selig's honor at a ceremony next season. Selig, who previously owned the Brewers, will retire in January after more than 22 years as Commissioner.
"It is a great honor," Selig said. "I'm usually not speechless, but [this is] more than I can articulate. It's a wonderful honor. ... I'm never at a loss for words, but I am right now, I guess."
As someone who has covered Selig for more than 30 years, I can safely say that he has never before referred to himself as "speechless" on any public occasion. So, yes, he was genuinely moved by this honor.
Selig, of course, eventually found additional words. But the underlying theme of this honor was the recognition on the part of Brewers principal owner Mark Attanasio of the indispensable role Selig played in restoring Major League Baseball to Milwaukee and then maintaining baseball in Milwaukee.
Selig led the movement to bring baseball back to Milwaukee after the Braves departed for Atlanta following the 1965 season. After several disappointments, Selig landed the Seattle Pilots out of bankruptcy court and Milwaukee had a big league team again in 1970.
Later, Selig led the charge on behalf of Miller Park and its retractable roof. This required what turned into a statewide political battle. Selig persevered and the ballpark was built. Without it, baseball in Milwaukee could not have succeeded. With it, the Brewers will draw 2.8 million fans this season.
Attanasio, as Brewers owner, understands this better than anyone, and his gratitude to Selig is both genuine and understandable.
"We've looked for ways to honor him, because but for his blood, sweat and tears, as well as his daughter Wendy's, we wouldn't be sitting here," said Attanasio. "We did a statue out front, but it didn't seem to be enough, frankly.
"So when I sit in the ballpark every night and I look up at our wall of honor, our ring of honor, I see names like [Henry] Aaron, [Robin] Yount, [Bob] Uecker, actually, and Jackie Robinson, No. 42, we had the idea to retire a number in Commissioner Selig's honor. And the No. 1 seemed most fitting to our founder."
The Brewers, like other small-market franchises, have benefited from Selig's economic reformation of baseball, which has led to increased competitive balance. Under Attanasio's ownership, the Brewers returned to the postseason for the first time in 26 years in 2008 and won a division title in '11, with the best regular-season record in franchise history.
Selig, in turn, referred to Attanasio as "the ideal owner for this franchise."
Bringing baseball back to Milwaukee in 1970, "against really unbelievable odds," remains his proudest accomplishment in the game, Selig said Friday.
The Commissioner told a story from April 7, 1970, the first Brewers game at County Stadium, a one-sided loss to the California Angels. Selig was still glowing over the fact that the team, acquired just days before, was actually playing in Milwaukee.
"We lost to Andy Messersmith, 12-0," Selig said. "I was walking down the ramp, still feeling pretty good but beginning to understand that this was all going to change. A man stopped me and said: 'You wanted a team in the worst way and that's what you got.' And I knew then that the honeymoon was not going to last very long."
It was a long way from that moment to 22-plus years as Commissioner. But as far as No 1 in the history of the Milwaukee Brewers, that's a very reasonable estimate of what Bud Selig has meant to this franchise.
Mike Bauman is a national columnist for MLB.com. This story was not subject to the approval of Major League Baseball or its clubs.