MLB.com Columnist
Barry M. Bloom
Emotionally spent Jeter takes rare break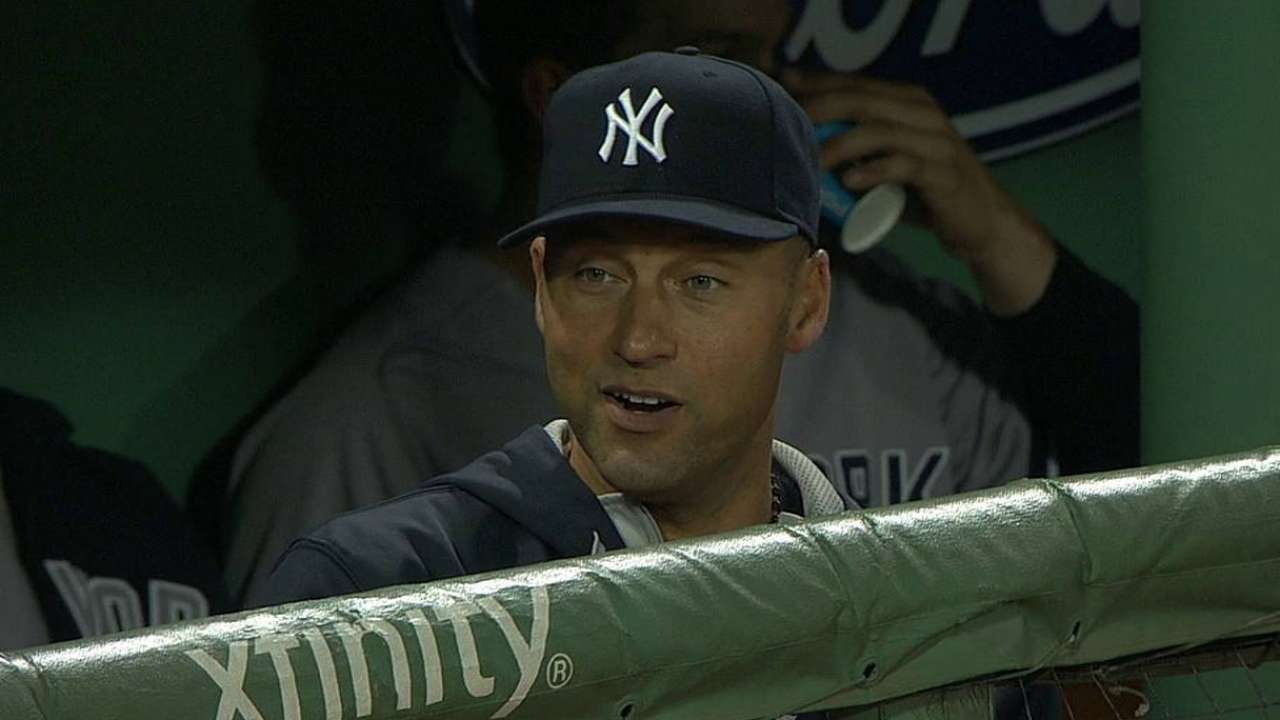 BOSTON -- The day after his chilling and engrossing finale at Yankee Stadium, Derek Jeter was spent. He was so spent that for the first time in his 20-year career Jeter wanted to sit and that he did in Friday night's opener of a season-closing three-game set against the Red Sox at Fenway Park.
That had never happened with any of his three managers, certainly not with Joe Torre, definitely not with Joe Girardi, until Friday night.
"I'm not playing," Jeter said. "I don't know if I could play tonight if I wanted to play tonight. I haven't slept much. I don't think I really slept, maybe a couple of hours. It's been a wide range of emotions the last few hours."
He'll be back in the lineup as the designated hitter on Saturday and Sunday to finish off his career only out of respect to the Red Sox and the fans of Boston. After grounding a game-winning, ninth-inning single through the 3.5 hole between first and second base in his last New York at-bat to defeat the Orioles on Thursday night, there's not much Jeter has left.
"That's as good as it gets, I think, for me. It's one of those special days that I'll always remember. I can't think of a better way to end my career at Yankee Stadium. You couldn't have scripted it any better," he said adding, "I'm playing here because I have respect for this rivalry, for Boston and their fans. If it was anywhere else I don't know if I would play."
And that's a good thing, even with Jeter out of the lineup on Friday, a packed house at Fenway chanted his name beginning as the Yankees batted in the top of the third inning and on and off throughout the 3-2 Yanks win. The chants were faint in comparison to what occurred during the game on Thursday night at Yankee Stadium, but they resounded in his honor just the same.
"I remember coming here in the All-Star Game in '99 and the car that was dropping us off went to the wrong entrance," he recalled. "I was out of the car walking to the stadium and I thought [the Red Sox fans] were going to kill me, they were all over me. So it's funny how things have changed."
Jeter said he was a jangle of emotions on Thursday night, so dazed that he's looking forward to watching the game with family and friends so he can appreciate what happened. He doesn't remember much of it. He remembers ducking into the clubhouse and into restrooms to privately choke back tears. It's not that he didn't openly want to share those emotions, he just didn't think he could.
"I didn't say it was important [for people] not to see it," he said. "I just thought it was important for me to hold it together. I think once I lost it, that was it, I'm done. So I tried to hold it together."
It began with gifts from his teammates in the clubhouse before the game, a painting and a watch. Jeter had to hide his eyes. Then it was the top of the eighth inning with the Yankees clinging to a three-run lead. Fans chanted his name and the TV cameras showed various tight shots of the emotions welling up as he tried to concentrate from his station at short. For the first time ever on a baseball field, Jeter was overwhelmed. The stadium had become a cauldron of electricity building to a crescendo as the last innings, the last at-bats peeled away.
"That's accurate," he said. "I told you, I had to stop myself from crying when I was on the field. I've never really felt like that before. The emotions changed quickly, but that started before the game even began. It just built up and built up. If they would have taken me out of the game, I probably would have lost it. All the reflection and the -- I don't want to say sadness -- but the reflection changed to excitement after the hit. That's why after the game I was pretty excited. It was no longer time to be sad."
So many issues had to conspire for Jeter to come up with a runner on second in the bottom of the ninth -- the two Orioles homers and three runs that tied the score during the top of the inning, Orioles manager Buck Showalter allowing reliever Evan Meek to pitch to Jeter with one out and first base open. That was certainly against the book.
But it was destiny, wasn't it? Buck knew it. Girardi knew it. Jeter's first manager and last skipper wanted to give him one last chance. And in the heat of the moment, Jeter was able to block it all out, slapping the first pitch to the opposite side.
"It was difficult, but I was able to [block it all out] it for two or three seconds," he said. "I was only in there for one pitch. It was hard. It was. For a moment, I don't know, man. I got lucky, I guess."
Barry M. Bloom is a national reporter for MLB.com and writes an MLBlog, Boomskie on Baseball. Follow @boomskie on Twitter. This story was not subject to the approval of Major League Baseball or its clubs.