Leake strong on mound, at plate, but Reds fall
Righty allows three hits, doubles, scores; Bruce miscue costly in eighth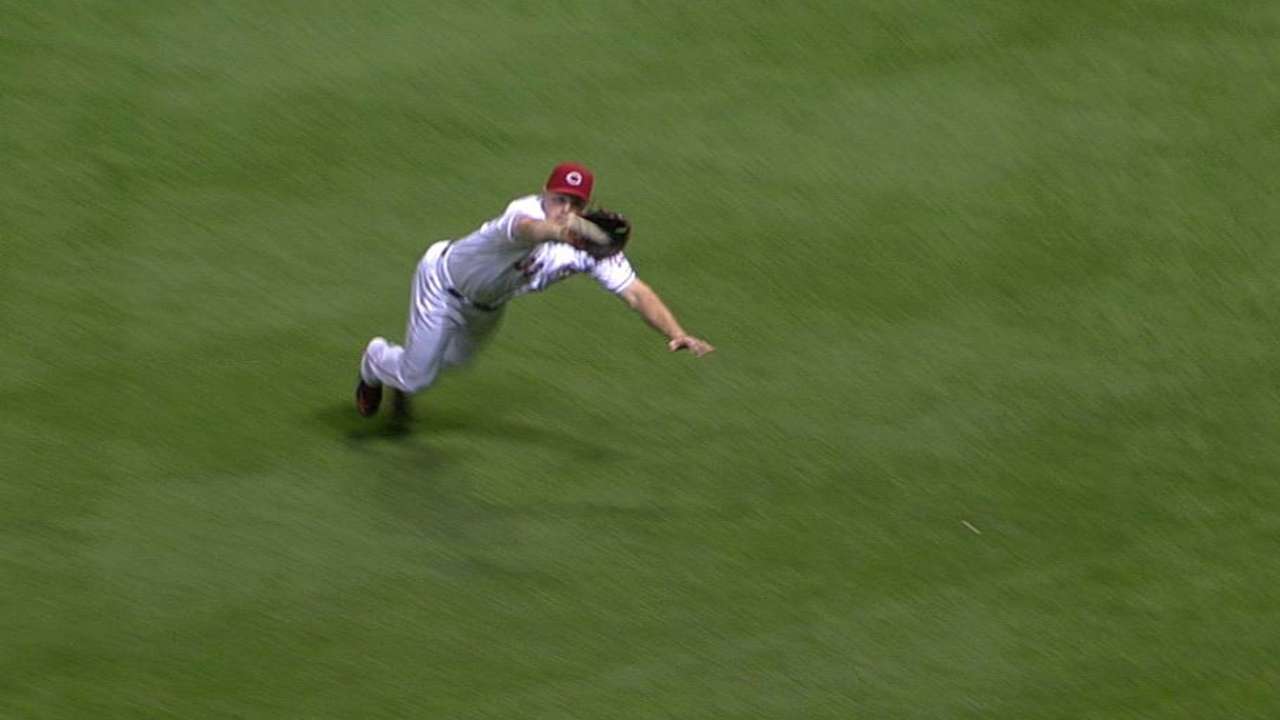 CINCINNATI -- Heading into what could be a pivotal offseason, Reds starting pitcher Mike Leake was able to exit the 2014 campaign with a strong final performance.
Leake gave up one earned run and three hits over seven innings, but only had a no-decision to show for it as the Reds were handed a 3-1 loss by the Pirates on Friday night. This came despite Pittsburgh being out-hit by an 11-6 margin.
"He's legit. I mean, this isn't some guy sneaking up on the league, I can tell you that," Reds manager Bryan Price said. "He's had the occasional ups and downs like any starting pitcher's going to have through the course of his career, but about as ready to compete as anybody we have. I always feel like we're going to get a great game from Mike, and he was solid again today."
It was a game turned on a fielding miscue by right fielder Jay Bruce in the eighth inning. In a 1-1 game against reliever Pedro Villarreal, Josh Harrison hit a two-out single to center field. Next batter Travis Snider hit a sharply sliced liner to right field that Bruce overran and missed while sliding on the grass. Harrison easily scored and Snider was credited with a double. Andrew McCutchen followed with an RBI double to the wall in left-center field.
"It seems to be an ongoing theme this year -- anything that can go wrong will," Bruce said. "[Snider] hit it hard, and it just knuckled, and it's not the first ball that's knuckled on someone before, but I just missed it. As I was trying to redirect, I just slipped."
Leake was out of the game by then after he had thrown 106 pitches and was lifted for a pinch-hitter in the bottom of the seventh. It was his best start of the final month after he had not lasted more than six innings in his previous four starts while carrying a 7.71 ERA from those outings.
"This month kind of roughed me up a little bit, but I'm glad I was able to come back on the last one and showed I'm still strong," said Leake, who walked two and struck out eight. "It would have been a good year either way, no matter the outcome of this outing, but it helped make it look like a little better of a year."
Leading off the top of the fifth inning against Leake, Gaby Sanchez broke a scoreless tie by hitting the first pitch from the righty to center field for a home run.
Cincinnati had only two 1-2-3 innings, but nine of its 11 hits were singles, with the other two being two-out doubles. In the bottom of the fifth, Leake flashed his hitting skills again and smacked a one-out double to left field. He then hustled home on Kristopher Negron's RBI single to center field, sliding in safely just ahead of the throw home and tag from catcher Russell Martin.
"We had 11, but I don't know if they were a productive 11," Leake said. "It was a nice hit by Negron to get me in."
Leake ended up with an 11-13 record and a 3.70 ERA while setting career highs with 33 starts, 214 1/3 innings and 162 strikeouts.
The Reds will have to take a close look at their strong rotation this winter, with Leake among four starters that can become free agents after next season. The club, which needs to add offense, might not be able to sign all four pitchers -- including ace Johnny Cueto and Mat Latos -- to long-term deals. Leake, who avoided arbitration with a one-year, $5.9 million contract, is eligible for it again a third and final time.
"They've got some question marks," Leake said. "They have to decide what they want to do, who they want to go forward with, who they don't. They've got a tough task this offseason. It's a very important offseason for them. I'm sure they've got a plan. It's just a matter of putting it in motion and going after what they feel we need."
Leake would like to be part of moving forward with the Reds.
"I hope they feel that way about me," he said. "I'd like to play my whole career in one spot. These days, it's tough to do. They have to have the mutual interest."
Mark Sheldon is a reporter for MLB.com. Read his blog, Mark My Word, and follow him on Twitter @m_sheldon. This story was not subject to the approval of Major League Baseball or its clubs.