Unsure of future, Kuroda seeks advice from Pettitte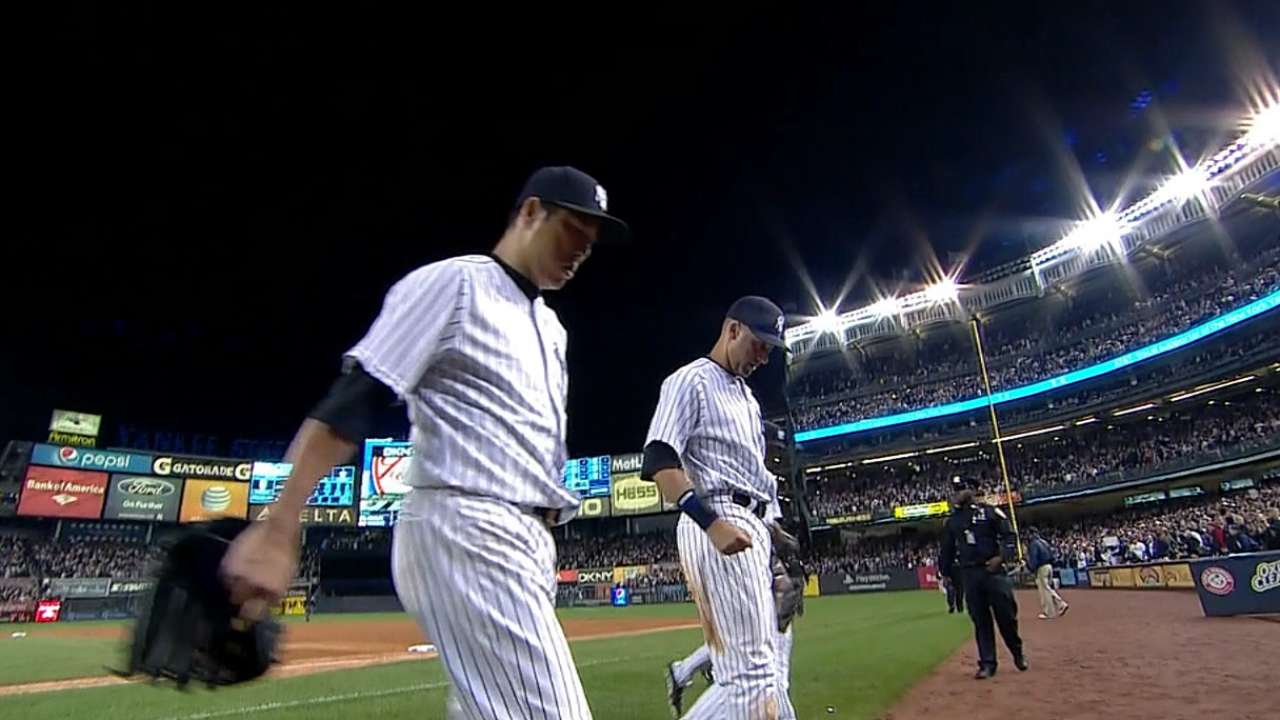 BOSTON -- While most of the attention was focused on Derek Jeter's goodbye to Yankee Stadium, Andy Pettitte and Hiroki Kuroda were finding a quiet corner in the clubhouse, comparing notes on their own season-ending pitching performances.
Pettitte was able to conjure up one more gem in his last Major League start, shutting out the Astros last Sept. 29 in Houston. Kuroda returned home last season, considering retirement, but he kept thinking about Pettitte's gritty performance at age 41.
It offered him encouragement and inspiration to keep going, and so as Kuroda wrapped up a 199-inning campaign with eight frames of two-run ball against the Orioles, he told Pettitte that he was proud to have pushed himself for another year.
"Before the game yesterday, we talked about Andy's last outing last year in Houston," Kuroda said through an interpreter. "One thing I can say is, the fact that I was able to stay in the rotation the full year without getting injured, that's one thing I can say that fulfilled me."
Now happily retired for the second time, Pettitte told Kuroda that he "really is content" with how his career wrapped up, and that, too, may offer Kuroda some direction for how to handle his future.
Kuroda has entertained thoughts of retirement in each of the past few years, only to return on one-year contracts, but said this past winter prompted his most serious contemplation. He will turn 40 in February and is not sure if he would be interested, should a contract be offered.
"Right now, I cannot imagine what the answer is going to be," Kuroda said. "I'm just relieved I was able to finish the season without getting hurt. If -- and this is a big if -- there are such talks, then I'd have to ask myself and think deeply whether I'd be able to produce."
Manager Joe Girardi said that he wanted to give the Yankee Stadium crowd a chance to salute Kuroda on Thursday, urging him to walk to the foul line before the ninth inning so he could hear an ovation.
"He didn't want to do it, I think out of respect for what was going on, but Hiro's meant a lot to our organization as well and has been a really good Yankee and a really good role model as well," Girardi said.
"This guy takes the ball every [fifth] day. You think about the injuries we went through to our rotation. The oldest guy is still standing. That's because of his preparation and how hard he works. I really wanted to honor him, but he really didn't want to do it."
If Thursday was Kuroda's Yankees finale, he proved to be a most reliable investment for the team coming off his first four big league seasons with the Dodgers. In 97 regular-season starts for New York, Kuroda posted a 3.44 ERA and a 1.155 WHIP along with a 38-33 record that would have been helped markedly by better run support.
"I feel really proud to wear the Yankees uniform for the three years," Kuroda said. "To have that experience, to pitch in a game like yesterday, I feel really proud of it."
Bryan Hoch is a reporter for MLB.com. Follow him on Twitter @bryanhoch and read his MLBlog, Bombers Beat. This story was not subject to the approval of Major League Baseball or its clubs.