Snider, Bucs seal at least home field for Wild Card
Hard hit in eighth breaks tie; Pirates 2 up on Giants, 1 behind Cards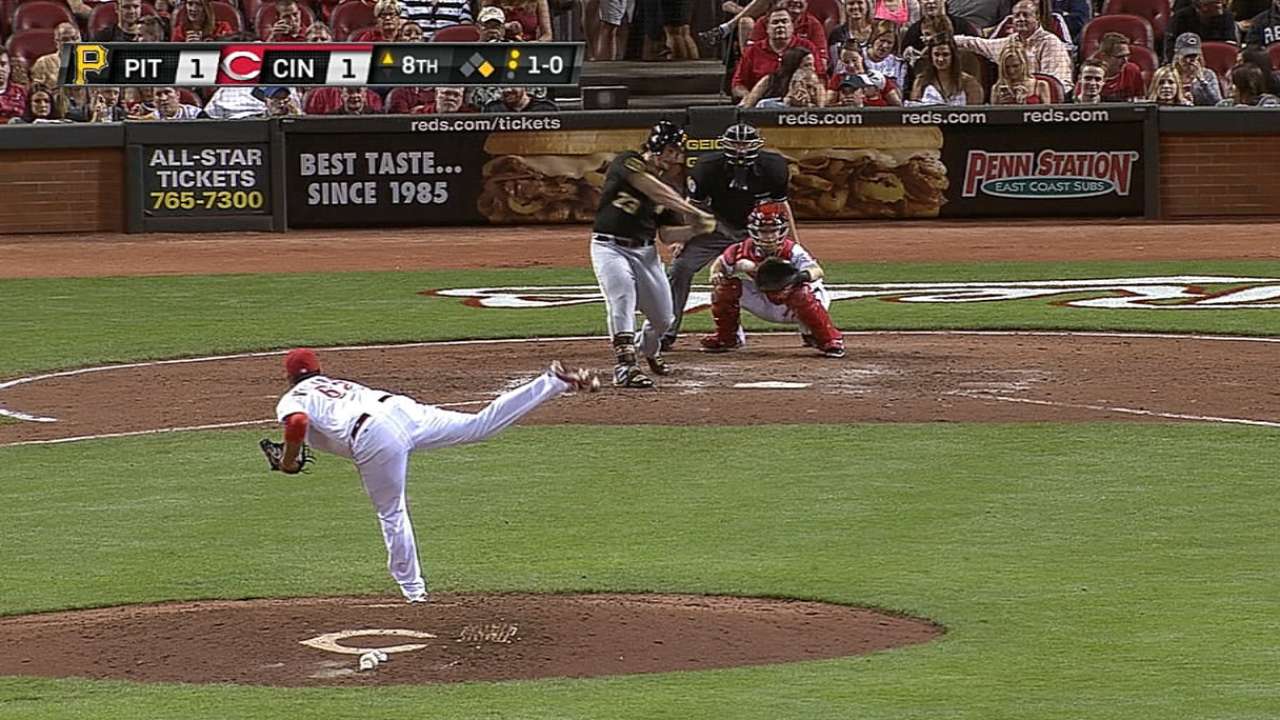 CINCINNATI -- Travis Snider, one of the Pirates' unsung heroes who inspires people to now write songs about him, has had big hits. But none have been bigger -- or harder.
Snider's double with two outs in the eighth inning here Friday night was pulled so hard it roped around an adept right fielder, scoring Josh Harrison from first base to snap a tie as the Pirates rolled to a 3-1 win over the Reds.
"Technically, I guess it is possible to hit a ball harder -- but he hit it good," said Andrew McCutchen, who had a perfect view from the on-deck circle of the drive that threw another log on the Bucs' September fire. "When you hit a ball that hard, [as an outfielder] you feel you have a bead on it -- then the ball does some crazy things."
The Pirates' 17th win in 21 games put them two games ahead of the Giants with two to play, ensuring that at the very least, Wednesday's National League Wild Card Game would be held at PNC Park. It also kept the heat on the Cardinals, who beat the D-backs in 10 innings to remain a game ahead of the Pirates in the NL Central.
With starters Vance Worley of the Pirates and Mike Leake of the Reds having bequeathed a 1-1 tie to their bullpens, Harrison singled up the middle off Pedro Villarreal with two outs in the eighth.
The single extended Harrison's latest hitting streak to 14 games, both his and the Bucs' longest of the season.
Snider followed with a rope barreled up with so much topspin, it curved around Jay Bruce and rolled all the way to the wall as Harrison motored home on the double.
"Every once in a while," Snider said, "you hit a ball on the screws, and you get the knuckleball effect. That's a tough play for an outfielder, and as a hitter, it's pretty much what you try to accomplish. Hit the ball as hard as you can, and good things will happen."
"I don't think [it's possible to hit a ball harder]. From my vantage point, the ball moved a couple of different ways," Pirates manager Clint Hurdle said. "That's a very good right fielder out there -- as evidenced by the plays later."
Just to prove the point about his defensive prowess when the ball isn't struck with overwhelming force, the next inning Bruce robbed Starling Marte of extra bases with a splendid diving catch of his drive headed for the right-field corner. And two batters later, Bruce did it again, on Jose Tabata.
"It knuckled, and I just slipped and whiffed it," Bruce said of Snider's drive. "He hit it hard and it just knuckled, and it's not the first ball that's knuckled on someone before, but I just missed it. As I was trying to redirect, I just slipped."
McCutchen followed with another two-bagger to score pinch-runner Gregory Polanco with the insurance run.
Worley continued as one of the Majors' best No. 4 or No. 5 pitchers, depending on where you want to seed him in the Pirates' rotation. Worley allowed one run in 6 1/3 innings and has now posted a 2.08 ERA in his last five starts.
For the second straight start, Worley endeared himself to pitching coach Ray Searage by not issuing a walk. In those two starts, in fact, he has faced 53 batters and thrown only 37 balls (out of 156 pitches).
That is Command (yes, with a capital "C").
"That's efficiency," Worley said with a sparkle in his eyes when relayed those numbers.
"Same M.O. He moves his fastball around, back-doors the cutter, mixes in his curve and slider, throws a handful of changeups to left-handed hitters," said Hurdle, breaking down Worley's approach.
Worley, going to work the day after he turned 27, and catcher Russell Martin agreed on a simple game plan.
"I told him I'm just going after guys, hump in heaters and make adjustments off the swings they're taking," Worley said. "They were taking the first pitch, and when they eventually started swinging at that pitch, we started going offspeed on them."
The Worley-Martin partnership was done a couple of batters before Worley was. The latest round in the catcher's battle with a balky left hamstring went to the hammy, compelling Martin to depart after he'd drawn a painful walk in the top of the seventh.
"Some days are better than others, and today it just seemed to be tougher for him to get loose," Hurdle said.
Martin himself appeared visibly frustrated with the lingering discomfort, and he declined to get into it in detail. Chris Stewart is certain to catch Saturday afternoon's game.
Leake definitely had the spoiler's blood flowing. Battered for 18 runs in 21 innings (7.71 ERA) in his prior four starts, he gave the Pirates one run in seven, on a Gaby Sanchez homer. Otherwise, Leake perplexed the Bucs on two hits, fanning eight of them.
Sanchez will agree that Great American Ball Park is great. On his 23rd at-bat of the season here, he connected for his third homer, of his total of seven.
Tom Singer is a reporter for MLB.com and writes an MLBlog Change for a Nickel. He can also be found on Twitter @Tom_Singer. This story was not subject to the approval of Major League Baseball or its clubs.