Niese exits final start with elevated heart rate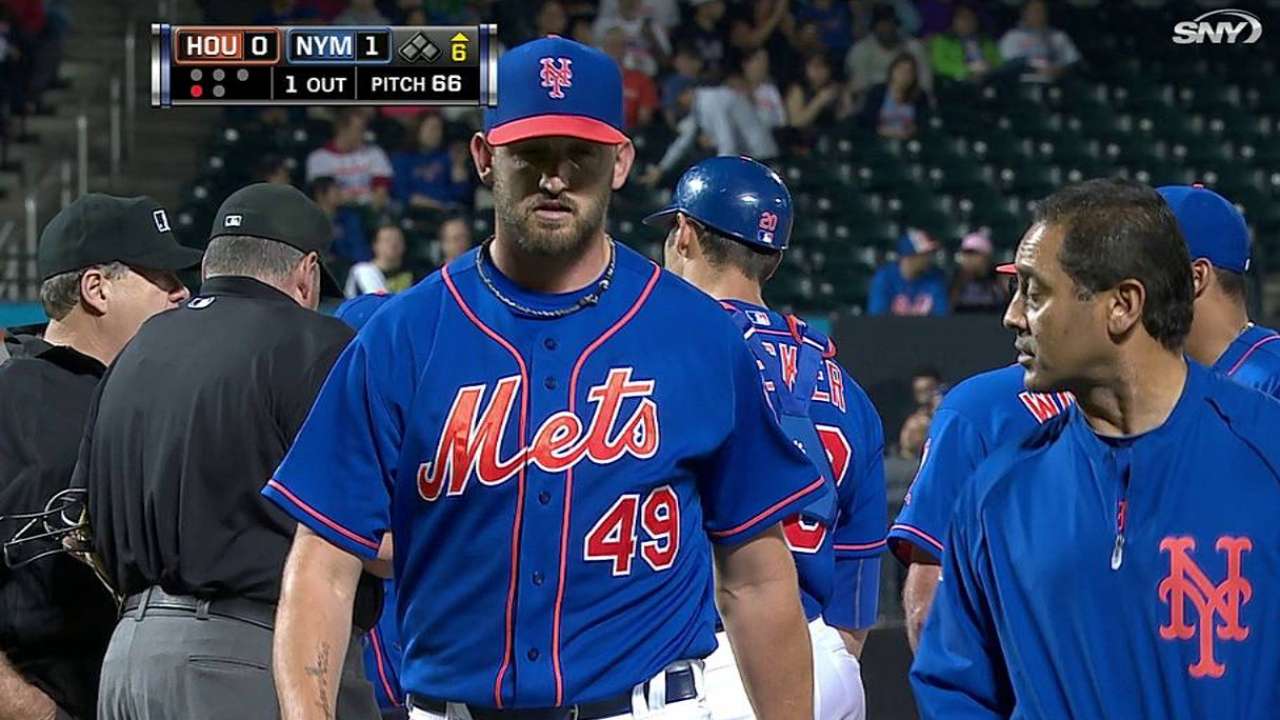 NEW YORK -- An old issue, once brushed aside but never completely forgotten, forced a premature end to Mets starter Jon Niese's season. Niese left Friday's game against the Astros in the sixth inning with an elevated heart rate, which has affected him in the past.
Pitching in the sixth inning at Citi Field, Niese gave up a leadoff single on an 86-mph cut fastball to Gregorio Petit, who was cut down stealing second on the next pitch. Niese appeared to grimace on that offering, leaving the game after a brief consultation with trainer Ray Ramirez.
"It's certainly something that you can't mess with at the time," manager Terry Collins said. "He said it was really racing fast, so we took him out."
Niese's season thus ended with a 9-11 record and 3.40 ERA in 30 starts, placing him within a massive group of players -- David Wright, Travis d'Arnaud, Juan Lagares, Vic Black, Dilson Herrera and Dana Eveland are the others -- that the Mets have shut down due to injuries this month.
It was not the first time that an elevated heart rate has affected Niese, who left games early due to arrhythmias in 2011 and '12. After each episode, Niese underwent a battery of tests that revealed nothing overly concerning. He will undergo more testing soon.
"I guess it's just the way my heart is built," Niese said. "It just happens. I have an idea of what's going on. It's not really that scary. When it happens, I know it's going to go away eventually."
Niese made plans to fix the problem for good via a heart ablation in December 2012, but in the weeks leading up to the procedure, doctors at the Cleveland Clinic near his home in Ohio told him it was not necessary. As a result, Niese never underwent it.
A typical ablation procedure threads catheters through veins to a patient's heart, according to the Mayo Clinic, to correct structural problems that can cause arrhythmias. It works by scarring or destroying heart tissue that triggers an abnormal heart rhythm or, in some cases, by preventing abnormal electrical signals from traveling through a patient's heart.
"The doctors just said that it was nothing major and that I didn't need to have surgery," Niese said at the time. "I'm just going to go on as normal and that's it. It's a really good thing."
Niese has endured multiple health issues since that time. He missed two months last summer with a partial tear of his left rotator cuff, then opened this season on the disabled list with inflammation on his left elbow. In July, Niese again hit the DL with inflammation in his shoulder.
He did submit a fine statistical campaign when healthy, coming within one out of a career-low ERA and nine outs of a career-high innings total. Over his past three seasons, Niese has averaged 10 wins and 173 2/3 innings per year, with a 3.49 ERA. Now one month shy of his 28th birthday, Niese has two guaranteed seasons and two team options remaining on the five-year, $25.5-million contract extension he signed in April 2012.
"Kind of up and down," was how he assessed his 2014 season. "I always can improve. I've just got to avoid all the little things like tonight."
Anthony DiComo is a reporter for MLB.com. Follow him on Twitter @AnthonyDicomo. This story was not subject to the approval of Major League Baseball or its clubs.