After Phils erase four-run deficit, Pap notches save
Closer receives mixed reaction in first appearance since suspension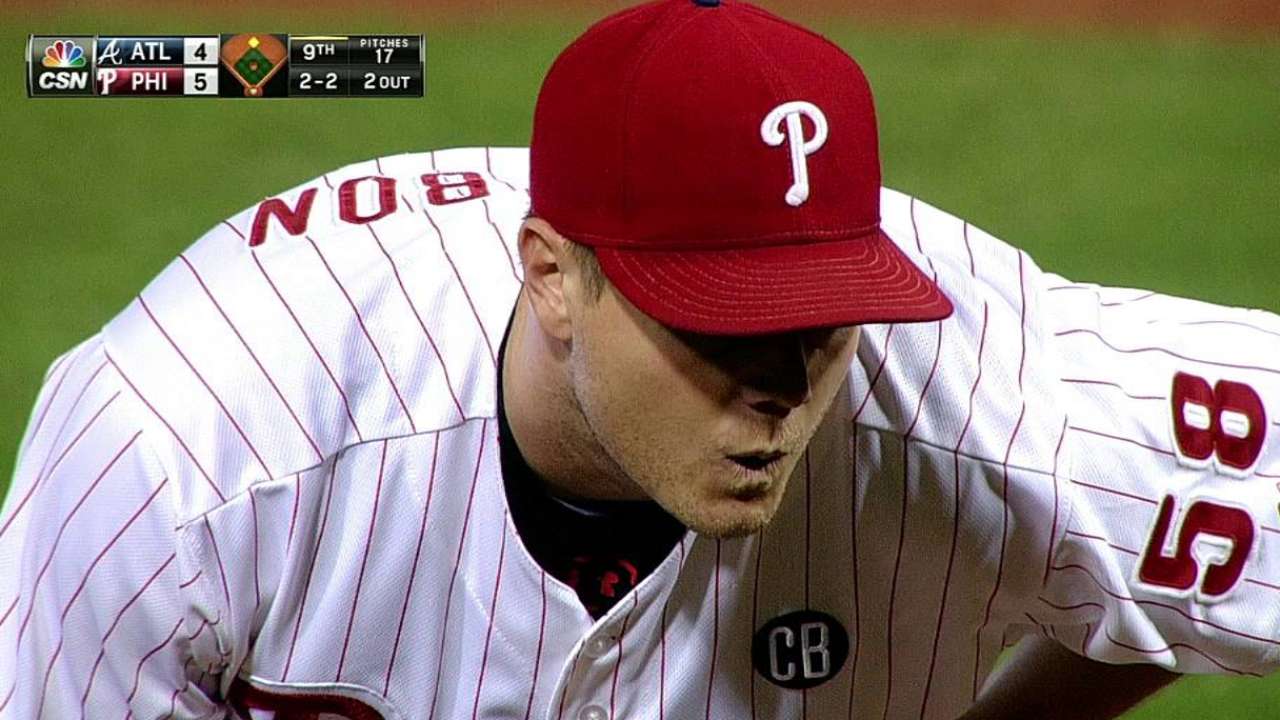 PHILADELPHIA -- Phillies fans loudly booed Jonathan Papelbon the last time he pitched at Citizens Bank Park.
Papelbon responded by grabbing his crotch as he left the field following a blown save on Sept. 24 against the Marlins. The gesture resulted in a seven-game suspension and fueled questions if he should pitch at home again this season. But Papelbon pitched the ninth inning in Friday's 5-4 victory over the Braves, picking up his 39th save of the season.
He made no gestures this time, other than a fist pump following the game's final out.
He heard boos as he left the bullpen, but it certainly could have been worse.
"I couldn't hear it," Papelbon said. "I didn't hear nothing. I don't hear nothing out there when I'm pitching."
Papelbon has maintained his innocence, saying he simply needed to readjust himself that Sunday afternoon. Major League Baseball and the Phillies disagreed. MLB suspended him for the gesture and for making contacting with umpire Joe West. The Phillies said they wholeheartedly agreed with the suspension and apologized to fans.
"I know that perception is reality and they can think whatever they want to think," Papelbon said. "They have that right. Fans pay their tickets and sit where they want to sit and they can boo if they want to boo and cheer, and I can't really do a whole lot about that. I've said over and over -- I am sorry for how it was perceived and what people may have thought. Intent wasn't there. It doesn't really matter what I think. Fans have the right to say and boo and cheer. They pay their ticket price, and I understand that."
Papelbon struck out Chris Johnson on four pitches for the first out. Fans cheered. B.J. Upton doubled. Fans booed. Evan Gattis grounded out for the second out. Fans cheered again.
They stood on their feet and cheered as Joey Terdoslavich stepped to the plate. They wanted that final out. Papelbon got it for them when Terdoslavich grounded out to second base to end the game.
Fans roared with approval.
So much for a hostile reception.
It is going to be interesting to see what happens with Papelbon in the offseason. The Phillies have tried to trade him for more than a year without success. He makes $13 million next season. He also has a $13 million club option for 2016 that automatically vests with 100 games finished in 2014-15. He has finished 52 games this season with two more games to play.
The contract is the biggest obstacle in trading Papelbon, but a wary owner or general manager might see Papelbon's antics on the field or read his comments and wonder if they want to deal with a potential headache.
Papelbon, who said in July he wants to play for a winning team, said he hasn't considered that he may have hurt his trade value.
He also said he has no idea if he will be with the Phillies when Spring Training opens in February, although he said he would not mind it.
"I've said the perfect ending to this equation would be me on this team righting this ship and possibly closing out a World Series or getting in the playoffs and making a nice run and seeing what happens from there," he said. "I think that would be a fairy tale ending if there is one."
Of course, the Phillies seem light years removed from postseason contention. They are finishing their third consecutive season without a winning record and will finish in last place in the National League East for the first time since 2000.
"Well, I think every team that isn't in it this year is far away," Papelbon said. "Yeah, we do have some things that we need to clean up and get better at. I think this season has shown what we need to get better at. Hopefully we can do that. And, obviously, staying healthy for an entire season goes a long way."
The Phillies' bullpen is the team's strength entering the offseason, especially if Papelbon remains the closer. But there are holes everywhere else, including the rotation. Right-hander Jerome Williams could be part of the 2015 rotation. He allowed eight hits, four runs and one walk while striking out three in six innings.
Williams is a free agent, but he went 4-2 with a 2.83 ERA in nine starts with the Phillies. He could be an option as a relatively inexpensive No. 5 starter.
"It would be a perfect situation," Williams said.
The Phillies scored a run in the fifth and three more in the sixth to tie the game. They pushed across the go-ahead run in the seventh when Carlos Ruiz walked, advanced to third on Ryan Howard's double and scored on Marlon Byrd's fielder's choice.
Ken Giles and Papelbon took care of the rest
Todd Zolecki is a reporter for MLB.com. This story was not subject to the approval of Major League Baseball or its clubs.