Santana unable to hold lead as Braves fall in Philly
Two-out rally in sixth stings righty; Phils scored five unanswered runs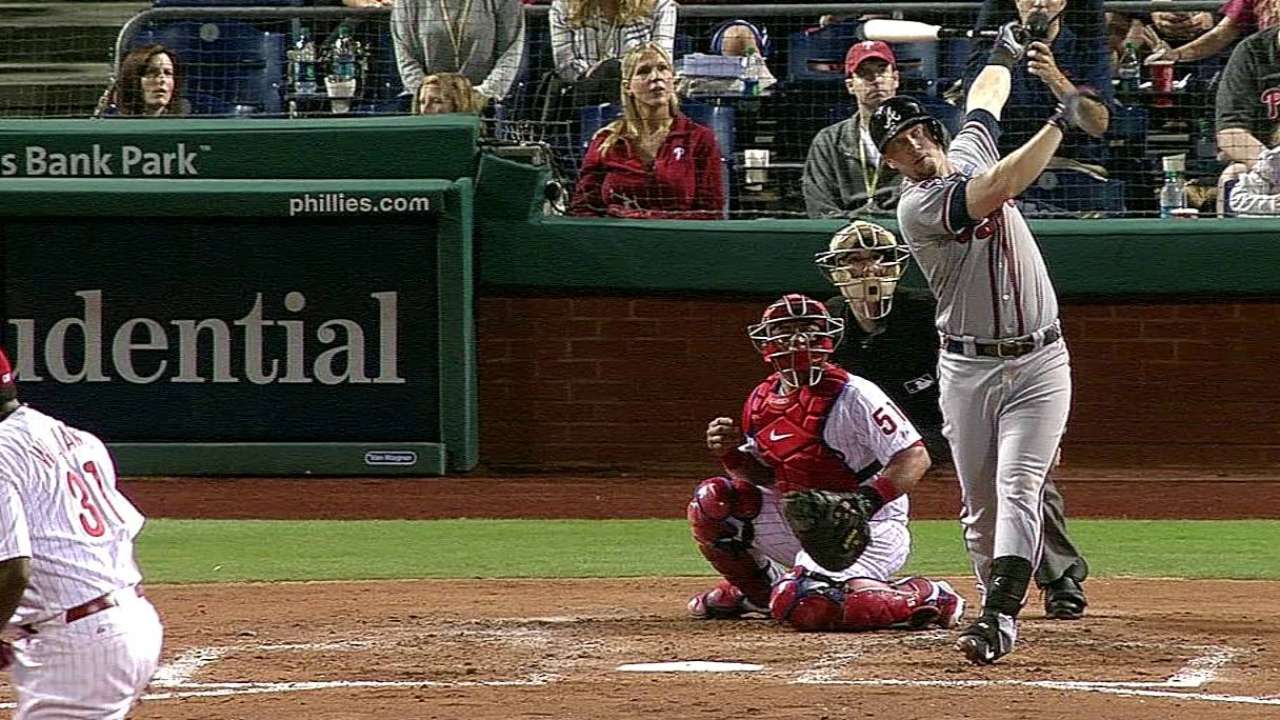 ATLANTA -- Given the significance of the offensive woes the Braves have experienced most of this season and especially over the past month, Ervin Santana might have been justified when he exited last weekend's start against the Mets and complained about the lack of support.
Or Santana might have simply set himself up for the fate he incurred on Friday night, when he squandered the early four-run advantage the Braves produced and then watched the Phillies complete a 5-4 comeback win at Citizens Bank Park.
"It's very, very hard because when we get runs we have to take advantage," Santana said. "At the same time, my [teammates do] everything they can to score runs. So it's not their fault."
Santana's message and tone was much different than it had been five days earlier, when he said, "You have to throw a complete game shutout or something like that to get a win."
Unfortunately, that frustration-filled statement had some merit considering the Braves have scored two runs or less in 16 of their past 24 games.
But this night proved to be much different as the Braves tallied their first multi-run first inning since Aug. 18, and then doubled their lead with Chris Johnson's two-run homer in the fourth. Even while going 19-34 dating back to July 29, the Braves had won 13 of their previous 16 games in which they had tallied at least four runs.
"Four runs with one of your best pitchers on the mound should be enough, but sometimes you put yourself in a corner," said Braves manager Fredi Gonzalez, who has seen the Braves go 5-18 in September.
Once the Phillies tallied three two-out runs off Santana in their game-tying sixth inning, they took the lead for good against Jordan Walden in the seventh. Carlos Ruiz drew a leadoff walk and advanced to third base on Ryan Howard's soft double to right. Then, with one out and first base open in a tie game, the usually run-starved Braves opted to play their infield back and decline the chance to set up a double play by intentionally walking Marlon Byrd.
Byrd responded by hitting a grounder that second baseman Phil Gosselin grounded as Ruiz headed to the plate to score the go-ahead run in uncontested fashion.
"I don't want to go down two runs in this ballpark," Gonzalez said. "We've got two more shots at it at keeping it at one run. I think one run is easier to come back from than two runs. I think any other part of the game, you've got to roll the dice. I didn't want to give up two runs."
One run proved to be enough for the reliable relief duo of Ken Giles and Jonathan Papelbon, who preserved the lead the Phillies had gained after coming to life against Santana. The right-hander retired the first eight batters he faced and kept the Phillies scoreless until they tallied a run in the fifth inning.
Santana retired the first two batters he faced in the sixth and then surrendered three consecutive hits, including Cody Asche's RBI double that made it a 4-2 game. The veteran hurler seemed to lose his composure when his late flip to Christian Bethancourt allowed Domonic Brown to score on Freddy Galvis' dribbler that stayed fair along the third-base line, just in front of the plate.
"I didn't have a chance at first base and he was running right there," Santana said. "So I tossed the ball to him. It was bad communication."
Asche jogged home moments later with the tying run when Santana uncorked a wild pitch that rookie catcher Bethancourt might have been able to keep in front of him with a little extra effort.
Though injuries placed the Braves in desperate need of a starting pitcher, there is certainly reason to debate the value they received from the $14.1 million contract Santana signed in March. The 31-year-old produced a 3.95 ERA in 31 starts. But he allowed at least four earned runs in four of five September outings.
"It's very sad to finish the season this way, but at the same time, it is what it is," Santana said.
Mark Bowman is a reporter for MLB.com. This story was not subject to the approval of Major League Baseball or its clubs.