With Brewers eliminated, Garza shut down
Right-hander felt stiffness in shoulder while throwing during 'pen session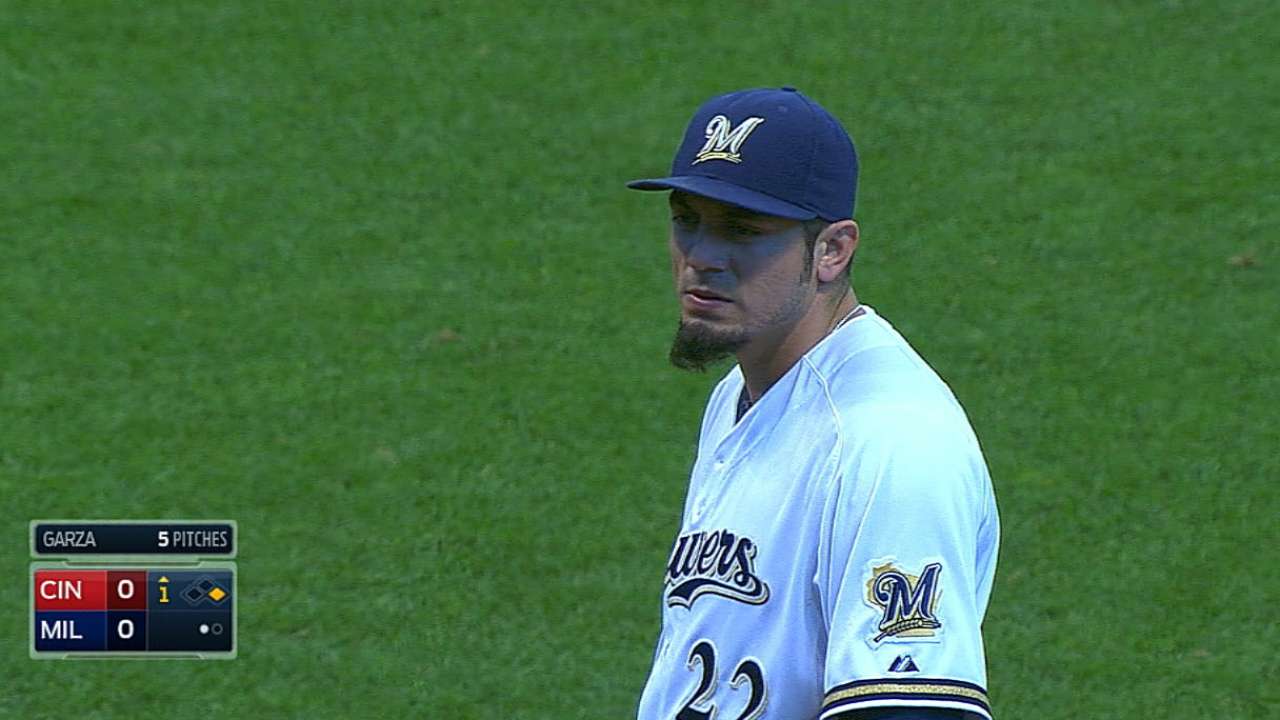 MILWAUKEE -- After the Brewers were formally eliminated from postseason contention with Thursday's loss to the Reds, team officials decided it was wise for Matt Garza to call it a season.
Rookie right-hander Jimmy Nelson started instead on Friday night against the Cubs. The Brewers said Garza had a stiff shoulder.
"He'd be pitching today if we were still in it," said manager Ron Roenicke, who visited with Garza on Thursday. "But he felt a little stiffness in there the other day when he was throwing his bullpen, and was asking me what I thought. If we wanted him to pitch, he would have pitched."
In the first season of the richest free-agent contract in Brewers history (four years, $50 million), Garza was effective when he was healthy. He went 8-8 with a 3.64 ERA in 27 starts and 163 1/3 innings, missing most of August with a rib-cage strain.
He led the Brewers' regular starting pitchers in strikeouts per nine innings (6.94), fielding independent pitching (3.53) and wins above replacement (2.5).
He also landed on the disabled list for the fourth consecutive season.
"I talked to him today. We need to get him to where he's going to be good for a whole season," Roenicke said. "It's not the part when you're missing him for the month; when he got hurt this year, he was really good and he was on a roll that, if he continued that pace, we wouldn't have gone through all that funky stuff that we did. So [the team has] to keep him on a good pace that helps him get locked in and then maintain that longer. Any time you have an injury, it's hard when you miss a month to come back and be that same guy again.
"They're going to address some things physically, but he's in great shape. How do you keep him away from an oblique [injury]? I don't know how you do that. The good thing was, his elbow held up good this year, his shoulder -- really, everything in his arm held up really well."
Adam McCalvy is a reporter for MLB.com. Read his blog, Brew Beat, and follow him on Twitter at @AdamMcCalvy. This story was not subject to the approval of Major League Baseball or its clubs.