D-backs to conduct extensive search for skipper
New GM Stewart says club is already putting together list of potential candidates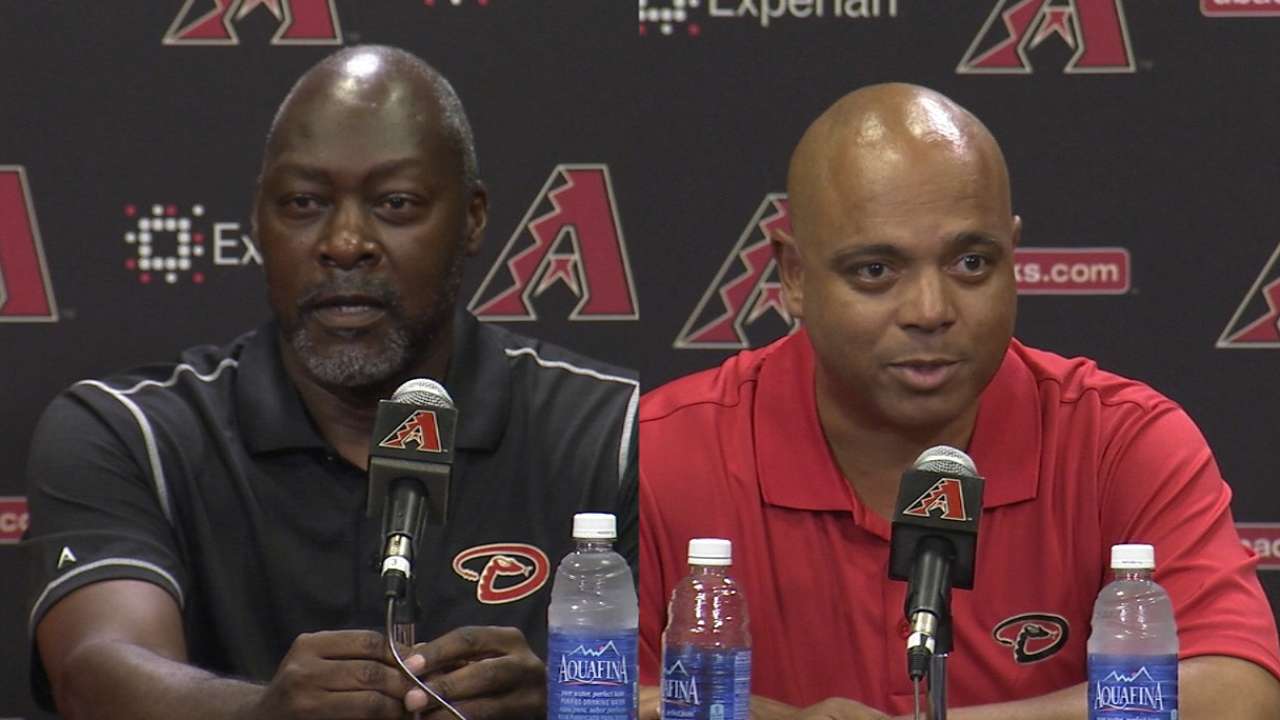 PHOENIX -- If the way the search for a general manager went is any indication, expect the D-backs search for their next manager to be relatively swift with a wide range of candidates for consideration.
The D-backs on Friday dismissed manager Kirk Gibson and the search for his successor has already begun with chief baseball officer Tony La Russa working with new general manager Dave Stewart and senior vice president of baseball operations De Jon Watson.
"We actually are putting that list together," Stewart said. "We've got some ideas of people that we're going to look at, but we're going to take a little bit more time in the next couple days and put that list together. We want to be thorough as Tony was in his GM selection, and the selection of De Jon [Watson]. We're going to just take our time, make sure that we put the names together that are right. Not only match what we're looking for, but are a good complement to the players that we have in our clubhouse and on our team."
Just like Stewart was immediately assumed to be a candidate for the GM job given his history with La Russa, early speculation on the list of potential managers centered around those La Russa has worked with in the past.
White Sox third-base coach Joe McEwing, who played for La Russa in St. Louis, figures to be a candidate, while former A's catcher and current Twins coach Terry Steinbach could be as well.
Cardinals bench coach Mike Aldrete and St. Louis third-base coach Jose Oquendo both worked under La Russa and he is said to respect both men.
Former Cardinals coach Joe Pettini filled in as manager for La Russa in 2011 when La Russa had to take a medical absence. Pettini might be one that La Russa could have interest in talking to.
Stewart mentioned three internal candidates during his introductory press conference: Turner Ward, Andy Green and Phil Nevin.
Nevin managed Triple-A Reno this past season and drew rave reviews from those who played for him. He is also expected to be a candidate for the Astros' vacant managerial job.
Green has won the last two Southern League Manager of the Year Awards for his work with Double-A Mobile and is regarded as a bright up-and-coming manager.
Ward was Mobile's manager before Green and then he joined the big league staff as assistant hitting coach in 2013. Green served as hitting coach this season.
"We're looking for somebody that can lead this club, not just in the short-term, but long-term," Stewart said. "There are some good names out there -- not that these names are on our list -- we've got veteran guys that are out there that are available, and we've got some young stars that are actually within our system."
When asked for a timetable on the hire Stewart said, "When you want to get things right, you take as much time as you need."
With important decisions to be made about the future of the organization in the coming weeks, La Russa would rather have a manager in place sooner rather than later.
"Here's one thing we preached for years -- as long as it was sensible -- urgency," La Russa said. "We're going to get after it. We have some strong in-house candidates, but there are some guys out there that we're going to work through.With good sense we're going to push this thing forward. The quicker the better. Because you want that person involved in the decision-making process."
Expect La Russa to have a large say in who the next manager is. After all he was recently inducted into the National Baseball Hall of Fame for the work he did in the dugout during his career.
Other than obviously Stewart and Watson, La Russa will likely include former GM Kevin Towers -- who the club is optimistic will stick around -- as well as pitching advisor Dave Duncan, a longtime La Russa confidant.
"We'll look at what they think of the manager candidates and who they think should interview, and then we'll have a vote," La Russa said. "But in the end ... I know I get the last shot if I want it."
Steve Gilbert is a reporter for MLB.com. Read his blog, Inside the D-backs, and follow him on Twitter @SteveGilbertMLB. This story was not subject to the approval of Major League Baseball or its clubs.