Jeter saves uniform from final game at Yankee Stadium
Captain was also given ball from walk-off hit, plans to acquire copy of game video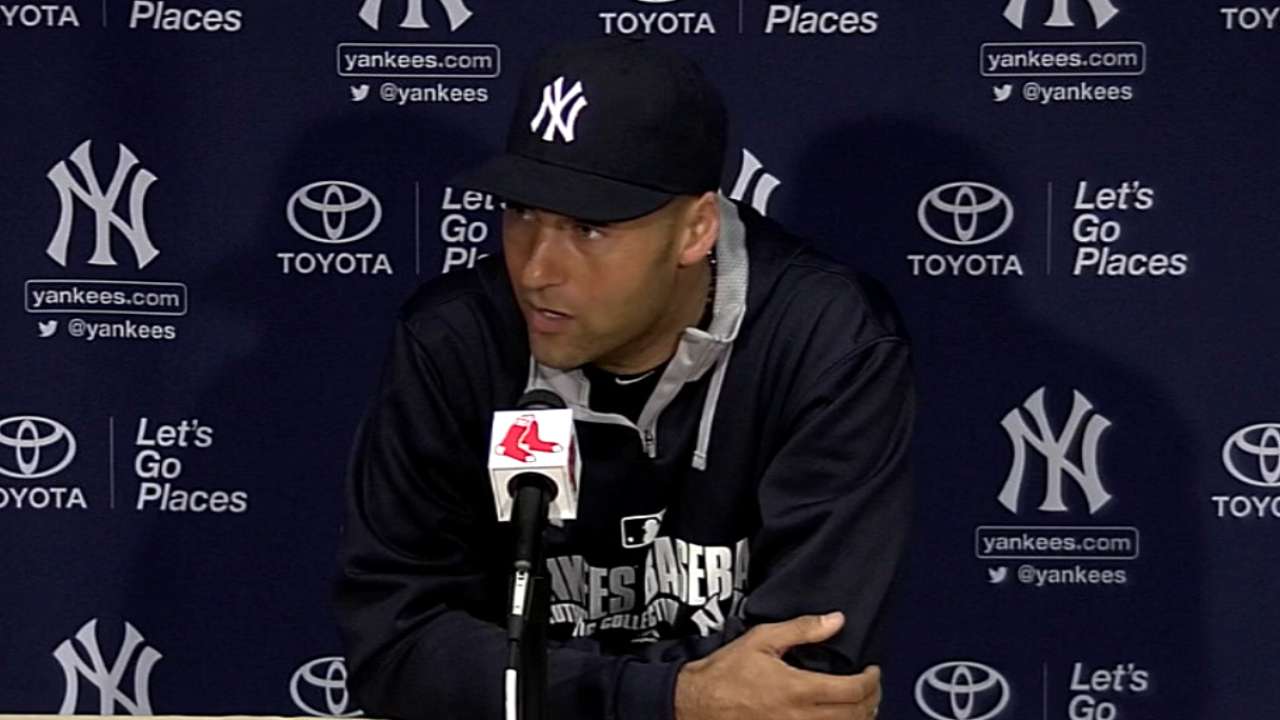 BOSTON -- Derek Jeter said that he saved the uniform that he used for his final Yankee Stadium game on Thursday, the last time he will wear the pinstripes that have helped define his entire professional life. The actual moment when he took them off is a blur in his mind.
Jeter said goodbye to the Bronx with a walk-off single that gave the Yankees a 6-5 victory over the Orioles. After taking a quick lap of the field that included many hugs, ovations and cheers, he walked down the dugout steps and into the clubhouse, where he remembered his first thoughts as: "I just won this game. Can you believe it?"
After exchanging a couple of fist bumps with security guards, Jeter -- still drenched from the icy bath he was given on the field -- took his pinstriped No. 2 jersey off at his locker and changed into a workout shirt, in which he conducted his postgame news conference. Jeter didn't give the moment much pause.
"I really didn't think about it, you know what I mean?" Jeter said. "One, I was wet because they put the Gatorade on me, but I was so excited after the game -- I think it really would have been a different situation had the game ended 5-2.
"But because I was so excited for what had just happened and the whole thing was unbelievable in my mind, I was just happy. Everything happened so quickly in terms of the swing of the emotions. Taking off the uniform, I don't even remember it."
Putting it on for the last time was an emotional enough experience for Jeter, who said that he nearly cracked several times in the clubhouse.
"There were times I had to turn around in my locker or go to the bathroom, or go somewhere that people weren't because I didn't want to break down before playing the game," Jeter said. "That's never happened to me before, but afterwards, it was completely different."
Jeter said that he was given the baseball that he lined into right field off Evan Meek, his last Yankee Stadium hit, and he will do something special with it -- he's just not sure yet. Jeter also plans to get a copy of the game video, and though he has said many times that he does not watch baseball on television, Jeter plans to make an exception.
"The reason I want to watch is because a lot of it I don't even remember," Jeter said. "I mean, I was doing things last night; I almost told Joe, 'Get me out of here.' I was giving signs to [Stephen] Drew on who to cover second base on a steal and there's no runner on first? There were a lot of things going on. I'd like to see how it went because I think I missed a lot of it."
Bryan Hoch is a reporter for MLB.com. Follow him on Twitter @bryanhoch and read his MLBlog, Bombers Beat. This story was not subject to the approval of Major League Baseball or its clubs.