Stewart will command respect from players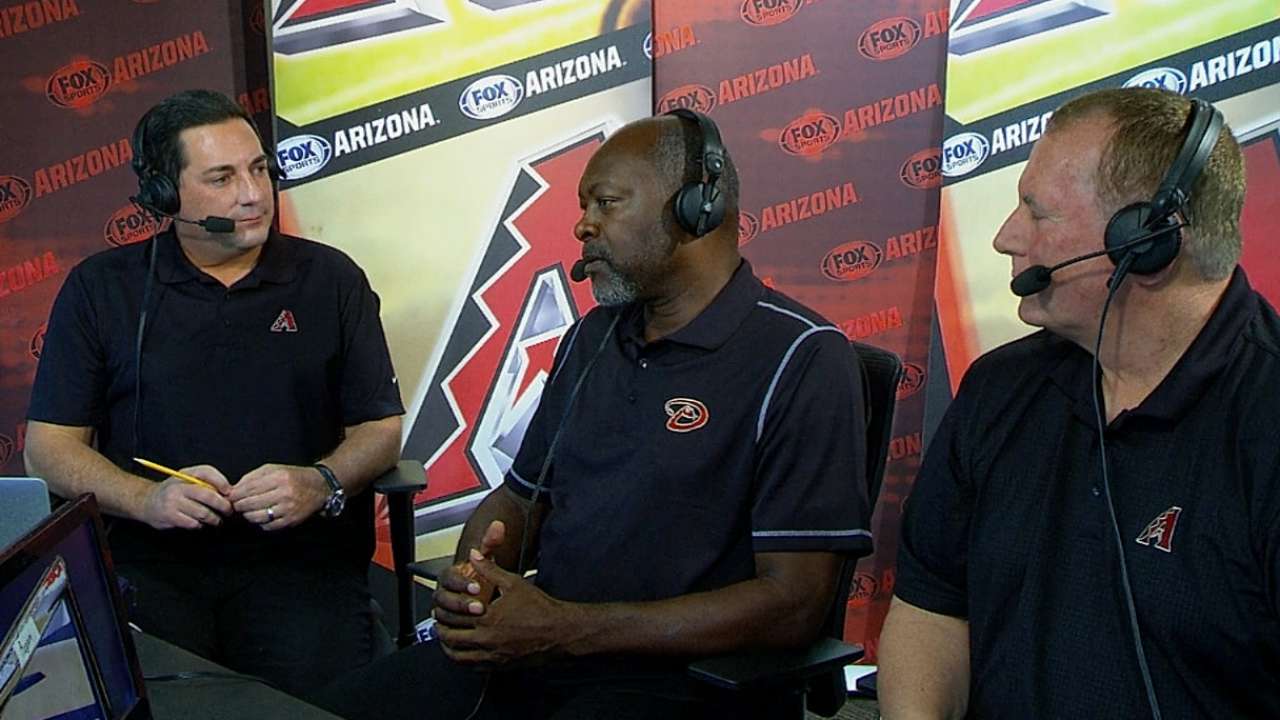 PHOENIX -- On the same day the D-backs ended one era in the dugout, they began a new one in the front office.
The D-backs on Friday introduced former Major League pitcher Dave Stewart as their new general manager and senior vice president, along with De Jon Watson as the club's new senior vice president of baseball operations, signaling a change to the players in the clubhouse.
"There's going to be some player moves, too," pitcher Brad Ziegler said. "It's not just a coaching staff and a front office change. There's going to be some overhaul in the locker room, too."
The D-backs dismissed former general manager Kevin Towers on Sept. 5, but he will likely stay in the organization, which also pleased players.
"I think it's great that they kept KT around," Ziegler said. "Everybody knows he's a great baseball mind. He's made some moves that have been questioned; he's made some other moves that have been tremendous."
Stewart brings the added benefit of having a varied résumé -- a major part of which is having spent 16 years as MLB pitcher. Half of that time was spent with chief baseball officer Tony La Russa's Oakland A's.
La Russa cited Stewart's wide range of experience at different positions in the baseball industry as a reason why he chose Stewart, saying, "He's got a [heck] of a lot more experience and qualifications than I do."
The players that Stewart and La Russa will ultimately be in charge of think it will help that Stewart has been in their shoes.
"The fact that he was a player, and I guess maybe [he is] a tad more sensitive to the grind of a Major League season and the actual day-to-day things that you experience as a player, and I think it's a plus as well," Mark Trumbo said.
Stewart's task is simple to say but harder to accomplish as he will look to return the D-backs to the contender they were only three years ago. But Stewart thinks the person to lead the team there is already on the roster.
"If you wake up in the morning and the sun is a little bit cloudy, when you know [Paul] Goldschmidt is playing, it makes everything OK," Stewart said. "He's the corner of what we are trying to do."
Goldschmidt said: "I hope he's right. ... You got to prove it. Whatever anyone says, whether it's good or bad, actions speak louder than words."
With the changes at the top of the front office -- La Russa coming aboard in May and Stewart and Watson on Friday -- the players know they're going to have to prove themselves to the new bosses.
"I think [Stewart is] going to demand a lot out of us," Ziegler said. "He had four straight 20-win seasons. He was among the elite in the late 80s, early 90s. With that being the case, he's not going to tolerate mediocrity. He's not going to tolerate poor performance, poor effort.
"He's got a way, when he talks to you, you walk away from it kind of empowered and you feel like you kind of want to run through a wall for the guy. I think in return, that's what he expects from us."
Adam Lichtenstein is an associate reporter for MLB.com. This story was not subject to the approval of Major League Baseball or its clubs.