Selig calls Jeter's Bronx sendoff 'a great night for baseball'
Commissioner says no other sport could produce a moment like Yanks captain's walk-off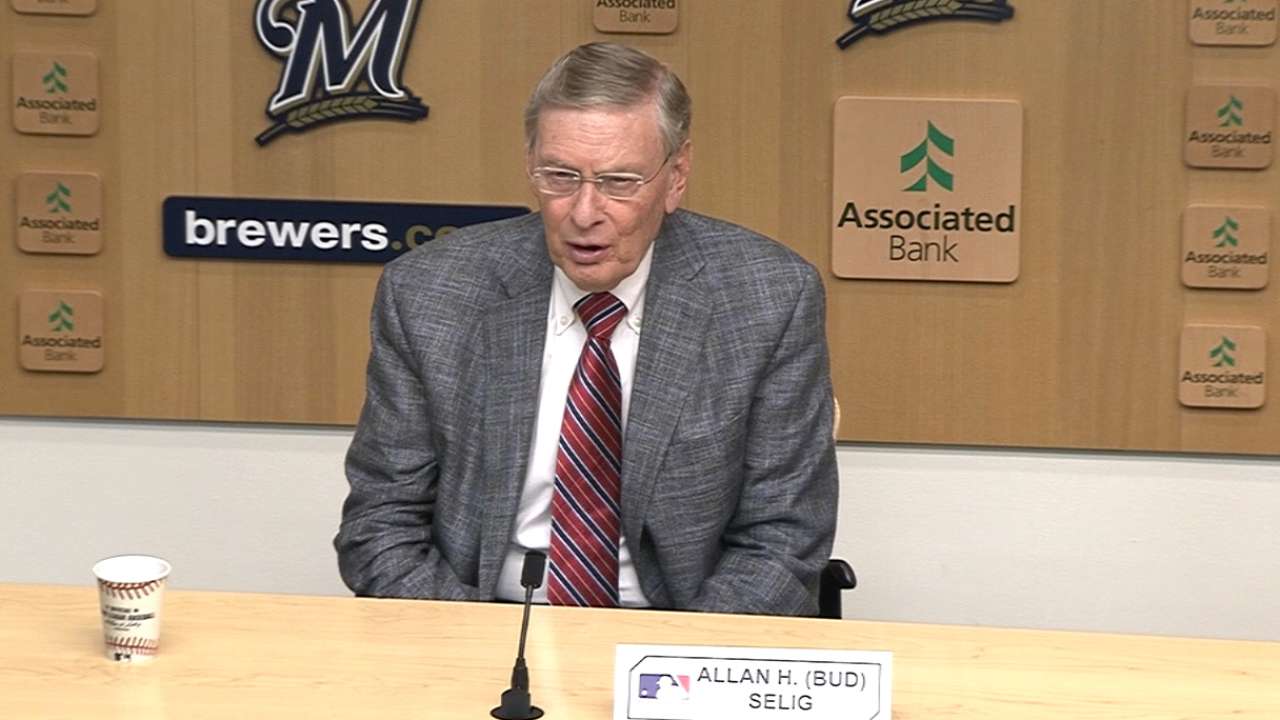 MILWAUKEE -- Among the baseball fans around the world who were glued to the broadcast of Derek Jeter's magical Yankee Stadium sendoff was the Commissioner of Major League Baseball.
Allan H. "Bud" Selig said he watched the whole game.
"I've seen emotion in my lifetime," Selig said Friday, "but, boy, that was as good as anything I've ever seen. And to think, when he came up, I said to myself, 'It can't happen this way. You couldn't write a script. Nobody would believe it.'
"And sure enough, he did what he always did. Inside-outside swing -- bang! Line drive to right field, and the game was over."
Selig has crossed paths with Jeter a number of times this season, including at the All-Star Game in Minneapolis and at Yankee Stadium on Tuesday as part of Selig's own farewell tour. Jeter, who received the Commissioner's Historic Achievement Award, surprised Selig by interrupting a town hall-style meeting with club employees to present Selig with a framed photo and letter written by Selig's hero, Joe DiMaggio.
They will meet again on Saturday at Fenway Park, the final in-season stop of Selig's ballpark tour. Selig is retiring in January after 22 seasons as Commissioner. Jeter is retiring after 20 seasons with the Yankees.
"I saw him at the All-Star Game and he said, 'Well, we started together and we're going out together,'" Selig said. "As I said before, [we are lucky] that our iconic heroes -- whether it was [Hank] Aaron, [Stan] Musial, DiMaggio, you can go generationally -- have been really good. They've really been good. Robin Yount here.
"So here's a kid from Kalamazoo, Mich., 20 years in the big leagues in New York. I'm not trying to be unkind -- not an easy place. He's said that himself. And watching last night, you talk about affection and respect from people. Wow. It was a great night for baseball."
He paused and added, "Obviously, I'm partial, but only baseball could produce a moment like that. No other sport could produce a moment like that."
Adam McCalvy is a reporter for MLB.com. Read his blog, Brew Beat, and follow him on Twitter at @AdamMcCalvy. This story was not subject to the approval of Major League Baseball or its clubs.