D-backs players surprised by Gibson's dismissal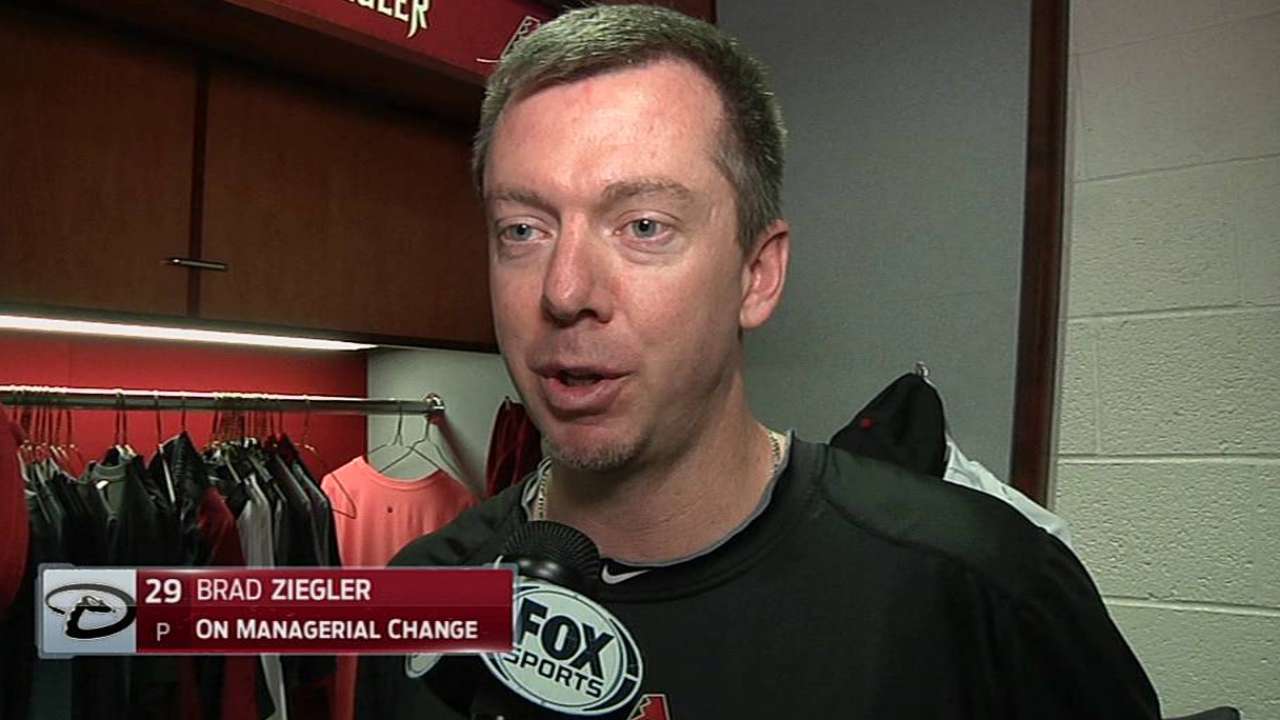 PHOENIX -- When D-backs players arrived at Chase Field early Friday afternoon, they heard the news that the rest of baseball had only just learned -- manager Kirk Gibson and bench coach Alan Trammell had been relieved of their duties.
"It's pretty solemn [in the clubhouse]," pitcher Brad Ziegler said before the series opener against the Cardinals.
The fact that Gibson was dismissed didn't come as much of a surprise to many outside the team, as the D-backs had fallen from NL West champions in 2011 to the team with the worst record in the Major Leagues this year.
But what may have caught some players off guard was the timing of the announcement just before the final three games of the season.
"This is my first experience with anything like this, so I don't really know what to expect," first baseman Paul Goldschmidt said. "It definitely caught me by surprise, but ... I have no idea what's going on behind the scenes. I found out just when you guys found out.
"Maybe this is more normal than I think."
A common sentiment spread among the players in the clubhouse -- maybe this is our fault. After all, while Gibson led the team, he wasn't playing in games.
"You feel, as players, if we had played better on the field, he'd probably still have a job," Ziegler said.
In addition, key players, including Bronson Arroyo, Patrick Corbin, Goldschmidt, A.J. Pollock and Chris Owings have missed either the entire season or a large part of it due to various injuries.
But no one wants to use those injuries as an excuse.
"On paper, we had a great ballclub coming into the year with high expectations to do well, and it hasn't materialized, or come even close to materializing," Mark Trumbo said. "I gave it what I had, and we gave it what we had, but collectively, it wasn't near enough to do what we were supposed to do."
In the end, Gibson was never able to spark a renaissance after a rough 9-22 start to the year, and it ultimately cost him his job.
"We got off to such a tough start at the beginning of the year, and that just kind of set the tone for the rest of the year, and we could never really get out of it," Ziegler said.
Said Goldschmidt: "I think the players all loved him. Everyone loved him. I think he was working as hard as anyone. We know that performance is how it is in this game. So when you have the worst record in baseball, like we've had this year, you know changes might be possible."
Adam Lichtenstein is an associate reporter for MLB.com. This story was not subject to the approval of Major League Baseball or its clubs.