Three homers keep Mariners in Wild Card hunt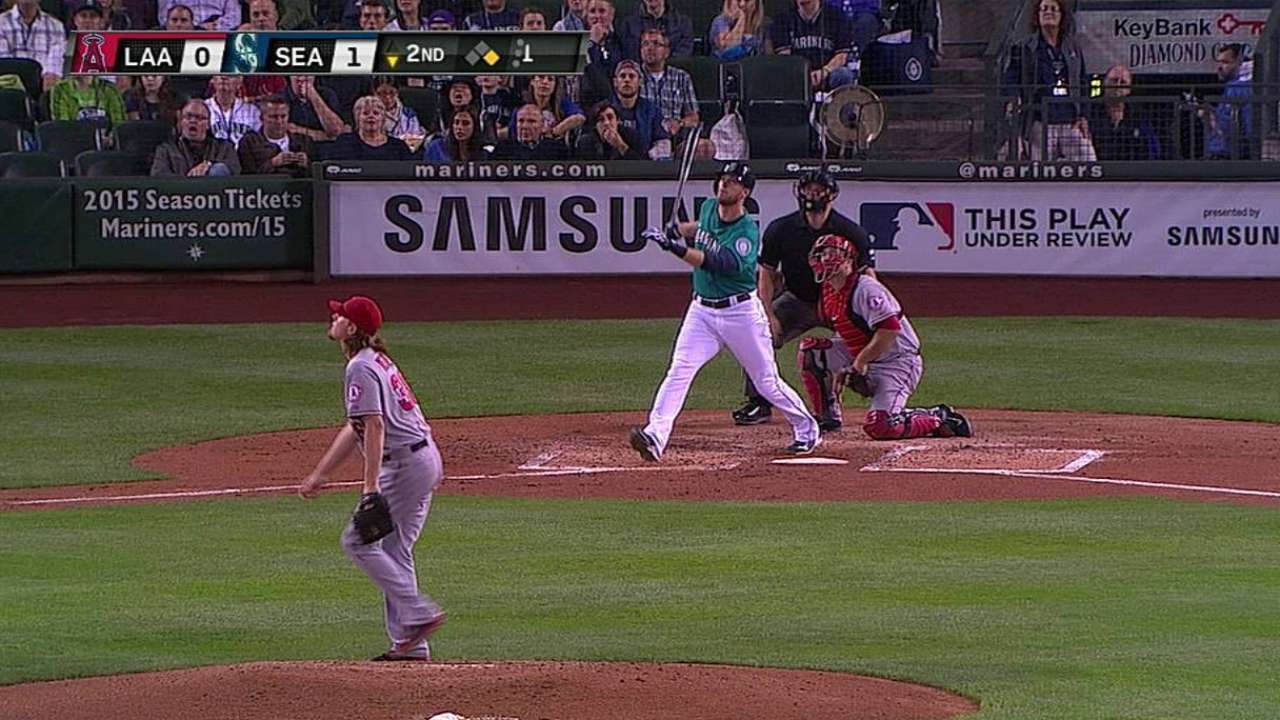 SEATTLE -- The Mariners are alive.
With their playoff hopes fading, Seattle held on for a 4-3 win over the Angels at Safeco Field on Friday night behind a home run barrage from the offense and a bounceback performance from right-hander Hisashi Iwakuma.
The victory keeps the Mariners on pace with the Athletics after Oakland topped Texas, 6-2, on Friday. Seattle trails Oakland by two games for the second American League Wild Card spot with two regular-season games remaining for both teams.
The challenge Seattle faces is simple. Sweep and hope.
"Our backs are still against the wall," manager Lloyd McClendon said. "We've been a very resilient club all year. I like where we are. I wish we were a little bit closer, but we'll see what happens."
The Mariners (85-75) must win their final two games against the Angels and Oakland must lose their final two to Texas. That would force a Game 163 on Monday night in Seattle, with the winner likely advancing to play the Royals or Tigers in the AL Wild Card game.
If Friday night is any indication, the Mariners won't fade quietly after a 4-7 road trip pushed them to the brink of elimination.
Iwakuma entered with a 1-3 record and 9.35 ERA in his previous four outings and dealing with ongoing stiffness in his back and groin. He hadn't pitched more than 5 1/3 innings in any of those starts and was riding a personal three-game skid.
But in his most important outing of the season, he held the Angels to two runs over 6 1/3 innings en route to his career-high 15th win. He struck out four, walked none and lowered his ERA to 3.52.
"I felt like I had better balance today. I felt like I was able to make adjustments when I needed to and execute when I needed to," Iwakuma said through translator Antony Suzuki. "That was the biggest difference."
How did he turn it around?
"It's hard to say in words. It's just a feel thing that you have inside," he said. "To just kind of feel the right balance and have your body link."
Iwakuma carried a four-run lead into the sixth inning, when Kole Calhoun and Mike Trout tagged him for back-to-back solo homers to cut the advantage in half. He responded by striking out Albert Pujols and Howie Kendrick to end the inning.
"That's the Kuma that I know," McClendon said. "His last three outings before that were not very good, so it was nice to get that lift from him and give us an opportunity to win a ballgame."
After he got Erick Aybar to fly out to begin the seventh inning, Iwakuma appeared to be in some discomfort and was pulled for precautionary reasons, though the club announced he has no injury.
"I feel like I flew way too open on that pitch, on that slider, and I kind of felt it stretch down here in my lat," he said. "It's no big deal. I think it was just more a precautionary move by the manager."
The Mariners did most their damage off Angels starter Jered Weaver (15-9) in the second.
Designated hitter Kendrys Morales put Seattle on the board when he began the bottom of the frame with a home run deep into the right-field seats. After first baseman Logan Morrison singled, Michael Saunders hit a two-run blast that gave Seattle a quick three-run advantage.
Dustin Ackley added a solo home run in the fifth to give the Mariners a four-run cushion.
"I've always said, when you get runs early, it allows your pitcher to settle in a little bit. You saw Kuma. He was great there," Ackley said after notching his 14th homer of the season, extending his career high. "He gave up those two home runs, but other than that he was awesome. We couldn't really ask much more from him today."
In the ninth, closer Fernando Rodney allowed a one-out RBI double to Aybar, which cut the lead to one run, but he got David Freese to fly out before Brennan Boesch grounded out to end the game. That earned Rodney his Major League-leading 48th save, tying his career high.
And the Mariners are still breathing.
"We're getting to play our 161st game, and it's a very meaningful game," McClendon said. I think that's pretty [dang] good. We've had a heck of a year."
Adam Lewis is an associate reporter for MLB.com. This story was not subject to the approval of Major League Baseball or its clubs.