Angels homer twice in loss after securing top seed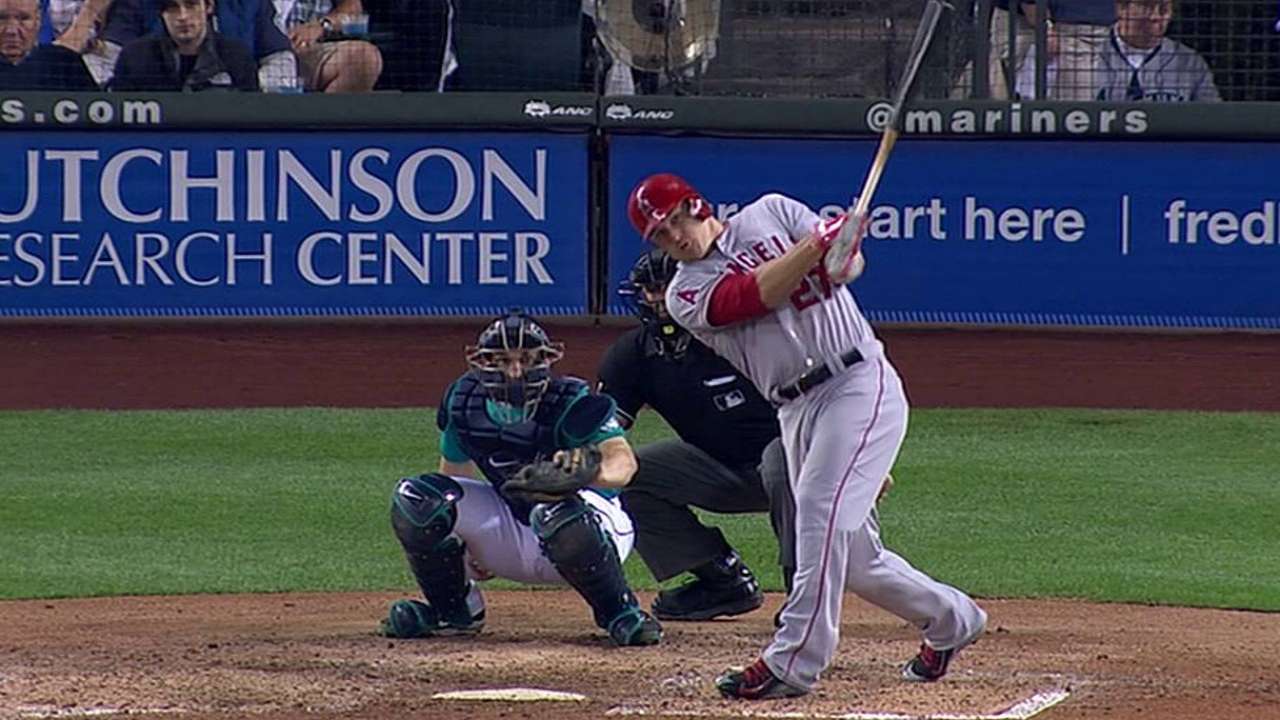 SEATTLE -- The regular season isn't over and their goals are much bigger, but the Angels locked up the first seed on Friday -- thanks to an Orioles loss that occurred before their 4-3 loss to the Mariners -- and that means something.
Last year the star-studded team spent only one day above .500.
"We definitely turned the page real quick," Mike Trout said. "It was a team effort."
Despite the loss, the Angels are 98-62, already a 20-win improvement over 2013, and can become the first team to win 100 games since the 2011 Phillies if they win on Saturday and Sunday.
The Orioles lost to the Blue Jays, 4-2, about a half-hour before the first pitch at Safeco Field, and now the Angels -- a Major League-best 52-29 at home this season -- will have home-field advantage throughout the postseason while entering October with baseball's best record for only the second time in their history.
"It's a good position to be in," Friday starter Jered Weaver said. "It's going to be warm in Southern California. We'll just sit back and witness who we've got. It's going to fun, man. It's been a while since we've had a playoff atmosphere, and we're really looking forward to it."
Weaver was tagged with his ninth loss, but he's still tied for the American League lead in wins, with 18.
He served up three homers, setting a career high with 27 allowed this season, but he finished with a 3.59 ERA in 213 1/3 innings in 34 starts, his highest output since 2011.
"My goal is to take the ball every fifth day, and obviously last year I wasn't able to do it," said Weaver, limited to 24 starts in 2013 because of a broken left elbow and 30 in 2012 with a back injury. "For the most part, I've felt good all season. It's been a process to get back to where I need to be. It's kind of been a battle for me this year, but I've kind of made the most of it."
Weaver had the Angels in a four-run hole against Hisashi Iwakuma through five innings, but they nonetheless had the potential tying run in scoring position in the ninth.
Kole Calhoun (17) and Trout (36) hit back-to-back homers off Iwakuma in the sixth, marking the sixth time the Angels have done that this season. Erick Aybar added a one-out RBI double against former teammate Fernando Rodney in the ninth to make it a one-run game, but after David Freese flied out to right and Brennan Boesch grounded out to short, the Mariners -- needing back-to-back wins and back-to-back losses by the A's to force a tiebreaker -- lived to fight another day.
"Listen, like I told my players, we're getting to play our 161st game, and it's a very meaningful game," Mariners manager Lloyd McClendon said. "I think that's pretty [darn] good. We've had a heck of a year. We'll see what happens."
The Mariners (85-75) embarrassed the Angels to start the season, sweeping a three-game series at Angel Stadium and outscoring them by 18 runs in the process. The naysayers were already piling on, predicting that the Angels were on their way to a fifth consecutive postseason absence despite a big payroll. And now here they are, guaranteed to finish with baseball's best record.
"It's not easy to do," said manager Mike Scioscia, who plans to start his everyday players the next two games but will try to get them off their feet at some point. "I think it's a great accomplishment for those guys in the room."
Albert Pujols, seated in the very corner of the room, didn't want to hear it.
The regular season isn't over, and there's more work to be done.
"I hope these guys don't get caught up in that," Pujols said. "If they're caught up in having a better record, then they're in the wrong clubhouse. Our goal is to try to win a championship, for our fans and for our organization."
Alden Gonzalez is a reporter for MLB.com. Read his blog, Gonzo and "The Show", and follow him on Twitter @Alden_Gonzalez. This story was not subject to the approval of Major League Baseball or its clubs.