Lester keeps battling back, winning admirers
Cancer survivor has never met challenge he can't handle, including postseason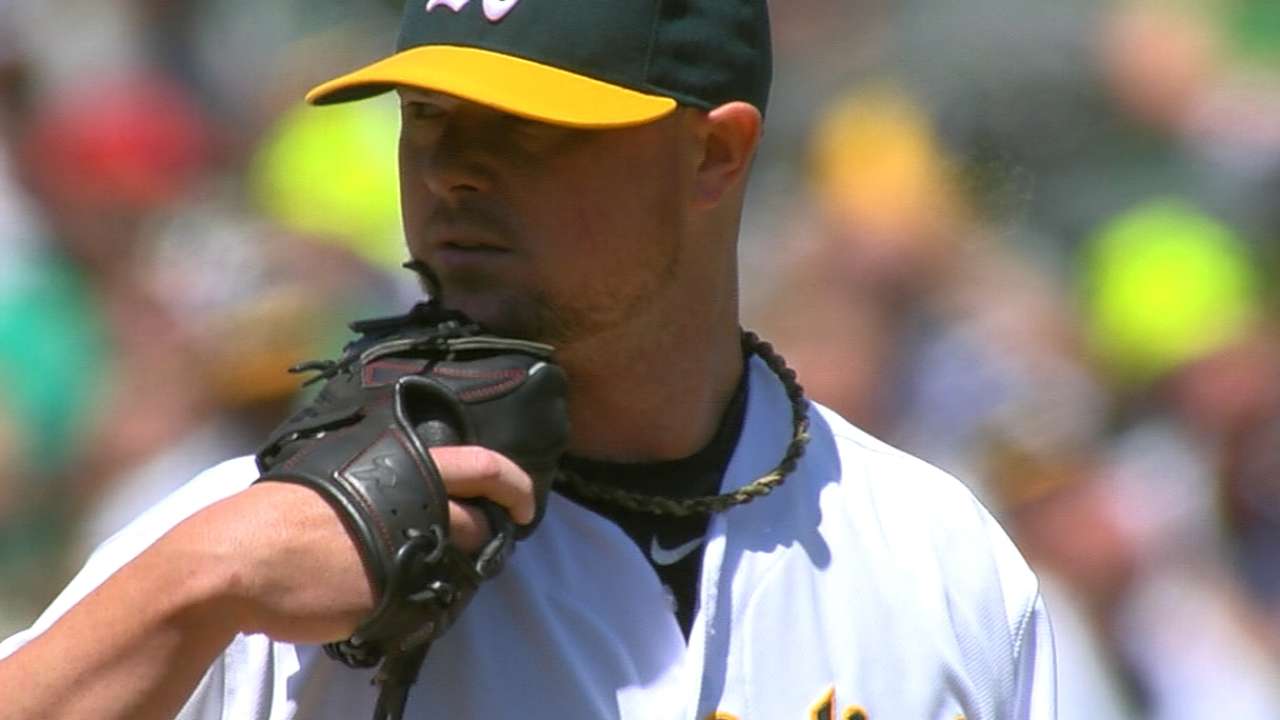 Jon Lester, LHP, Athletics
Hometown: Tacoma, Wash.
When Jon Lester takes the mound for his latest big game tonight in Kansas City, they will be rooting for him in Oakland, Boston, Tacoma, Wash., and various places in between.
Quite simply, Lester -- who will try to pitch the A's to victory in the Wild Card Game on TBS at 5 p.m. PT -- is an easy guy to root not just for what he has accomplished, but for who he is and what he has been through.
Back in 2006, while at the age of 22, Lester was rocked with the news that he had anaplastic large cell lymphoma. After discussing his diagnosis with amazing poise and courage for someone his age, Lester overcame the cancer, battling through chemotherapy treatments with the same resilience that has made him such a success story on the mound.
"When our whole team was done with practice, he would stick around afterwards and run extras corners and things like that," said Rick Barnhart, Lester's high school coach at Bellarmine Prep in Tacoma. "You wouldn't know he was this stand-out talent, because he was always working harder than everyone else. That was always a pretty cool thing."
It was a trait Lester took with him through every level of the Red Sox's farm system after being selected in the second round by Boston in the 2002 First-Year Player Draft.
Even as a young pitcher in the Majors, Lester became someone all the other pitchers were told to emulate.
"He's an easy guy to follow," said Red Sox right-hander Clay Buchholz. "He does everything right. Obviously he makes every start he's asked to make."
And in those starts, Lester never gives an inch. It was true for all those years in Boston, and it has happened again in Oakland, where he was traded on July 31 for Yoenis Cespedes.
"He's a really fierce competitor," said Buchholz. "When he's out on the mound, he's an emotional guy and he wants to do so well and he's a perfectionist to some extent and that's probably the best thing for a pitcher to want to be perfect. Nobody can be perfect, but you want to be as close as you can to that. He's been a horse for a long time."
This start against the Royals will be one that should draw interest from a lot of fans and teams because Lester is up for grabs come November as a free agent. Of course, the lefty is simply relishing another shot at the postseason, and will be making his 12th career playoff start, which is sixth most among active starters.
"I'll never take for granted that I get to go to the postseason," Lester said.
But once that postseason ends, expect a flurry of teams to get in the bidding, considering that Lester is in the prime of his career at 30 years old. Even now, after having won a pair of World Series championships with Boston and been the author of a no-hitter, there has never been a hint of arrogance from Lester. His even demeanor is just like it was back at Bellarmine Prep.
"The cool thing really was as it kind of got more and more obvious that he was going to be a real high-round pick, there would be 25 scouts at every game and phone calls all the time," Barnhart said. "But you wouldn't really know it necessarily from him. He was just the same hard-working guy."
If Lester can pitch the A's past the Royals, perhaps he will get on the same kind of run he did last October, when he went 4-1 with a 1.56 ERA in five starts in helping the Red Sox win their third World Series title in nine years.
"It's a great story," said Barnhart. "Sometimes you think it's like a made-for-TV movie. This kid comes walking in and does so great and he gets knocked off his feet. Then he comes back."
Now Lester is back where he's most comfortable -- pitching with his team's entire season at stake.
Ian Browne is a reporter for MLB.com. Read his blog, Brownie Points, and follow him on Twitter @IanMBrowne. This story was not subject to the approval of Major League Baseball or its clubs.