Brett eager to see Royals back in playoffs
Hall of Famer led franchise to 1985 World Series title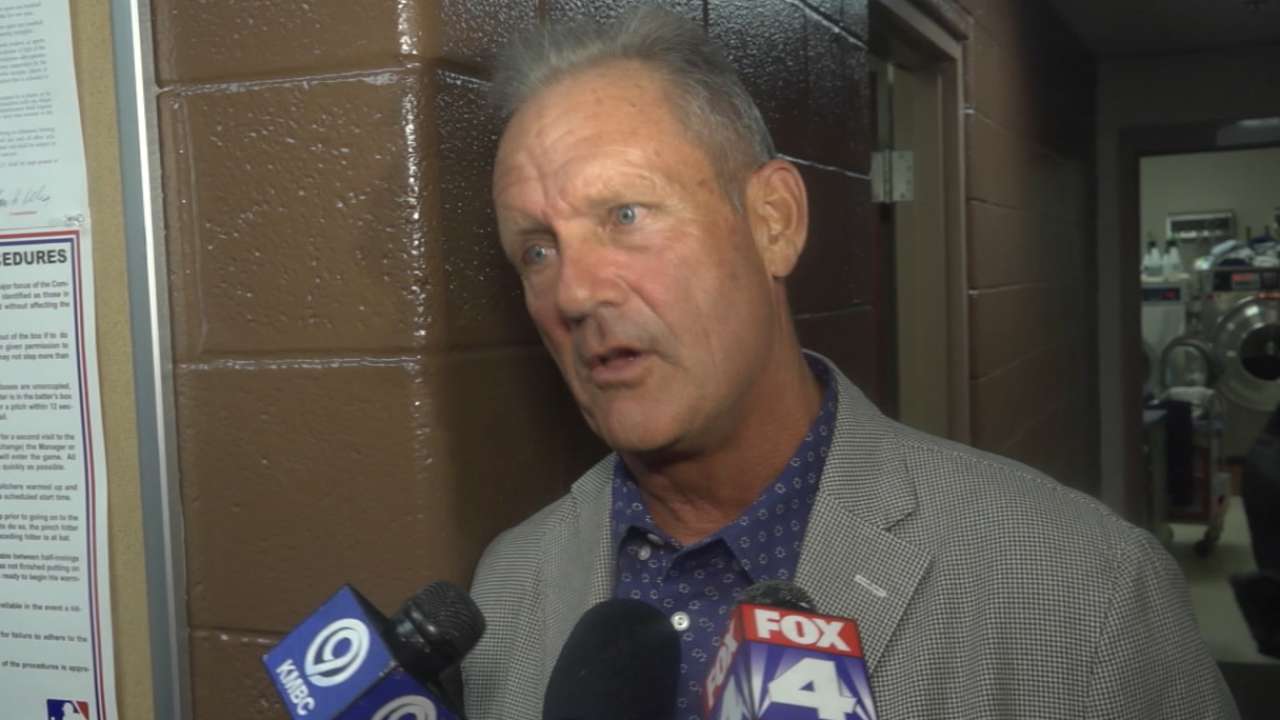 CHICAGO -- Hall of Famer George Brett swept into the Royals' clubhouse before Friday night's game against the White Sox, hoping to soon witness something he had not seen since he was a player in 1985: the Royals in the postseason.
"I thought I'd see it again, I just didn't know when," Brett said. "I thought I might have seen it prior to this a couple of times, but these guys have shown a lot of resiliency. They were eight games down and the next thing you know they're up, then they're down and the next thing you know they're back in first place.
"But it's a lot of fun to watch and, as a guy who's played in a bunch of these things and on a bunch of really good teams, it's really exciting because it's been such a drought."
It's been 28 years without a title since winning pitcher Bret Saberhagen jumped into Brett's arms as the celebration of the 1985 World Series victory over the Cardinals began.
Brett remembered going up to Saberhagen with two outs in the ninth inning.
"I told Saberhagen, 'Hey, when this guy makes the last out. And he is going to make the last out. Just don't start running around all over the place,'" Brett said. "Because we lost in '76, '77, '78, '79 lost by two games to the Angels, '80 lost, '81 lost, '84 lost in the playoffs. And I said, 'I've been around a lot longer than you and I want to be the first one on the mound to congratulate you. And sure enough, [Andy] Van Slyke flies out to [Darryl] Motley in right field. Game over and I've got a big photo [of that moment] in my house."
Brett has lived in Kansas City for 40 years and he's well aware of the impact this year's postseason chase has had on the area. He knows from walking his dogs down the street every morning.
"People have been driving by me, other people walked their dogs. Now everybody's stopping me. Honking the horns. 'Hey, big win last night!' " Brett said, then grinned. "Yeah, where were you two weeks ago when they lost four out of five?"
He knows from hearing, very suddenly, from a lot of his friends. Invited to Chicago by general manager Dayton Moore to join other front-office personnel for this series, Brett's phone was exploding with text messages during Thursday night's 6-3 victory over the White Sox.
"This guy's never said one word about baseball to me in eight years, but now he's calling: 'He's got to get this guy over. We've got to score this run!' or 'Game over, we've got [Wade] Davis in there!' " Brett said.
The 2014 players have caught the attention of an entire community with their postseason possibilities.
"If these guys only knew what it means to the city. It means the world to me," Brett said.
Friday's 3-1 victory gave Brett and other former Royals a reason to celebrate.
"I'm happy for the Kansas City fans and the organization," said Padres manager Bud Black, who pitched for the Royals from 1982-88. "It's been a long time. There's still a number of people I know who are still with the organization. George … congratulations!"
Dick Kaegel is a reporter for MLB.com. This story was not subject to the approval of Major League Baseball or its clubs.