Tepesch's strong season has rough landing
Righty allows six A's runs as Rangers' streak ends at five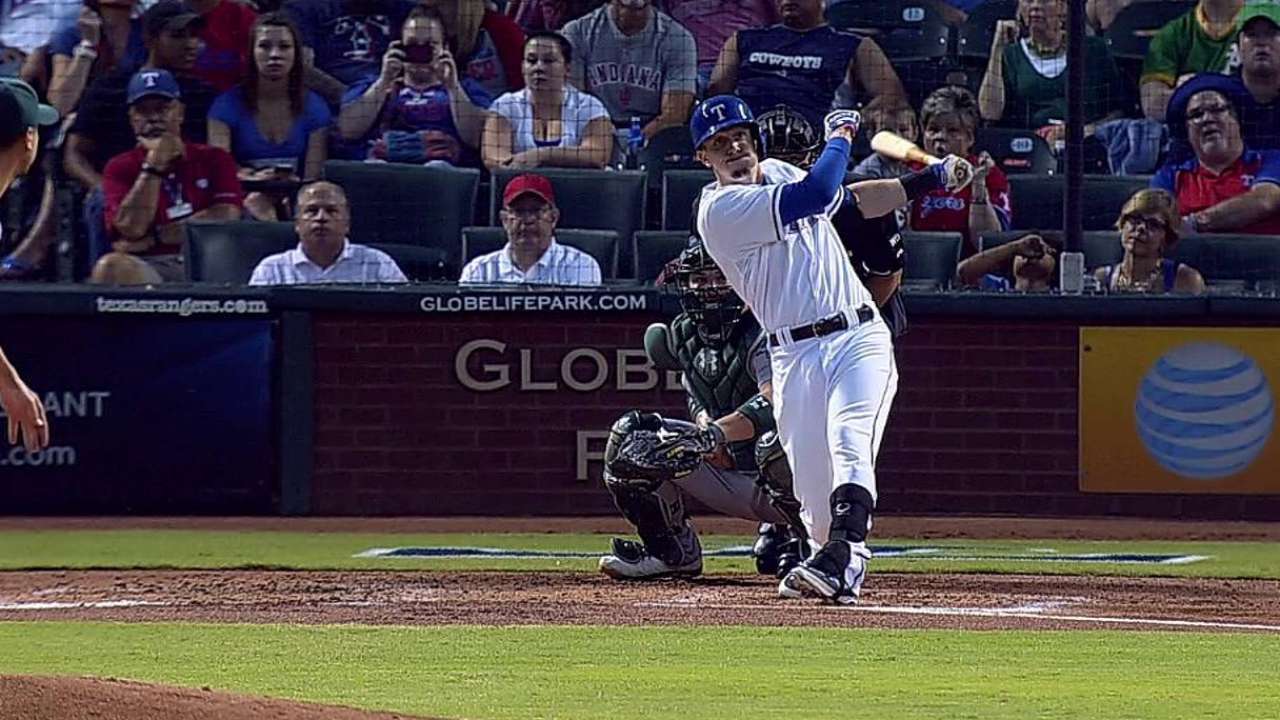 ARLINGTON -- Rangers right-hander Nick Tepesch, after pitching well for two months, could not close out his season with a win.
Tepesch allowed six runs in 4 1/3 innings and the Rangers' five-game winning streak came to an end with a 6-2 loss to the Athletics on Friday night at Globe Life Park. Tepesch entered the game having gone 2-3 but with a 3.29 ERA in his last nine starts.
"I really didn't have good command tonight," Tepesch said. "I didn't get ahead of hitters. When you don't get strike one, you end up having to climb back in the count and the hitter has the advantage ... a lot of deep counts."
Tepesch finished his season 5-11 with a 4.36 ERA in 22 starts and one relief appearance since being recalled from Triple-A Round Rock on May 14. He has now made 39 starts in the big leagues over the past two seasons and is 9-16 with a 4.53 ERA in those outings.
He exits the season as one of the four leading candidates for next year's rotation, along with Derek Holland, Yu Darvish and Nick Martinez. Colby Lewis would join that group if he re-signs as a free agent and Matt Harrison could as well if he makes a full recovery from his back issues.
But the Rangers are still expected to pursue at least one and possibly two starting pitchers in the offseason. Based on what they saw this season, maximum starting-pitching depth is a significant goal for the Rangers this winter, but Tepesch has definitely pitched himself into the middle of it all.
Despite what happened in his final outing, Tepesch still considers this to be a successful season considering how much he improved as the year progressed.
"I felt like I learned a lot and got better as the season went along," Tepesch said,
Athletics starter Scott Kazmir held the Rangers to two runs (one earned) in seven innings, cutting Oakland's magic number to clinch an American League Wild Card spot to one against the Mariners. One Seattle loss or Oakland win in the final two games of the season puts the A's in the Wild Card Game against the Royals or Tigers, whichever club does not win the AL Central.
The Rangers took a 1-0 lead in the first inning as Leonys Martin led off with a single, stole second and scored on a one-out double by Ryan Rua. That was Rua's 13th RBI in September, the most on the club.
But the Athletics went ahead in the third after Tepesch walked No. 9 hitter Eric Sogard with one out. Coco Crisp followed with a hard grounder to first base that Adam Rosales snagged with a nice play going to his right. He tried for the force at second base and his throw ended up in left field. That put runners on first and second, and Adam Dunn brought them home with a two-run double to right.
"If we turn that double play, it might be a little different," Rangers manager Tim Bogar said.
Josh Reddick made it 3-1 with his 12th home run of the season to lead off the fourth, and then the Athletics scored three more runs in the fifth. Josh Donaldson reached on a one-out single, Brandon Moss walked and Jed Lowrie doubled to right to bring home a run. With runners at second and third, Robbie Ross Jr. took over for Tepesch and gave up a two-run single to Reddick.
"I just thought he was erratic his fastball, [Tepesch] was hitting his spot," Bogar said. "I looked up at the scoreboard in the fifth inning and it was about 50-50 as far as balls and strikes."
T.R. Sullivan is a reporter for MLB.com. Read his blog, Postcards from Elysian Fields, and follow him on Twitter @Sullivan_Ranger. This story was not subject to the approval of Major League Baseball or its clubs.