d'Arnaud to have surgery for bone spur next week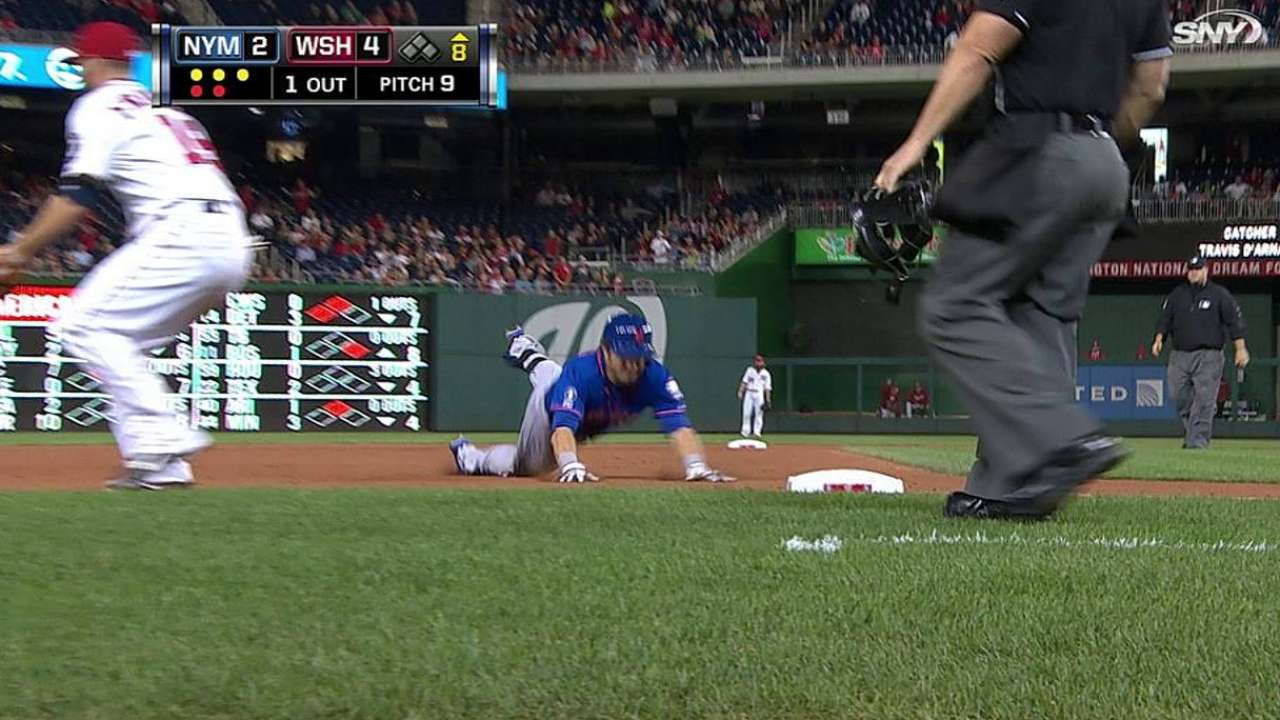 NEW YORK -- The pop that Travis d'Arnaud felt in his right elbow this week has officially ended his season. Mets doctors have diagnosed the catcher with a bone spur that broke off inside his elbow and surgery has been scheduled for next week to remove it.
"It could have been a lot worse," d'Arnaud said Friday afternoon at Citi Field. "It could have been ligament damage. It could have been muscle damage. Unfortunately it was something [nonetheless], but it is what it is. I've just got to keep my head up, go through this process and get it fixed."
d'Arnaud said he could not remember when he first felt discomfort in his elbow, but that the throw he made the eighth inning of Tuesday's game against the Nationals exacerbated it. The rookie catcher visited with Nats doctors later in the week, before a reexamination at Manhattan's Hospital for Special Surgery on Friday morning.
Testing there revealed the bone spur, which doctors will remove next Wednesday in New York. The rehab process should take approximately one month, giving d'Arnaud more than enough time to be 100 percent by Opening Day.
"Obviously it was affecting his throwing," Mets manager Terry Collins said. "I think he changed his mechanics to try to get rid of the discomfort a little bit."
D'Arnaud's first full season ended with a .242 average, 13 home runs and a .718 OPS in 108 games. Though he endured several bumps and bruises throughout the season, he avoided the major types of injuries that derailed him as a prospect.
Just as importantly, d'Arnaud -- after a massive early-season slump and a demotion to Triple-A Las Vegas -- established his value as a big league hitter. After returning from the Minors on June 24, d'Arnaud hit .272 with 10 of his 13 homers and an .805 OPS.
"Now he has a whole different approach to hitting," Collins said of d'Arnaud, 25, the Mets' unquestioned starting catcher heading into the winter. "He's not afraid to swing. He's not afraid to swing and miss. And we're seeing the damage he can do because of that, because he's much more aggressive at the plate.
"When he came up last year, we all talked about how he worked so hard to work with the pitchers and be a good defensive catcher. The one thing that was always tied to this guy was his offensive potential. We saw it. It's no longer potential. It's legit. So going into this winter, we know we've got a guy who can be in the middle of your lineup playing one of the toughest positions -- if not the toughest position in the game -- and do both well."
Worth noting
• Outfielder Kirk Nieuwenhuis was a late scratch from Friday's lineup due to illness. Matt den Dekker shifted over to center field in his place, with Eric Young Jr. starting in left.
Anthony DiComo is a reporter for MLB.com. Follow him on Twitter @AnthonyDicomo. This story was not subject to the approval of Major League Baseball or its clubs.