Cards maintain NL Central lead with extras win
Peralta's RBI single in 10th keeps St. Louis one game up in race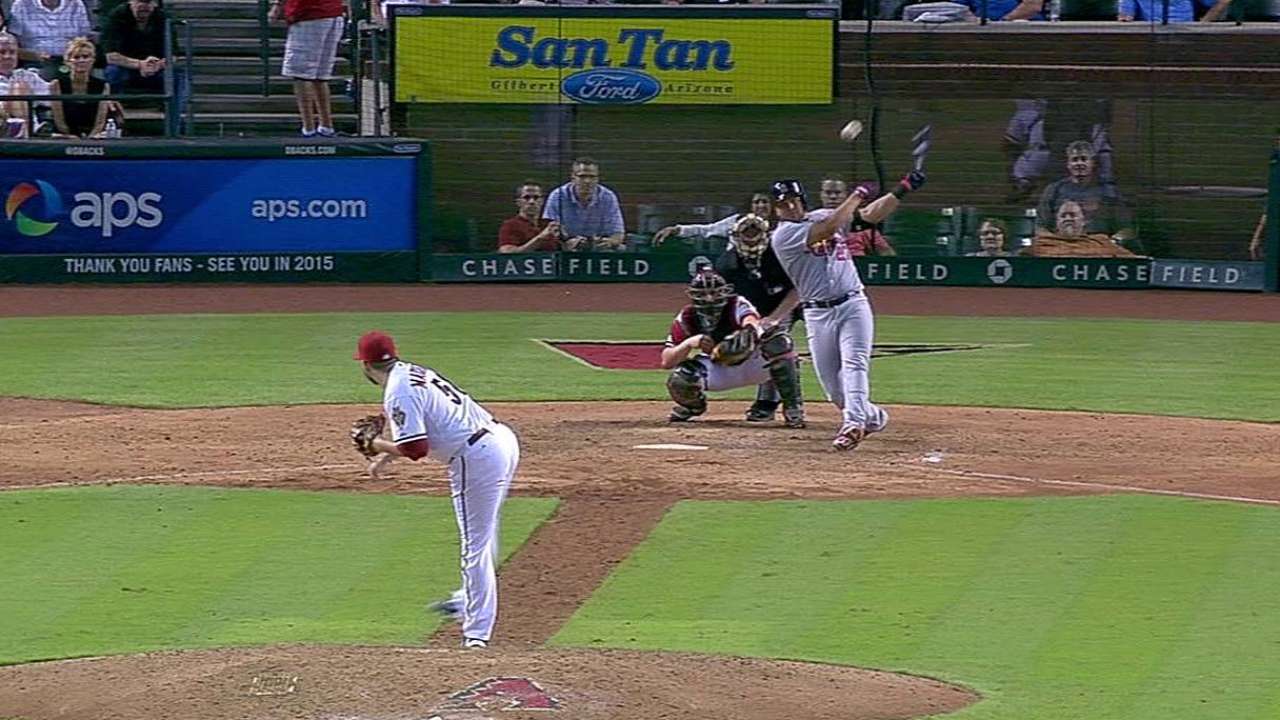 PHOENIX -- Emotions ran the gamut in the Cardinals' dugout on Friday, a night that started with manager Mike Matheny nearly pulling his starter after one inning and one that ended with Trevor Rosenthal easing through a save opportunity for a change. In between, the Cardinals watched their offense peck away and add on, their best reliever get rocked and a rookie pitcher stand tall as the team's division lead appeared to be slipping through his fingers.
Altogether it led to a 7-6, 10-inning win over the D-backs at Chase Field that the Cardinals needed in order to fend off the Pirates' attempt to pull even in the National League Central race. But as they have every day since the start of the month, the Cardinals left the ballpark solely in control of their division destiny.
Not that the cardiac Cardinals, now 31-23 in one-run games, made it routine.
"If they're not nuts by now, they haven't been watching close," Matheny said of his team's fanbase. "That's the club we are. ... I do say when things happen and it looks like the air gets kicked out of us, it isn't the case. They just keep playing the game."
The series opened with Michael Wacha attempting to prove himself ready for a prominent postseason role. He finished his five-inning start out strong, but that was after he tiptoed around early landmines. The Cardinals had activity in the bullpen in each of the first three innings, as Wacha dangled precariously on the verge of putting his club in a deep hole just after the Pirates secured a win over Cincinnati.
In fact, had the Cardinals extended the second inning one more batter to bring up Wacha's spot in the order, Matheny was ready to pinch-hit for him.
As it was, Wacha limited the D-backs to a pair of first-inning runs, then he bought time for Jhonny Peralta to twice deliver go-ahead RBI hits. The second one finally stuck, as Rosenthal ended a night of shaky relief by locking down his 45th save over a 97-loss Arizona club that had overcome a four-run deficit to push the game into extra innings.
"When you pull one out like that, it gives you confidence and hopefully some momentum," said Marco Gonzales, who pitched a scoreless ninth. "A win like this is huge."
The Cardinals required a last at-bat rally after watching the D-backs score once off Sam Freeman in the seventh and three times against Pat Neshek in the eighth to tie it at 6. Neshek, saved from also allowing the go-ahead run when Ender Inciarte's game-tying double bounced into the stands, had allowed multiple runs in an outing only once in 70 appearances.
"I could have made better pitches," Neshek said. "It just seemed like every ball was just out of reach, except for the last guy. He hit that pretty good."
Gonzales, who began to get loose in the first inning, stabilized things by working around a walk and an error in the ninth. He closed the inning by getting Nick Ahmed to swing through two changeups with the potential winning run at second.
"I'm just blown away with Marco's composure right there," Matheny said, "Being able to pitch out of that spot and throw some real big changeups in a tough count."
Matt Adams then promptly opened the 10th with a double, which Peralta followed with a go-ahead single off reliever Evan Marshall. Peralta had earlier put the Cardinals ahead with a two-run double in the sixth.
Arizona missed an opportunity to do more damage against Wacha early while the right-hander was working through jumpiness issues with his delivery. He walked four of the first 11 batters he faced and needed a double play to end a two-run first and a groundout to strand the bases full in the third.
Given the chance to continue, though, Wacha retired 10 in a row as his changeup emerged. His outing ended with a leadoff single in the sixth.
"I was struggling there in those first two innings," Wacha said. "I'm glad [Matheny] stuck with me. I was able to calm down there in the next few innings and get through those."
The Cardinals bailed Wacha out by scoring the next six runs, the first four against starter Trevor Cahill, who entered with a 6.28 ERA in 16 starts. The big outburst then came as the lineup turned over for a third time. After the Cardinals loaded the bases with three singles, Peralta drove Cahill's 91st and final pitch off the wall in center to push the Cardinals ahead, 3-2.
For as much as he's anchored the offense this year, Peralta's success with runners in scoring position had been lacking. He entered the night batting .239 in such spots and just 3-for-17 with the bases loaded.
"I know this year I've struggled with the bases loaded," Peralta said. "It was a really good day for me today."
Though the Cardinals remain in the hunt for the division title, this win, coupled with the Giants' loss, does assure them of hosting the Wild Card game, if they fall into it. Of course, their eyes remain on a grander prize.
"I know if we just sweep, we got it," Neshek said. Then he grinned: "But you wouldn't mind [the Pirates] losing so you could get this over quicker."
Jenifer Langosch is a reporter for MLB.com. Read her blog, By Gosh, It's Langosch, and follow her on Twitter @LangoschMLB. This story was not subject to the approval of Major League Baseball or its clubs.