D-backs' late charge halted by Cards in 10th
Inciarte logs four knocks, including game-tying RBI double in 8th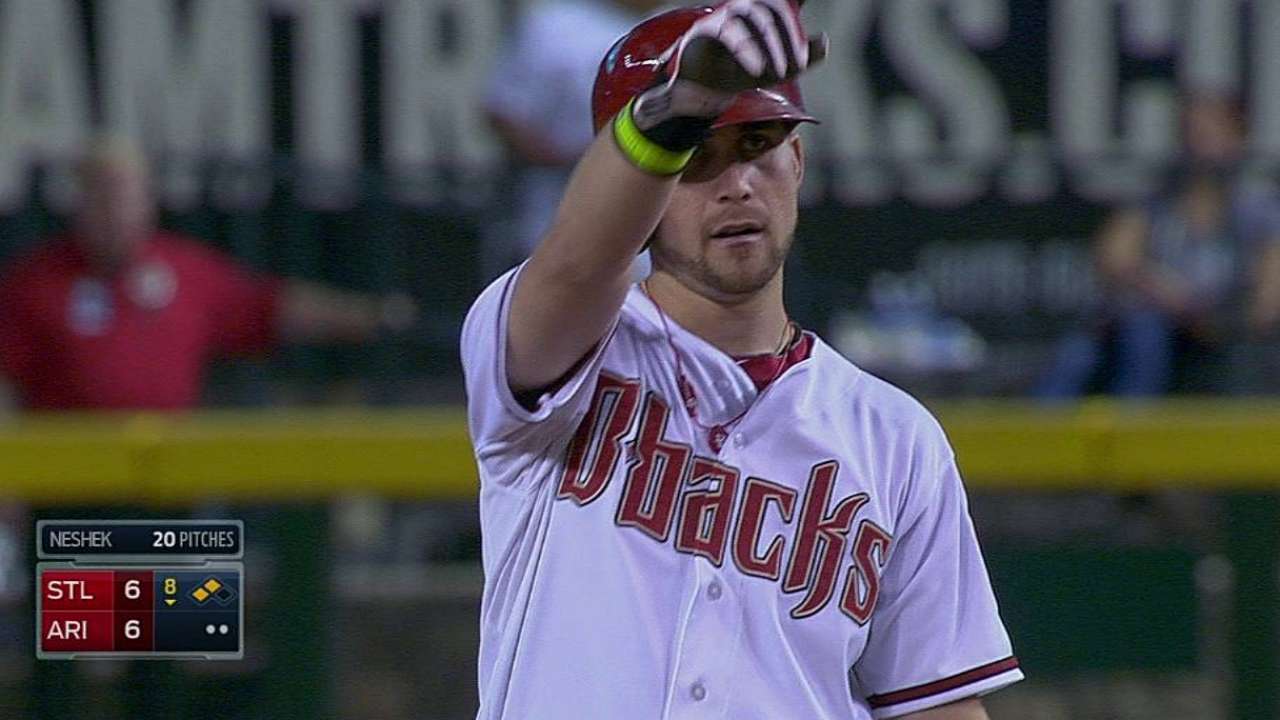 PHOENIX - Down three runs heading into the bottom of the eighth inning, the playoff-bound Cardinals appeared to have things well in hand. But Ender Inciarte and the D-backs had a different idea.
Four straight singles led to a pair of runs, and Inciarte roped a ground-rule double into left field to bring home the tying run that forced extra frames. However, Evan Marshall yielded the go-ahead run in the 10th as the D-backs dropped a 7-6 decision on Friday night at Chase Field.
"[Inciarte has] been one of our bright spots," said Alan Trammell, who is serving as acting manager for the remainder of the season. "He is making a name for himself. He is going to be a good Arizona Diamondback for years to come.
"He brings energy, he's learned, he's very coachable. And he's been able to apply a lot of the things that coaches have been working with him."
Cardinals reliever Pat Neshek was tagged for all three runs in the eighth, as he allowed five hits.
"I could have made better pitches," Neshek said. "It just seemed like every ball was just out of reach, except for the [Inciarte]. He hit that pretty good."
Inciarte finished 4-for-6 to extend his hitting streak to 14 games.
"I've been working hard lately," he said. "At the plate, things have been getting better for me."
But his offensive outburst and the D-backs' late rally proved to be for naught.
The Cardinals scored the eventual game-winning run when Jhonny Peralta's single drove in pinch-runner Daniel Descalso. Matt Adams had led off the frame against Marshall with a double.
"Obviously, we know they're trying to win the division. We gave them a nice little run tonight," Trammell said. "But, again, it's probably a broken record, [we fell] a little short. Give our guys credit for battling."
Both starters battled command issues during the game.
Michael Wacha's struggles came early. After Inciarte led off the game with a single, the right-hander walked the next two batters. At one point, Wacha threw six straight balls.
But after the D-backs scored twice off him in the first inning, the second-year starter settled down. Though at one point it looked like Wacha may not even escape the first inning, but he finished five innings and allowed just the two runs.
Trevor Cahill's struggles led to more damage. He gave up one run in the second inning but got through the next three without a blemish. He would not escape the sixth.
Cahill surrendered three singles to the first four batters in the inning, loading the bases and prompting a visit from pitching coach Mike Harkey.
Cahill then gave up a two-run double to Peralta that gave the Cardinals their first lead of the game.
"I think I kind of ran out of gas at the end," Cahill said. "I kind of fell out of sorts, left some pitches up. The sinker wasn't really doing much. I was just trying to grind through it."
Adam Lichtenstein is an associate reporter for MLB.com. This story was not subject to the approval of Major League Baseball or its clubs.