Scherzer feels he's a better pitcher this year than last
Tigers right-hander believes he's improved the execution of his pitches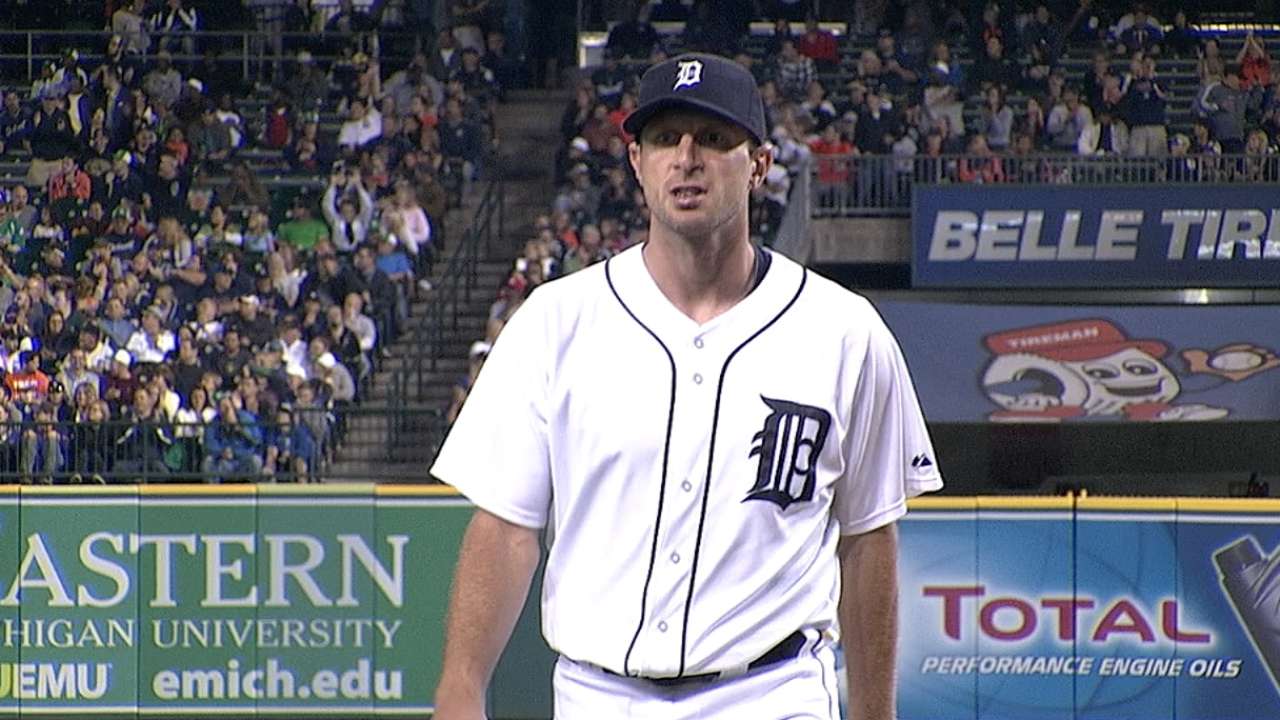 DETROIT -- There are scenarios in which Thursday night's outing could go down as Max Scherzer's last start at Comerica Park as a Tiger. If Scherzer ends up opening for the Tigers in an American League Division Series, he'd pitch Game 1 and a potential Game 5, both on the road. If the Tigers didn't advance, he'd then go into free agency. There's another scenario in which the Tigers need Scherzer to save them from collapse in the Wild Card game.
"These starts matter," Scherzer said after he turned a night of command struggles and a high pitch count into six innings of two-run ball. "Where I'm at now and executing pitches, it matters, and now I need to fine-tune more, because every pitch in the playoffs is crucial. It's so huge, and so obviously we're in [the playoffs] in some capacity, so whatever game I do get into, I just know you have to be at your best. You have to bring your A-game. There is no other way to script it, because the moment you give these guys an inch, they hit it a mile. It only counts even more in the playoffs."
Either way, the regular-season portion of his Follow-Up Season is over. And after he ended it with his 18th win of this year, and his 39th win over the last two seasons, he was good with what he posted.
He said in the spring that he could pitch better than last year and not have the same results. He wasn't far off statistically. From a pure pitching standpoint, he feels like he's better.
"I really do, because I feel like I'm executing pitches at a higher level than I was, say, last year," Scherzer said. "Last year I was very consistent, and that's something that's so hard to strive for. In my eyes I wasn't quite as consistent this year as I was last year. I had a few more ups and downs this year. But overall, I still did a heck of a job this year. In some ways I pitched from a numbers perspective pretty much the same. But from a pitching standpoint, I'm able to execute pitches at a higher level. I have a much more consistent curveball, and that allows me to really pitch with four pitches.
"As I keep going, that's what you strive for, is to always find ways to keep getting better and execute pitches in new ways, because you know the rest of the league's keying on you to try to figure you out and try to figure out ways to get hits off you. You have to come up with ways to keep getting better, and that's what I'm proud of. Even after an unbelievable year last year, I still found a way to get better this year."
He's said it before many times, and he said it again Thursday -- that you either get better or worse, and it's impossible to stay the same pitcher.
"For me," Scherzer said, "I can look back on 2014 -- at least in the regular season now -- and say, 'OK, maybe I didn't have quite the numbers as I was able to put up last year, but some things I did do better at this year. But overall, I feel like I'm a better pitcher than I was in 2013."
Jason Beck is a reporter for MLB.com. Read Beck's Blog and follow him on Twitter @beckjason. This story was not subject to the approval of Major League Baseball or its clubs.