For first time with Tigers, Soria seventh-inning bridge
Veteran reliever protects late lead, hands reins over to Chamberlain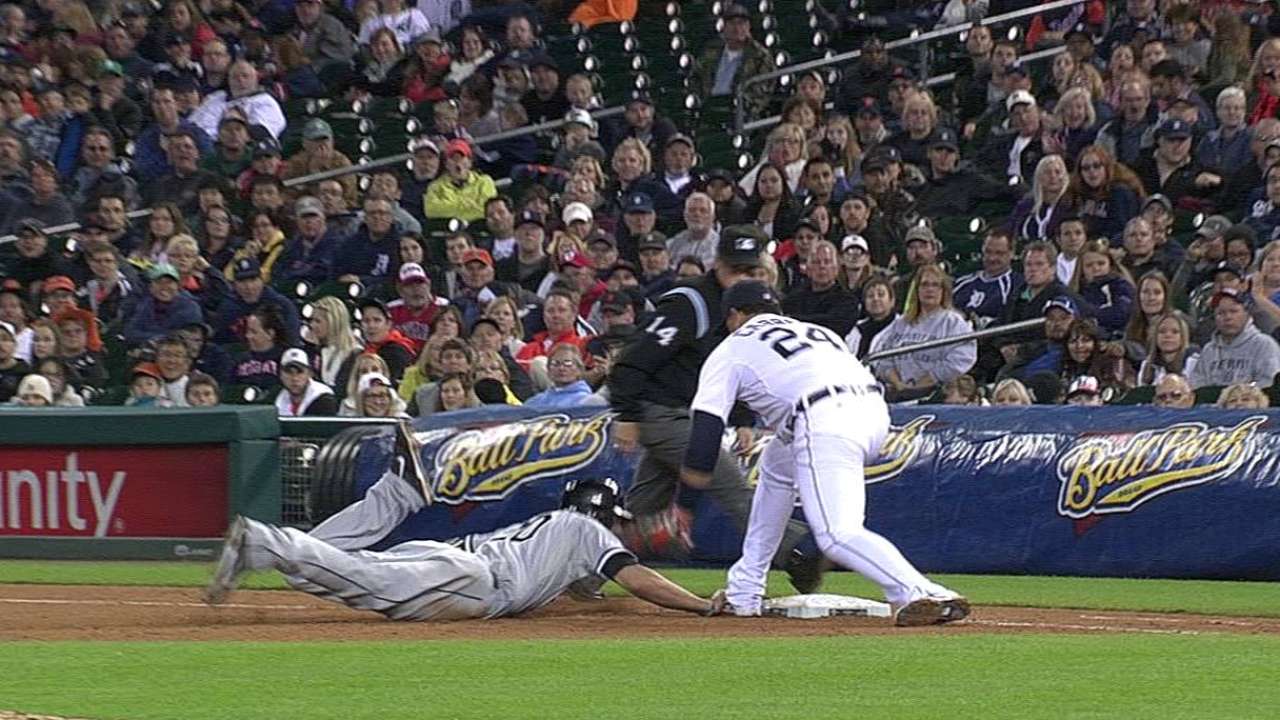 DETROIT -- The seventh inning had been tagged as an entry point for Joakim Soria when the Tigers traded for the former Royals and Rangers closer two months ago. On Thursday, he pitched the seventh with a lead to protect for the first time since his deal to Detroit, bridging a lead from starter Max Scherzer to setup man Joba Chamberlain.
Add in closer Joe Nathan, and Detroit's three late-inning relievers each protected a lead for an inning apiece for the first time. More impressive, they retired the Twins in order for those final three innings.
It does not mean that will be a regular role for Soria. Manager Brad Ausmus, who recently has used him more as a break-the-glass option if Chamberlain or Nathan struggle in their innings, left it open as a possibility, but didn't commit to it.
"When Soria first came over, I told him we'd use him in the seventh, and if Joe wasn't closing, he would close," Ausmus said after Thursday's 4-2 win. "He would kind of jump over Joba and close in those situations."
Thursday's situation happened to pit Soria against the toughest portion of the Twins' order at the top of the lineup, from leadoff man Danny Santana to Brian Dozier to Joe Mauer. The trio had produced Minnesota's two runs off Scherzer the previous trip through the order.
For new-school advocates of bullpens without set innings, it would be an example of putting a team's best reliever in the toughest spot in the lineup. Ausmus, however, said the lineup spot did not decide it for him.
"Soria was going to pitch the seventh regardless of where they were in the order," he said. "That really didn't play into it too much."
Soria, who has said he's willing to handle whichever inning he's handed, said facing the top of the order doesn't change his approach.
"In the big leagues, every single hitter is dangerous," Soria said. "If you make a mistake, they're going to make you pay. It doesn't matter who you're facing in the order. You have to face him like he's the best. You have go out there and throw strikes and try to get a spot.
"I'm in the bullpen when they need me -- if they need me in the seventh, if they need me in the sixth, whenever they need me. I'm able to help the team, that's the important thing."
First and second hitters in a lineup entered Friday batting just .190 (8-for-42) with no home runs and 15 strikeouts off Soria this year. The average jumps to .257 (19-for-74) for the third through sixth hitters, then back to .200 (11-for-55) for seventh through ninth.
Jason Beck is a reporter for MLB.com. Read Beck's Blog and follow him on Twitter @beckjason. This story was not subject to the approval of Major League Baseball or its clubs.