O's expected to give Gonzalez start in final game
Brief outing may line right-hander up for Game 3 or Game 4 in ALDS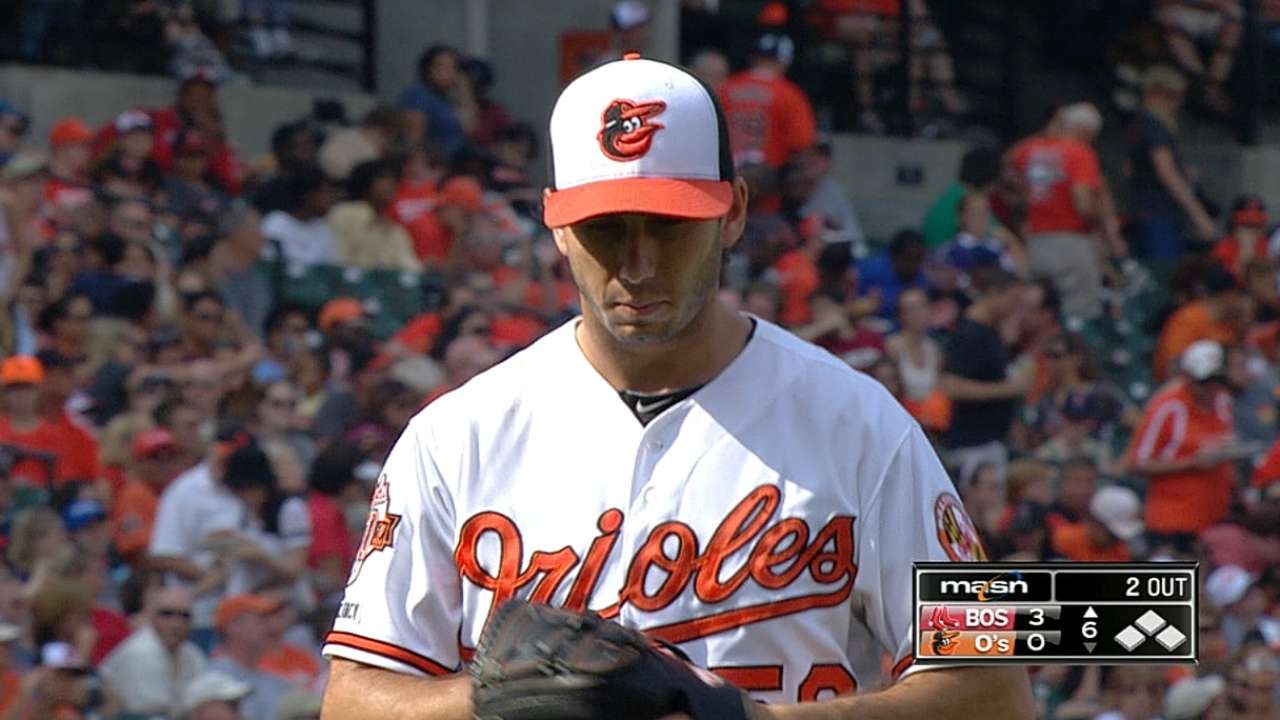 TORONTO -- Right-hander Miguel Gonzalez is likely to start the season finale against the Blue Jays on Sunday, Orioles manager Buck Showalter said.
Gonzalez is only expected to log a few innings, as Showalter intends to get a number of different arms some work over the weekend series in Toronto. The O's will have three days off after their last regular-season game before hosting Game 1 of the American League Division Series on Thursday.
"It allows us to do what we need to do out of our bullpen," Showalter said.
Showalter added that the bullpen could get plenty of work Saturday, too, in what will be lefty Wei-Yin Chen's last start of the season. Ubaldo Jimenez is another candidate to start Sunday, the skipper said, but he should receive some innings even if he enters in a relief role.
Baltimore has not yet announced its postseason rotation past Game 1 starter Chris Tillman, who entered his final start on Friday with a 13-5 record, a 3.26 ERA and a team-leading 201 1/3 innings pitched. Chen appears to be in line to start Game 2, with Gonzalez and right-hander Bud Norris strong options to follow him in the postseason rotation.
Whoever starts Game 3, and a potential fourth game if necessary, should be prepared to work as a reliever at the beginning of the series.
"Our Game 4 starter is going to be in the bullpen the first game," Showalter said. "We are going to use everybody; you have to play every game with a sense of urgency. Maybe even our Game 3 starter [will be in the bullpen]."
Showalter plans to get some of his pitchers throwing in a simulated game in Baltimore on Monday ahead of team workouts scheduled for the following two days.
• Chris Davis played three innings and went 1-for-2 over three plate appearances in his first instructional league game in Sarasota, Fla., on Friday. Davis, currently serving a 25-game suspension after testing positive for a banned substance earlier this month, is unable to be with the Orioles while under suspension, but he is allowed to play instructional league games. The 28-year-old, who hit a Major League-leading 53 homers in 2013, will have eight games remaining on his suspension once the regular season is over.
Davis finished his 2014 campaign with a .196 average and 26 homers.
Chris Toman is a contributor to MLB.com. This story was not subject to the approval of Major League Baseball or its clubs.