Torres surrenders three runs after Niese's exit
Granderson's homer provided the lone run in series-opening loss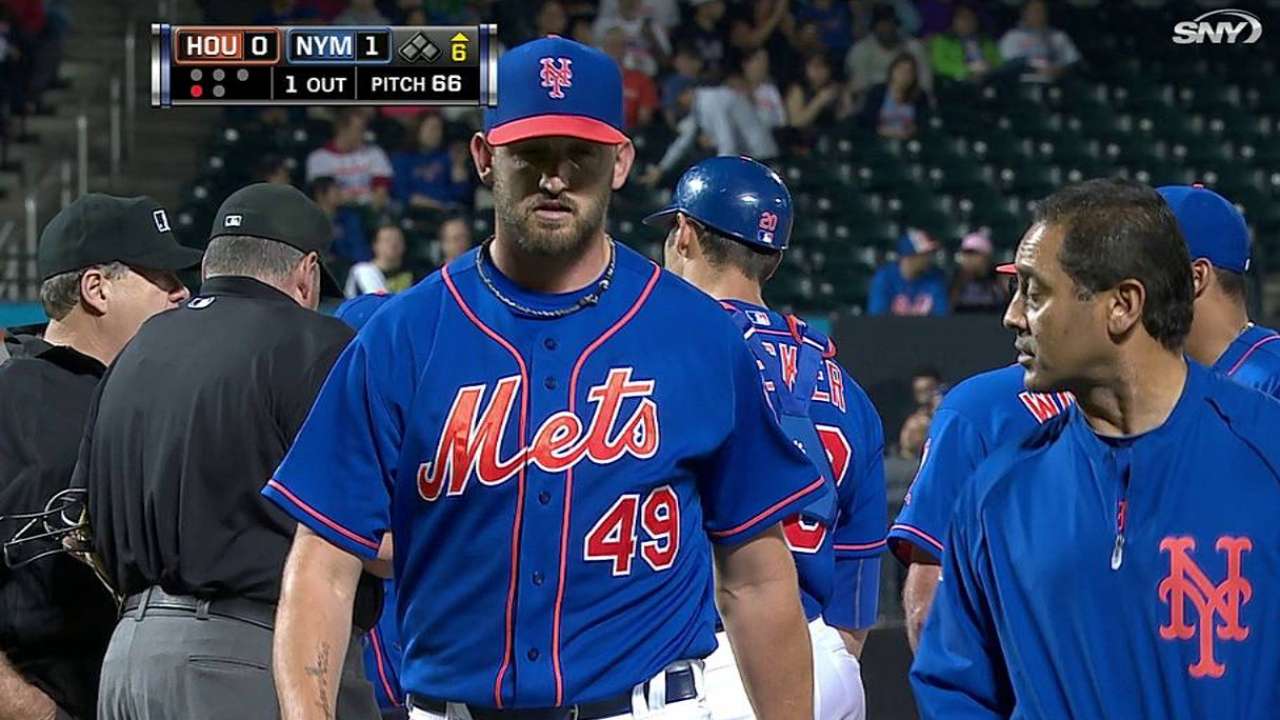 NEW YORK -- This isn't what Mets manager Terry Collins had in mind when he said he wanted all of his pitchers to end their seasons healthy.
Left-hander Jon Niese, who cruised into the sixth inning of the Mets' 3-1 loss to the Astros at Citi Field, exited the game after 5 1/3 scoreless frames Friday night with what the team called an elevated heart rate. Niese had thrown only 66 pitches -- no more than 15 in a single inning -- when Collins and a team trainer visited the mound in the top of the sixth. Moments later, Niese departed, ambiguously bookending his up-and-down season. He ends 2014 with a 3.40 ERA and 1.27 WHIP, marks both good for the second-best of his career behind 2012.
"There are so many areas to improve on," Niese said. "With not having my stuff, my arm strength as much as I wanted to, I figured out how to pitch this year, which is another good step."
Niese, who left games under similar circumstances in 2011 and 2012, but wasn't outwardly concerned about the issue Friday, caps 2014 on a statistically strong run despite the uncertainty surrounding his health. In his final four starts, Niese posted a 1.71 ERA and 0.987 WHIP, one of his strongest three-week stretches at any point this season.
More specifically -- and more importantly, maybe -- Niese exhibited sharp control, walking just two batters (compared with 23 strikeouts) and throwing just over two-thirds of his pitches for strikes in that span. Overall this season Niese, issued about one walk for every three strikeouts while finding the zone with just under two-thirds of his pitches.
Those recent outings represent a clear upward trend and important rebound from what had been a mostly rough second half for Niese. His steady opening three-plus months -- a 2.96 ERA and 1.21 WHIP -- ended with Niese landing on the disabled list to give his fatigued left shoulder a rest. The Mets hoped the time down would give him strength the rest of the way.
It didn't. Including Friday's outing, Niese owned a 3.95 ERA and 1.34 WHIP in the second half.
Niese made significant improvements despite -- and maybe as a result of -- the lack of shoulder strength. He also pointed to the further development of his changeup, his fifth pitch, as a reason to head into the winter happy.
The numbers back that up. Against Niese's change entering Friday, opposing batters hit just .246, according to Brooks Baseball, compared with .324 in 2013. They also slugged .391, far lower than the .514 mark they posted last year when Niese threw the changeup.
"I didn't have as good a second half as I did a first half, but I kind of felt the same at times, I felt better at times in the second half. I really don't think [the time on the DL] benefited or hurt me," Niese said. "I really had to pay attention to the hitters this year. I wasn't able to just throw it by them.
"Hopefully I can do some things this offseason to help my arm strength and next year be able to pitch with my good stuff."
Part of that plan -- an attempt to be proactive in keeping the shoulder strong throughout the year and skip the midseason respite -- involves heading to the Mets' Spring Training facility in Port St. Lucie, Fla., in early January. Last winter, at home in Ohio, it was often too cold for Niese to go outside and long toss, a problem he won't have in Florida.
That will give him a head start on the Mets' looming rotation battle and roster crunch, with at least six, and as many as eight, arms contending for five spots.
Niese's scoreless effort against the Astros was all for naught. Reliever Carlos Torres allowed three runs (two earned) in the sixth inning, all before retiring his first batter. Batting-title contender Jose Altuve singled to score Robbie Grossman, and Altuve scored when catcher Anthony Recker dropped a relay throw following Chris Carter's double. Matt Dominguez's single plated Carter.
The Mets' lone run came via a Curtis Granderson homer in the fourth. He smacked a Brad Peacock fastball -- low and over the plate -- into the right-field seats for his 20th of the year.
It wasn't enough to get Niese the win, but, as he put it, "a lot of that is out of my control."
"He was pitching great. Obviously last outing of the year, you want to go out with your best outing of the year," Recker said. "He was definitely on his way there. He still obviously had a great outing even though it got cut short. Good thing for him to build off of next year."
Tim Healey is an associate reporter for MLB.com. This story was not subject to the approval of Major League Baseball or its clubs.