Brewers to honor Selig by retiring uniform No. 1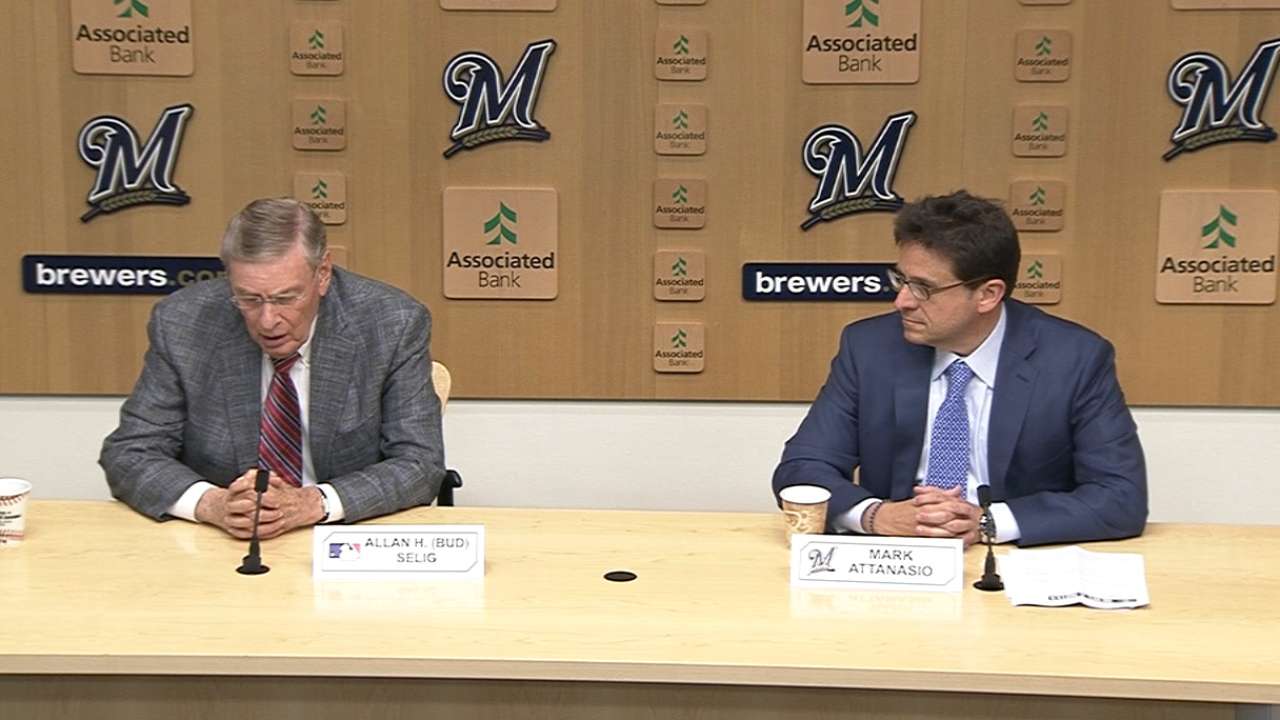 MILWAUKEE -- The Brewers are retiring uniform No. 1 next season to honor their founder, Allan H. "Bud" Selig, the man who brought big league baseball back to Milwaukee in 1970 and later rose to the top of the game as the ninth Commissioner of Major League Baseball.
Selig's 22-year tenure as Commissioner will come to an end when he retires in January. Selig visited Miller Park on Friday as part of his farewell tour, and he will return next season for a ceremony to lift No. 1 to the rafters alongside Paul Molitor's No 4, Robin Yount's No. 19, Rollie Fingers' No. 34, Hank Aaron's No. 44 and Jackie Robinson's No. 42, which is retired throughout baseball.
"I'm never at a loss for words," Selig said, "but I am right now."
The Brewers said the number retirement was the first in a series of planned measures to honor Selig in his hometown, more of which will be announced at a later date.
"We've looked for ways to honor him, because but for his blood, sweat and tears, as well as his daughter Wendy's, we wouldn't be sitting here," said Brewers principal owner Mark Attanasio. "We did a statue out front, but it didn't seem to be enough, frankly."
One night earlier this season, Attanasio gazed up at the ring of retired numbers above center field at Miller Park, and the idea of retiring another for Selig was put in motion.
Selig, 80, was born and raised in Milwaukee, following the old Milwaukee Brewers Minor League team and the Chicago Cubs before falling in love with the Milwaukee Braves, who called the Brew City home from 1953-65 before leaving for Atlanta.
One of many Milwaukee baseball fans heartbroken by the Braves' departure, Selig formed an organization set on bringing Major League Baseball back to the city. He succeeded on March 31, 1970, when a bankruptcy court awarded the Seattle Pilots franchise to Selig and his investors. Eight days later, they arrived in Milwaukee and became the Brewers.
"A student of mine at Marquette [where Selig lectures on sports law and policy] asked me this year what am I most proud of," he said. "And when all is said and done, it's bringing the Brewers to Milwaukee. The thing people don't understand is the really unbelievable odds. We got passed over in National League expansion, American League expansion. Thought we had the White Sox bought. Seattle, [then-Commissioner] Bowie Kuhn tried to keep them there, and I don't blame him. I would have done the same thing.
"On the night of March 31, five and a half years later, we became the Milwaukee Brewers. So this [the number retirement] means a great deal to me. I'm proud of everything that has happened."
Selig reminisced about some of those happenings on Friday, including the difficult years that preceded the Pilots' arrival. One of the worst nights was in May 1968, when Selig thought he had the votes to acquire a National League expansion franchise.
Instead, Montreal and San Diego won those teams.
"In fact, I can still remember Walker O'Malley saying, 'And the winners are,' and I could see the 'M' forming," Selig said. "He said, 'Montreal and San Diego.' I walked the streets of Chicago all night. It was so painful. … But I came back the next day and, I don't know, I was young. I wasn't going to give up.
"Then we had the White Sox bought. It was done. Done. I'm going to write all this in my book. Then the day after Labor Day, Arthur Allen called, who was then the owner of the White Sox, and said his brother, John, had bought it. There was a lot of family history there. That day, I read in the paper, 'Save the Pilots.'"
It was a newspaper story about unrest about the Pilots' unstable situation in Seattle. Selig said he went to Baltimore for the 1969 World Series and arranged to buy the franchise. Two days later, Kuhn heard about the deal and intervened. Selig eventually prevailed.
"It taught me a lot about persistence and tenacity," Selig said.
Notable Milwaukee Brewers who have worn uniform No. 1 include their first Opening Day shortstop, Ted Kubiak. Through the years, Del Crandall, Gary Sheffield, Fernando Vina and Corey Hart have all worn the number. Outfielder Logan Schafer, who had it this season, will be the last.
Selig has already been honored with a statue on the home plate plaza outside Miller Park, the ballpark he helped bring to fruition. He is also a member of the team's Walk of Fame and Wall of Honor.
Adam McCalvy is a reporter for MLB.com. Read his blog, Brew Beat, and follow him on Twitter at @AdamMcCalvy. This story was not subject to the approval of Major League Baseball or its clubs.