Wright, Red Sox can't make Yanks knuckle under
Castillo hits towering home run; Jeter sits out first game of final series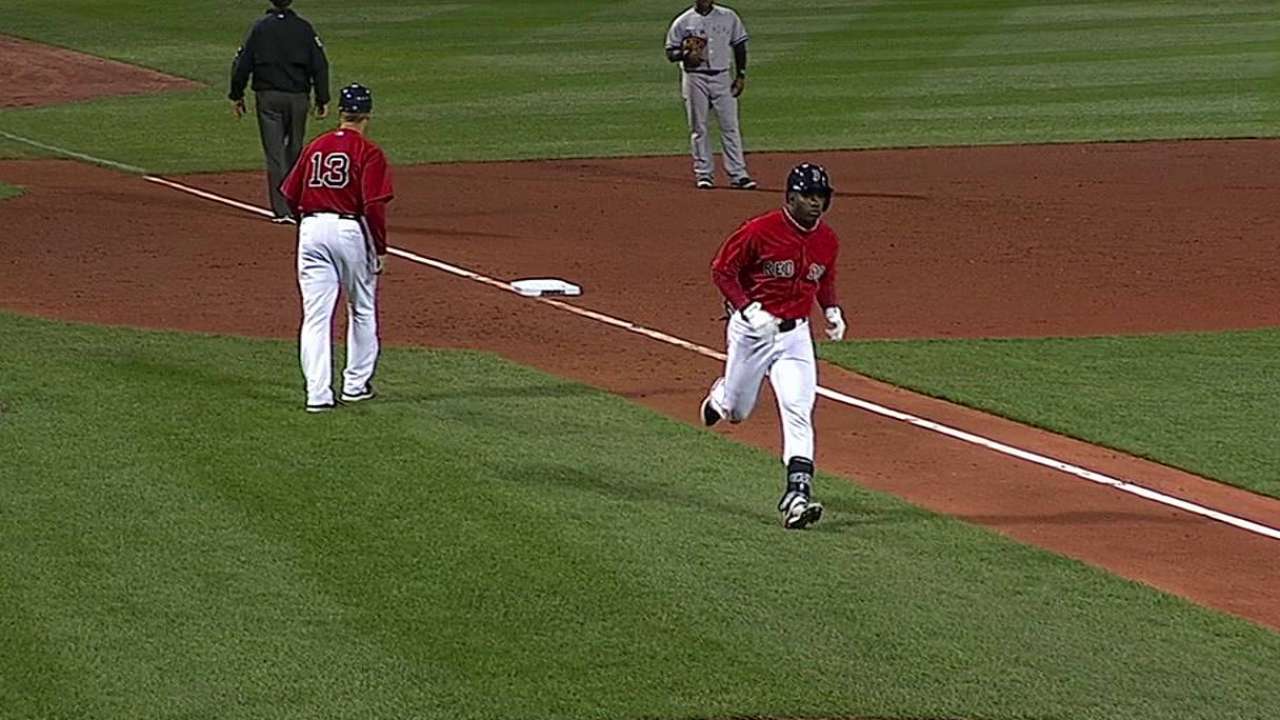 BOSTON -- The chants of "Derek Jeter" could be heard at various times on Friday night at Fenway Park, but the Yankees' captain stayed on the bench, exhausted from his emotional farewell at Yankee Stadium on Thursday.
The game would go on anyway, and the Yankees defeated the Red Sox, 3-2, in the opener of a three-game series -- a rare rivalry matchup in which both teams are out of postseason contention.
Though the crowd of 37,605 was deprived of seeing Jeter in action one last time, the Yankees icon is hoping to serve as the designated hitter on Saturday and Sunday.
Both teams featured lineups that were heavier on prospects than established players.
Knuckleballer Steven Wright gave the Red Sox five innings while allowing four hits and two runs, both of which were unearned. He walked two and struck out four.
"I thought he had really late action to his knuckleball," said Red Sox manager John Farrell. "Through the five innings, he kept them off stride. He used his other pitches -- his fastball and his curveball -- when needed, and he kept us in the game."
Meanwhile, Rusney Castillo went deep for the second straight night, clocking a solo shot over the Monster.
"I feel really good, especially physically," Castillo said through interpreter Adrian Lorenzo. "I'm starting to fall into a little bit more of a routine, so from a physical standpoint, I'm getting right where I want to be."
Allen Craig started a Boston rally in the second with a lined single to left and moved to second on a throwing error by Chris Young. Craig wound up scoring on a two-out RBI single by Bryce Brentz to make it 1-0.
From there, the Red Sox had a tough time generating offense against Yankees starter Chris Capuano.
Wright's knuckleball worked against him in the third, when a strikeout of Eury Perez turned into a passed ball by catcher Dan Butler. Butler then had another passed ball, putting Perez into scoring position.
"Obviously, at times it was difficult for Daniel to hang on to," said Farrell. "You think back to the [third] inning, where it's a strikeout and the ball gets by him for the leadoff baserunner. And then unfortunately a double play that we're trying to turn adds to the second unearned run of the inning."
Francisco Cervelli drilled an RBI single to tie the game at 1. Mookie Betts made a throwing error while trying to complete a double play on a grounder by John Ryan Murphy, and the Yankees scored to take the lead.
"I would have been a lot more satisfied if I could've gone deeper, not walked those two guys," said Wright. "Thought the knuckleball was moving a lot today, and they did a really good job of being patient and making me throw strikes. They made me throw my fastball a lot more than I would have liked today. But overall, for me, it was an OK performance."
Matt Barnes came on for the sixth, and Zelous Wheeler's sacrifice fly made it a 3-1 game.
Castillo slimmed the deficit to a run in the bottom of the seventh, hitting a towering solo homer to left.
From there, the sold-out crowd, which consisted of many Yankees fans, hoped for a glimpse of Jeter. He never did emerge, but that should change on Saturday.
Ian Browne is a reporter for MLB.com. Read his blog, Brownie Points, and follow him on Twitter @IanMBrowne. This story was not subject to the approval of Major League Baseball or its clubs.