Yanks open Jeter's final series with win over Sox
Captain watches from bench as Capuano hurls 6 2/3 strong innings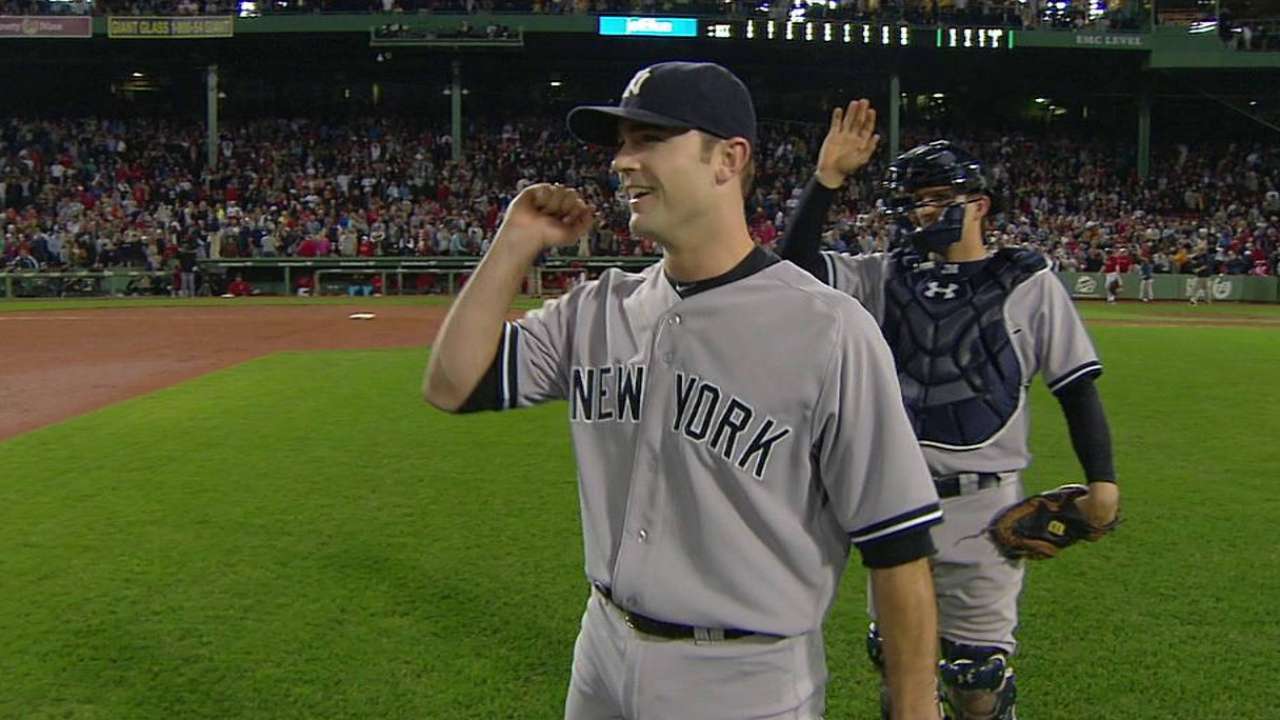 BOSTON -- Derek Jeter will make a few more trips to home plate this weekend out of respect for this long-standing rivalry, but after his emotional farewell game in the Bronx, he seemed perfectly content to throw on a hooded sweatshirt and watch from the dugout.
Though the crowd tried to urge Jeter to grab a bat and pinch-hit, the Yankees' captain remained on the bench as a couple of youthful lineups took their cuts, with New York posting a 3-2 victory over the Red Sox on Friday night at Fenway Park.
"I understand people want to see him, but he's been through a lot," Yankees manager Joe Girardi said. "He's been through a lot this year. It's extremely emotional. He's given everything he's had inside of him for 20 years, and I respect whatever he does."
With the Yankees getting to town late and the Red Sox long since having turned their attention to 2015, the lineups would not have been far out of place for a Spring Training matchup in Fort Myers, Fla. The Yanks started five rookies and the Red Sox started seven.
David Robertson pitched the ninth inning, entering one night after serving up two long homers that created the opportunity for Jeter's walk-off hit against the Orioles. Robertson pitched around a Xander Bogaerts leadoff single to secure his 39th save in 44 chances.
Robertson, who is a potential free agent after this season, is unlikely to pitch on Saturday but could have an opportunity to secure a 40th save in Sunday's season finale.
"Forty is just a number to me," Robertson said. "The biggest thing for me personally, if I was 35-for-35, that's what I would want to be. I don't want to be the guy who lets people down."
Chris Capuano, who started the year as a Boston reliever and finished it in the Yankees' rotation, wrapped up his season with 6 2/3 solid innings of one-run, four-hit ball. He was touched only by Bryce Brentz's RBI single in the second inning.
"It was kind of an up-and-down year for me, and it's been a really special experience to get to be part of the Yankees for a couple of months," Capuano said. "To finish strong really feels good, especially in Boston."
Capuano walked none and struck out five, finishing his year 3-4 with a 4.35 ERA in 40 games (12 starts) between the Yanks and Red Sox.
"I feel like I learned a lot," Capuano said. "I just got to soak in Derek's last couple of months, and last night was amazing. It was among the best two months I've had in the big leagues, that much fun."
Boston closed the gap in the seventh as Shawn Kelley served up a long Rusney Castillo solo homer that cleared the Green Monster and landed in a parking area beyond Lansdowne Street.
The Yankees logged their 83rd victory of the season and need a series sweep to match their win total from last year. They scored a pair of unearned third-inning runs off Boston right-hander Steven Wright, who held New York to four hits over five innings.
"I played a lot of the younger players today for a couple of different reasons," Girardi said. "Our guys have been going really hard, 17 in a row, and the other thing is, these guys knew the pitcher. They'd seen him in Triple-A."
In the third inning, Eury Perez struck out but reached first base on a passed ball by catcher Dan Butler, and Perez moved to second on another passed ball. Francisco Cervelli knocked the speedster home with a single to left field.
Chris Young followed with a single, and Cervelli scored on an error when the Red Sox were unable to turn a double play on a John Ryan Murphy ground ball.
"They did a really good job of being patient and making me throw strikes," Wright said. "They made me throw my fastball a lot more than I would have liked today."
New York added a run in the sixth off Matt Barnes. Murphy doubled to right field, advanced on Austin Romine's first big league hit of the year and came home on Zelous Wheeler's sacrifice fly to right field.
Jeter said before Friday's game that he plans to serve as the designated hitter on both Saturday and Sunday. Asked if that is still the case, Girardi said that he is continuing to leave all decisions up to Jeter.
"Whatever he tells me," Girardi said. "I'm sticking to that. Whatever he tells me he wants to do, that's what we're going to do."
Bryan Hoch is a reporter for MLB.com. Follow him on Twitter @bryanhoch and read his MLBlog, Bombers Beat. This story was not subject to the approval of Major League Baseball or its clubs.