MLB.com Columnist
Jim Callis
Constructing a winner: Athletics
How Oakland used the Draft, trades, free agency and international signings to build its playoff team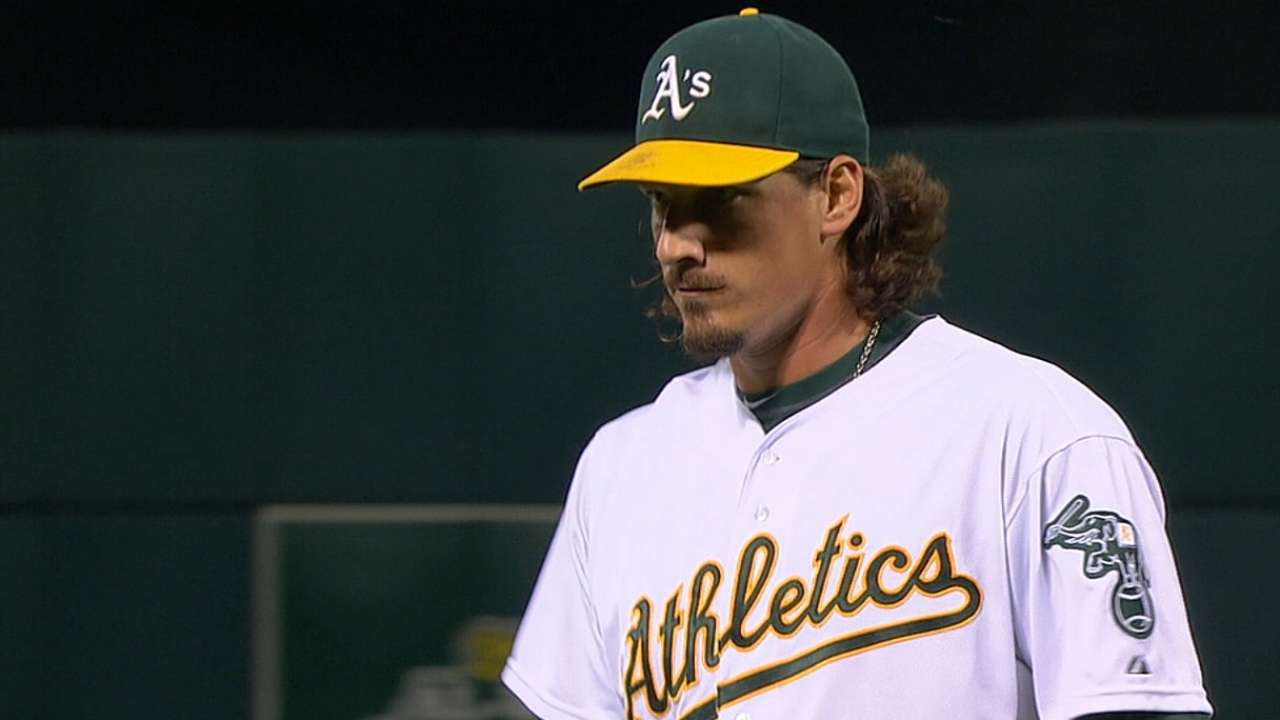 The Athletics are the epitome of the small-revenue franchise. Saddled with one of the worst stadium situations in baseball, they have to do more with less -- and they have.
Oakland won the American League West with MLB's second-lowest payroll ($73.1 million) in 2012, and repeated as division champions with the fourth-lowest payroll ($71.1 million) last year. The A's are making their third straight postseason appearance in 2014, a distinction matched only by the Cardinals and Tigers, despite an Opening Day payroll ($83.4 million) that ranked 25th.
So the logical assumption would be that Oakland has kept cost down by building from within -- except that hasn't been the case at all. The A's have the least homegrown flavor of any of the 10 playoff clubs, with only two players that they originally signed and developed.
Instead, they've built their success on trades and an unwillingness to stand pat. Just seven members of their 2014 playoff roster were on their 2012 postseason roster, and 11 of this year's players were acquired since the end of last season.
"It keeps things interesting here," Oakland assistant general manager David Forst said. "Certainly over our last three seasons, we've been very active. It's intellectually stimulating, trying to tweak and move things around. It's nice to have a partner in the manager's office who appreciates and enjoys the process and wants to work with us. It keeps things fresh. We're not sitting back, we're looking for an edge as to how to get better."
HOMEGROWN
Player, how acquired, year:
Sean Doolittle, 2007 (1st round supplemental)
Sonny Gray, 2011 (1st round)
Both of the homegrown A's were early First-Year Player Draft picks. A two-way player at Virginia, Sean Doolittle went in 2007's supplemental first round (41st overall) as a first baseman. He reached Triple-A before knee injuries cost him most of 2009 and all of 2010, then reinvented himself as a pitcher and has become the club's closer.
Sonny Gray took a more direct path, going from Vanderbilt and the first round (18th overall) of the 2011 Draft to Oakland's rotation in August 2013. Undaunted by his rapid ascension, he has led the A's with 18 wins since his arrival and hooked up with Justin Verlander for two memorable Division Series battles last October.
While Doolittle and Gray are the only homegrown players on the playoff roster, the A's have had more success signing and developing talent than that would indicate. They've just used several of those other in-house products in trades, including All-Stars Andrew Bailey, Trevor Cahill and Yoenis Cespedes and first-round picks Grant Green, Addison Russell and Billy McKinney.
"The standard line is that you build throught the draft, so we probably couldn't have foreseen that the Major League team would look like this," Forst said. "The only reason it does is because we had homegrown players to exchange for these guys. It wouldn't be accurate to say we had to go out and get players because we weren't producing any ourselves."
TRADES/WAIVERS
Player, year, acquired from:
Josh Donaldson, 2008, Cubs
Eric Sogard, 2010, Padres
Ryan Cook, 2011, Diamondbacks
Derek Norris, 2011, Nationals
Josh Reddick, 2011, Red Sox
Jed Lowrie, 2013, Astros
Nate Freiman, 2013, Astros*
Dan Otero, 2013, Yankees*
Stephen Vogt, 2013, Rays
Alberto Callaspo, 2013, Angels
Fernando Abad, 2013, Nationals
Luke Gregerson, 2013, Padres
Jason Hammel, 2014, Cubs
Jeff Samardzija, 2014, Cubs
Jonny Gomes, 2014, Red Sox
Jon Lester, 2014, Red Sox
Sam Fuld, 2014, Twins
Geovany Soto, 2014, Rangers
Adam Dunn, 2014, White Sox
*Acquired via Waivers
The A's constructed their Moneyball teams on a homegrown foundation (Eric Chavez, Jason Giambi, Tim Hudson, Mark Mulder, Miguel Tejada, Barry Zito) but had trouble building from within afterward. They went from 2007-11 without a single winning year, so they decided to try something different after the 2011 season. In three separate December trades, they parted with their last three All-Star Game representatives and remade their team.
The composition of each team's projected Division Series roster:
| National League | | | | | |
| --- | --- | --- | --- | --- | --- |
| Homegrown | 11 | 9 | 12 | 16 | 11 |
| - Draft | 6 | 7 | 11 | 14 | 11 |
| - Int'l signing | 5 | 2 | 1 | 2 | 0 |
| Trade/Waivers | 6 | 11 | 4 | 5 | 10 |
| Free Agency | 8 | 5 | 9 | 4 | 4 |
| American League | | | | | |
| Homegrown | 6 | 7 | 14 | 11 | 2 |
| - Draft | 4 | 6 | 11 | 10 | 2 |
| - Int'l signing | 2 | 1 | 3 | 1 | 0 |
| Trade/Waivers | 14 | 9 | 9 | 10 | 19 |
| Free Agency | 5 | 9 | 2 | 4 | 4 |
Bold numbers indicate that the team has the most players in the given category; red numbers indicate the team has the fewest players in the given category.
Cahill went to the Diamondbacks in a deal for Jarrod Parker, a mainstay in the 2012 and 2013 playoff rotations before succumbing to Tommy John surgery in March, and Ryan Cook. Bailey helped land Josh Reddick and minor leaguer Raul Alcantara, who became Oakland's top pitching prospect before he had his elbow reconstructed in May. Gonzalez brought back four players from the Nationals: All-Star catcher Derek Norris and three guys later spun off in subsequent deals in A.J. Cole (to the Mariners for John Jaso), Tom Milone (to the Twins for Sam Fuld) and Brad Peacock (to the Astros for Jed Lowrie).
"At the point of those trades, we sort of had nothing to lose," Forst said. "We'd had four or five disappointing seasons in a row and it got to the point where we had to try something different. Trevor Cahill and Andrew Bailey and Gio Gonzalez were very good A's, but they had value and we had to use it to get assets."
Oakland has continued to wheel and deal even after it started winning again. Though the A's had the best record in baseball in July, they made not one but two blockbuster deals to strengthen their rotation. They shipped Russell (one of the game's top prospects), McKinney, Dan Straily and a player to be named to the Cubs for Samardzija and Jason Hammel, then got Lester and Jonny Gomes from the Red Sox for Cespedes and a supplemental second-round choice int the 2015 Draft.
"We've traded some good young players for those who fit at the major league level right now," Forst said. "We traded for Jeff Samardzija and Jon Lester to take advantage of the opportunity we had at the big league level. Those opportunities are precious."
Oakland's best recent trade took more than four years to pay off but was worth the wait. Josh Donaldson was considered the fourth-best player the A's acquired (along with Sean Gallagher, Matt Murton and Eric Patterson) from the Cubs for Rich Harden and Chad Gaudin in July 2008. Donaldson couldn't crack Oakland's lineup until August 2012 but emerged as a strong MVP candidate in both 2013 and 2014.
FREE AGENTS
Player, year:
Coco Crisp, 2009
Brandon Moss, 2011
Scott Kazmir, 2013
Eric O'Flaherty, 2014
Though the A's can't afford to sign top-tier free agents, they've gotten a lot of bang for their buck. Coco Crisp originally signed a two-year, $10.5 million contract in December 2009, re-upped for three years and $20.5 million in January 2012 and agreed to a two-year, $22 million extension with a vesting option for 2017 this February.
Brandon Moss was the biggest bargain off all, signing a minor league contract in November 2011 before blooming in the second half of 2012 like Donaldson did. Scott Kazmir ($22 million) and Eric O'Flaherty ($7 million) have bolstered the pitching staff after signing modest two-year deals last offseason.
Jim Callis is a reporter for MLB.com and writes a blog, Callis' Corner. Follow @jimcallisMLB on Twitter. This story was not subject to the approval of Major League Baseball or its clubs.