Royals punch ticket to first postseason since 1985
Wild Card guaranteed; one game back of first-place Tigers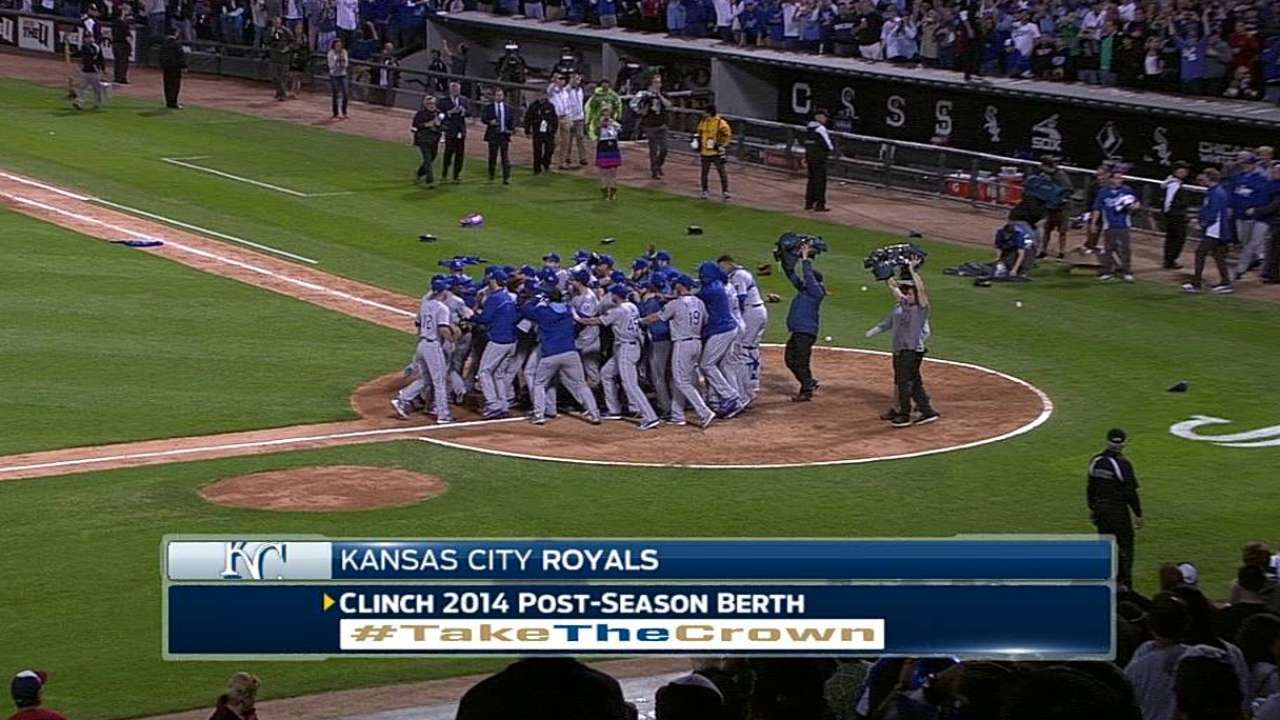 CHICAGO -- Several hundred fans ringed the visitors' dugout as their team, the Kansas City Royals, came onto the field from their clubhouse celebration to thank them for coming. The fans whooped and hollered. "Finally KC," read a sign held by one.
Yes, the long -- excruciatingly long -- wait is over for Kansas City. The Royals are back in the postseason.
It took nearly 29 years for the Royals to return to the glories and grandeur of baseball beyond the regular season and they did it with a 3-1 victory over the Chicago White Sox on Friday night with 27,416 fans -- including many from KC -- at U.S. Cellular Field.
"It felt like a home game, there were so many of our fans out there rooting us on, cheering us on," said center fielder Lorenzo Cain.
The fans, like the players, were hungry for this.
"We're not hungry, we're starving," Cain said happily.
The Royals have clinched at least a Wild Card berth in next week's beginning of the run for the World Series, the event that crowned their last foray into the postseason in 1985.
"I've been telling you guys for two or three years that this is a club that has an opportunity to go to the playoffs and win a world championship," an emotional manager Ned Yost told reporters. "I just believed it, I just knew it was going to happen. To watch them celebrate in there tonight was real special for me."
The clinching victory was typical of the 2014 club -- strong pitching, tight defense, good speed and just enough hitting to get by.
Right-hander Jeremy Guthrie, always proficient when visiting the South Side of Chicago, held the White Sox scoreless in his seven innings on just four hits.
Art Stewart, the legendary scout who has been with the club for five decades, congratulated Guthrie in the clubhouse as music blared and champagne sprayed.
"He was outstanding under the pressure," Stewart said. "He rose to the occasion and he never lost a thing the whole game."
The Royals came out swinging and took a 3-0 lead in the first inning against White Sox right-hander Hector Noesi. The first three batters got hits and all three scored.
Alcides Escobar opened the game with a single to left and Nori Aoki tripled into the right-field corner. Cain singled to center and Aoki was home. Cain stole second base as Eric Hosmer struck out and he was singled home by Billy Butler's stroke up the middle.
"If we could get a couple of runs for Guthrie early and give him some breathing room, I had a feeling he was going to be really sharp today and he was," Yost said. "We got three off the get-go and Jeremy and Wade and Holly said that's enough, that's all we need."
That's Wade Davis and Greg Holland. Davis pitched the eighth and gave up a run on Adam Eaton's triple and Alexei Ramirez's single but also struck out the side. Holland worked a 1-2-3 ninth.
The game ended as catcher Salvador Perez caught a pop foul. He and Holland hugged, Hosmer quickly joined in and soon the entire club was celebrating around home plate.
"This is the best, this is what it's all about," said reliever Kelvin Herrera.
Butler and left fielder Alex Gordon have been waiting several years for this to happen.
"Hopefully this is just the first time," Gordon said. "It feels great though. A lot of losing seasons I've been a part of and not being able to experience this, so I'm going to enjoy it."
"It's surreal, it's unbelievable," Butler said. "This organization has waited so long. I've only been part of it for a third of it -- it's been almost 30 years and I've been here for 10 years. This is what they envisioned when they drafted me and I'm just glad I'm a major part of it. This is a very proud moment."
The party went from the field into the clubhouse, back onto the field and back into the clubhouse again. Players were drenched with champagne and wreathed in smiles.
"This is the coolest thing I've ever been a part of," said third baseman Mike Moustakas, dripping wet. "This is awesome, this is what we worked all year to get to. It's real emotional. We're going to enjoy this but, you know what, we've still got to go out and win some ballgames."
The Royals won their 88th game and still have a chance to overtake Detroit for the American League Central title.
"We worked so hard in Spring Training to get where we're at right now and it's a pretty special feeling," pitcher James Shields said. "Twenty-nine years is a long time to wait, but it's finally come and hopefully we've made Kansas City proud."
Dick Kaegel is a reporter for MLB.com. This story was not subject to the approval of Major League Baseball or its clubs.