Noesi's early trouble mars final start
Right-hander allows three first-inning runs; Konerko goes hitless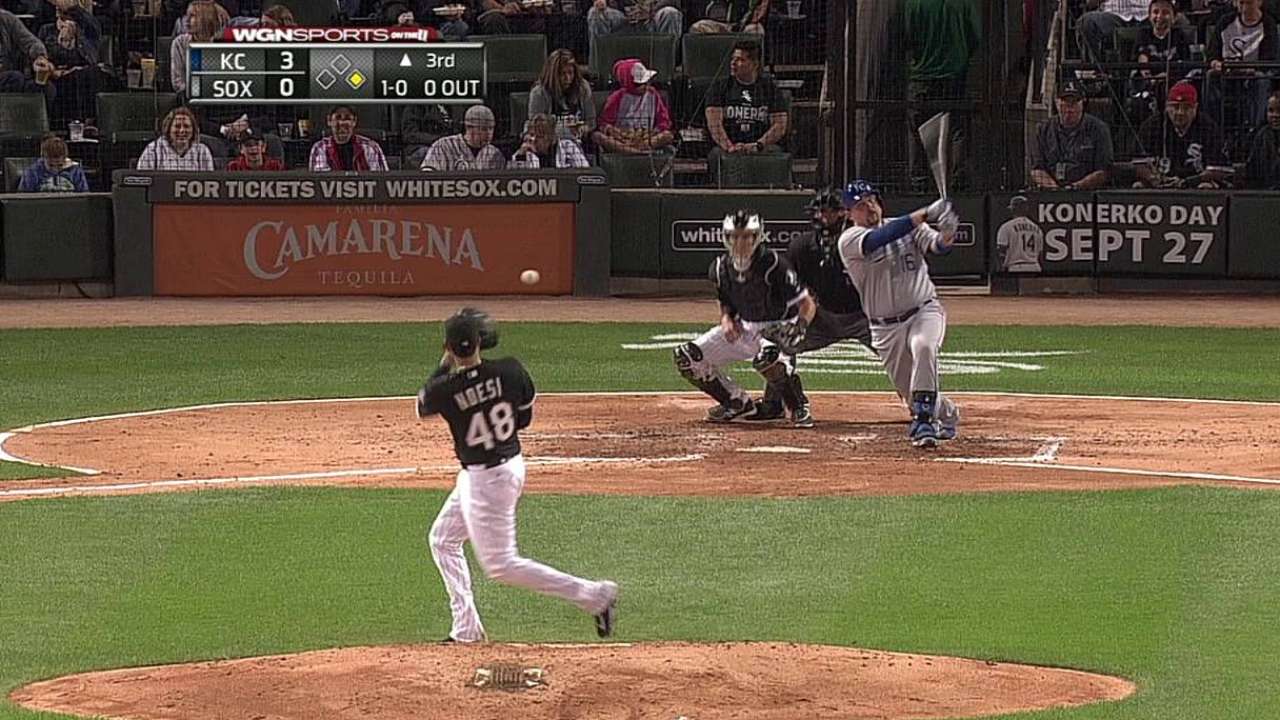 CHICAGO -- While the Kansas City Royals celebrated their first playoff appearance since 1985 with a 3-1 victory over the White Sox before 27,416 at U.S. Cellular Field on Friday night, Paul Konerko came to an important realization.
Even in his third-to-last game before retirement, which would check in as Game No. 2,347 of his illustrious career, even with standing ovations accompanying his every move, hitting the ball hard twice and getting nothing to show for it remains no fun.
"What I've noticed is you think after all these years you have some sort of idea on how to process those, but they just flat out [stink]," said Konerko, sitting in front of his locker after the White Sox fell to 1-7 at home against the Royals this season. "It still [stinks] when you hit a ball hard right at somebody. There's no other way to describe it."
Konerko struck out on three pitches leading off the second against Jeremy Guthrie (13-11) and then hit a check-swing grounder back to Guthrie to end the fourth. Guthrie jumped ahead at 0-2 on Konerko in the seventh, but the White Sox captain worked the count full. He then lined a fastball to Jarrod Dyson in fairly deep center field, which the crowd tried to will into a gap or over the fence.
There was one more at-bat for Konerko opening the ninth, this time against closer Greg Holland (46th save). Once again he fell behind 0-2, worked the count even and then hit a line shot to left that Alex Gordon grabbed.
For those who believe that the always analytical Konerko would be taking it easy over these final three starts, think again. The veteran changed his stance three times during Friday's contest.
"First at-bat, second at-bat and then three and four were the same," said Konerko of his stance changes. "As long as you're playing, which I am still, I've still got a few at-bats here, it's just not in me to just hope for the best. I got better as the night went."
"I wish that last one would have got in there to get something going, but it didn't happen," said White Sox manager Robin Ventura. "Everything that's going on when he comes to the plate is nice to see. It's well deserved."
With their magic number at one to clinch an American League Wild Card, the Royals (88-72) wasted little time getting going against White Sox starter Hector Noesi (8-12). Alcides Escobar singled, Nori Aoki tripled and Lorenzo Cain singled for a 2-0 lead within three batters of the game's first pitch. After Cain swiped second, Billy Butler singled home a third run to complete the first-inning uprising.
Kansas City's early output was all the support needed by Guthrie, who fanned six, walked one and allowed four hits over seven scoreless innings. Noesi departed after six innings, yielding the three runs on six hits with five strikeouts during his 15th quality start.
Another bright spot for the White Sox was reliever Maikel Cleto, who replaced Noesi and struck out Salvador Perez on three pitches, fanned Omar Infante on three pitches and then did the same to Mike Moustakas on five. Cleto, who hit 99 on a fastball to Infante, has 12 strikeouts over his last 6 1/3 innings. That strong inning didn't stop the Royals, who unleashed their postseason celebration in front of numerous fans who made the trip when Michael Taylor popped out to Perez in foul territory.
"This is unbelievable," Butler said. "You picture clinching it at home. It didn't work out for us, but this feels like home for us."
"That team has a lot of the same makeup of the team that we won the World Series with, with their pitching and timely hitting," Konerko said. "I feel like they have a real good shot to go a long ways."
An AL Central title remains on target for the Royals, who trail the Tigers by one game. The final two games for the White Sox (72-88) center on celebrating Konerko's 16 years in Chicago.
"I'm kind of looking forward to getting on the other side of it," Konerko said. "But I'm trying to soak every last bit of it in while I'm doing it, so it's kind of that balance."
Scott Merkin is a reporter for MLB.com. Read his blog, Merk's Works, and follow him on Twitter @scottmerkin. This story was not subject to the approval of Major League Baseball or its clubs.