MLB.com Columnist
Jim Callis
Constructing a winner: Pirates
How Pittsburgh used the Draft, trades, free agency and international signings to build its playoff team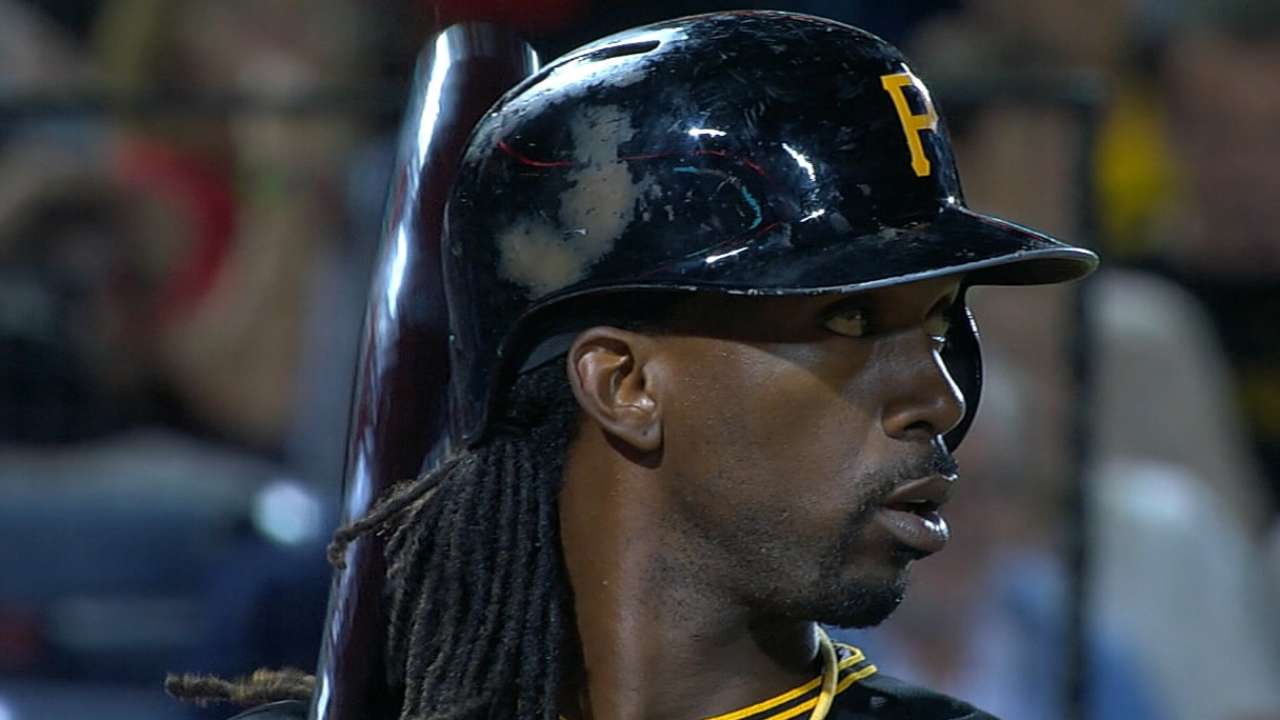 When Neal Huntington took over as Pirates general manager in September 2007, the big league club was finishing its 15th consecutive losing season, one shy of the record for a North American sport franchise, and the farm system had bottomed out. Things would get worse before they got better.
The Pirates lost increasingly more games in each of Huntington's first three seasons, suffering 105 defeats in 2010. They occupied first place in the National League Central in late July of 2011, only to drop 43 of their final 62 games. In 2012, they held the Wild Card lead in early August but finished 16-36 for their 20th straight sub-.500 season.
"We knew coming in that it wasn't going to be easy," Huntington said. "We knew we had a series of challenges, and we might have created some of our own challenges along the way. We've worked very hard to add to our roster in any way. We've been open to make ourselves better in any way possible."
Mission accomplished. By mining several different avenues to acquire talent, the Pirates have become just one of four clubs to reach the playoffs in each of the last two seasons.
HOMEGROWN
Player, how acquired, year:
Neil Walker, Draft, 2004 (1st round)
Andrew McCutchen, Draft, 2005 (1st round)
Jared Hughes, Draft, 2006 (4th round)
Starling Marte, Int'l sign, 2007
Tony Watson, Draft, 2007 (9th round)
Jordy Mercer, Draft, 2008 (3rd round)
Justin Wilson, Draft, 2008 (5th round)
Gregory Polanco, Int'l sign, 2009
Gerrit Cole, Draft, 2011 (1st round)
Pittsburgh did have three building blocks in its farm system when Huntington arrived. The Pirates had selected Neil Walker and future NL MVP Andrew McCutchen with the 11th overall pick in the 2005 and 2006 First-Year Player Drafts, and signed Starling Marte out of the Dominican Republic in January 2007.
Nevertheless, the Pirates' record and investments in the Draft and in Latin America were spotty. That changed under owner Bob Nutting, who took control of the club in January 2007.
Under the 2007-11 Collective Bargaining Agreement, which allowed teams to spend freely on the Draft before restrictions were instituted in the current CBA, no club topped Pittsburgh's $52 million in bonuses. That included $48 million in four years under the leadership of team president Frank Coonelly and Huntington. Nutting also signed off on a new $5 million complex in the Dominican.
"We were able to work with virtually unmatched resources in our first four years here," Huntington said. "In our eyes, we were trying to get two Drafts a year, two first-rounders, two second-rounders, two third-rounders and so on. Because of the dollars Bob allowed us to invest, to double down on the Draft and triple our investment in the international market, we were able to accrue talent."
Those investments already are starting to pay off. Signed for a Draft-record $8 million bonus as the No. 1 overall pick in 2011, Gerrit Cole has been a key part of the rotation on both playoff clubs. Pedro Alvarez, who leads Pittsburgh in homers over the last two seasons, signed a $6.355 million big league contract as the No. 2 overall selection in 2008 (though he may miss the playoffs with a stress reaction in his left foot).
The Pirates also have found contributors with more modest bonuses. Tony Watson, who ranked second in the Majors in holds this season, got $85,000 as a ninth-rounder in 2007. A year later, the club found its eventual shortstop in third-rounder Jordy Mercer, who cost $508,000.
A bigger bargain came on the international front with Gregory Polanco, who signed for $150,000 out of the Dominican in 2009. The top rookie on the 2014 Pirates, he's also one of baseball's most talented young players.
TRADES/WAIVERS
Player, year, acquired from:
Jeff Locke, 2009, Braves
Josh Harrison, 2009, Cubs
Andrew Lambo, 2010, Dodgers
Travis Snider, 2012, Blue Jays
Gaby Sanchez, 2012, Marlins
Mark Melancon, 2012, Red Sox
Jeanmar Gomez, 2013, Indians
Chris Stewart, 2013, Yankees
Ike Davis, 2014, Mets
Vance Worley, 2014, Twins
John Axford, 2014, Indians*
*Acquired via Waivers
Huntington's first major trade as GM came at the July 2008 Deadline and drew almost universal criticism. He turned his best big league asset, Jason Bay, into Craig Hansen, Andy LaRoche, Bryan Morris and Brandon Moss in a three-team deal with the Dodgers and Red Sox. Three weeks later, Huntington swapped Jose Bautista to the Blue Jays for Robinzon Diaz.
The composition of each team's projected Division Series roster:
| National League | | | | | |
| --- | --- | --- | --- | --- | --- |
| Homegrown | 11 | 9 | 12 | 16 | 11 |
| - Draft | 6 | 7 | 11 | 14 | 11 |
| - Int'l signing | 5 | 2 | 1 | 2 | 0 |
| Trade/Waivers | 6 | 11 | 4 | 5 | 10 |
| Free Agency | 8 | 5 | 9 | 4 | 4 |
| American League | | | | | |
| Homegrown | 6 | 7 | 14 | 11 | 2 |
| - Draft | 4 | 6 | 11 | 10 | 2 |
| - Int'l signing | 2 | 1 | 3 | 1 | 0 |
| Trade/Waivers | 14 | 9 | 9 | 10 | 19 |
| Free Agency | 5 | 9 | 2 | 4 | 4 |
Bold numbers indicate that the team has the most players in the given category; red numbers indicate the team has the fewest players in the given category.
Six years later, Huntington's record of wheeling and dealing looks a lot better. Eleven members of Pittsburgh's playoff roster were acquired from other teams, and the best current player or prospect that Huntington gave up in any of those transactions was Brock Holt.
Five years before he made a run at the NL batting title, Josh Harrison was generally regarded as an undersized free swinger without a definite defensive home. But Pirates scouts saw more in him, and the team grabbed him as part of a July 2009 trade that sent Tom Gorzelanny and John Grabow to the Cubs.
Shipping Nate McLouth to the Braves in June 2009 netted two starters, Jeff Locke and Charlie Morton (who's out for the rest of the year with a sports hernia). Closer Mark Melancon came from Boston in December 2012 in a six-player deal that cost Pittsburgh Holt and Joel Hanrahan.
While all of these moves make Huntington look good, he says they're the result of a lot of hard work by a lot of different people.
"I cannot give enough credit to our scouts and the guys in our office who run our analytics and our coaching staff," Huntington said. "They've been able to identify guys on other teams who can help us, and after we get them, our coaching staff has identified what they've needed to do to be successful. It's quite an awesome feeling as a general manager."
FREE AGENTS
Player, year:
Clint Barmes, 2011
Russell Martin, 2012
Francisco Liriano, 2013
Edinson Volquez, 2013
John Holdzkom, 2014
The Pirates' success has come with a limited Major League payroll. Pittsburgh ranked 25th among the 30 clubs at $74.6 million at the end of 2013 and 27th at $78.1 million on Opening Day 2014. Yet they've been able to make some successful forays into the free-agent market, which Huntington also credits to his scouts and analysts and coaches.
Russell Martin will earn MVP votes this year, the final season on a two-year, $17 million deal. Francisco Liriano has given the Pirates two years of quality rotation work on a contract that initially guaranteed him just $1 million and will pay him $12.75 million. After signing a one-year, $5 million deal last December, Edinson Volquez has responded with his best season since he was an All-Star in 2008.
Jim Callis is a reporter for MLB.com and writes a blog, Callis' Corner. Follow @jimcallisMLB on Twitter. This story was not subject to the approval of Major League Baseball or its clubs.