Jeter takes a breather in opener against Red Sox
Yanks captain asks for day off after Thursday's whirlwind Bronx sendoff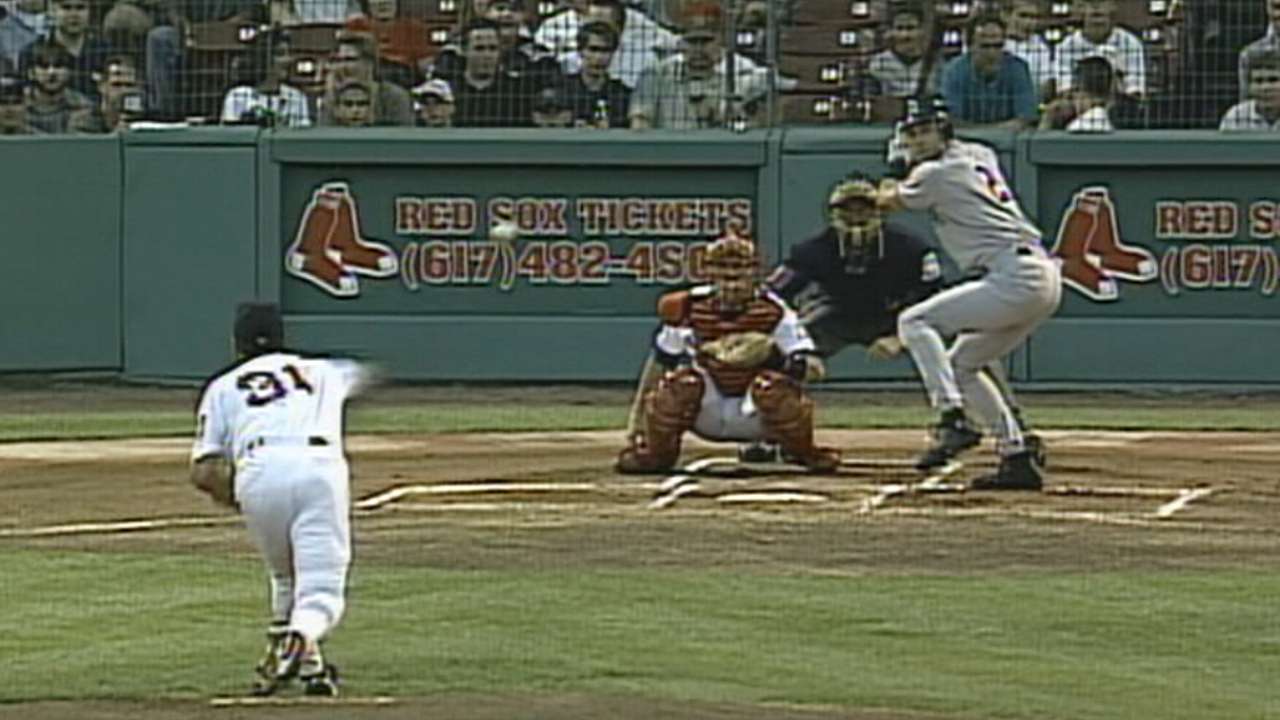 BOSTON -- Derek Jeter couldn't remember ever walking into a manager's office and asking for a day off. It was a request that Joe Girardi certainly has never fielded from him, but after Thursday's Yankee Stadium sendoff, it wasn't surprising that the captain needed time to collect himself physically and emotionally.
The final weekend of Jeter's big league career began on Friday at Fenway Park, but Jeter sat back and watched the action from the visiting dugout. Out of respect to the rivalry and the Red Sox's fans, Jeter said that he wants to take his last at-bats as a designated hitter on Saturday and Sunday.
"If there's anywhere to play besides New York, I guess it's only fitting that it's here in Boston because of all the games that I've played here, the rivalry between the Red Sox and Yankees," Jeter said. "If you can't do it in New York, this is the next-best place."
Jeter said that he did not sleep much after Thursday's whirlwind game in the Bronx in which he delivered a walk-off single, calling it a special day that he will always remember. Girardi said that he does not consider Jeter to be available to pinch-hit on Friday.
"I don't know if I could play tonight if I wanted to play tonight," Jeter said. "Last night was as special as it gets -- playing your last game at home at Yankee Stadium, the way the fans were, the atmosphere.
"It was supposed to rain and people didn't think we were going to play, and I don't even think there was a raindrop the whole night. Everything was pretty much perfect in terms of the situation we were in for my last game."
Girardi said that he is allowing Jeter to decide how much to play this weekend and in what capacity. Girardi even offered to allow Jeter to manage Sunday's series finale, something that Jeter did not express interest in.
"I talked to him today and said, 'What do you want to do?'" Girardi said. "He said he'd like to have a day. It's always difficult at this point because everyone wants to see him, and I understand that, but he's been through a lot. The team's been through a lot."
Girardi had trouble remembering another situation when Jeter did not fight the idea of a day off.
"Maybe in Spring Training," Girardi said.
Jeter said that he has always enjoyed visiting Boston because of the intense and electric atmosphere, noting that it reached a peak during the 2003-04 battles in the American League Championship Series.
Walking the streets of Boston after lunch on Friday, Jeter said that he heard nothing but support from fans.
"I think after they won, it sort of -- I don't want to say they softened up, but I think they've become a little bit kinder," Jeter said. "And thank you for that."
Even with a perfect ending to his Bronx farewell, Jeter said he was not tempted to skip the weekend series altogether and make Thursday his final big league game.
"No, my plan was always to play here," Jeter said. "I wanted to take something from New York, that's why I said it was my last time playing shortstop. I have the utmost respect for the Red Sox organization and their fans here. I would love to come and play here one last time."
Bryan Hoch is a reporter for MLB.com. Follow him on Twitter @bryanhoch and read his MLBlog, Bombers Beat. This story was not subject to the approval of Major League Baseball or its clubs.