D-backs relieve Gibson, Trammell of their duties
La Russa says club needs to make fresh start heading into 2015 season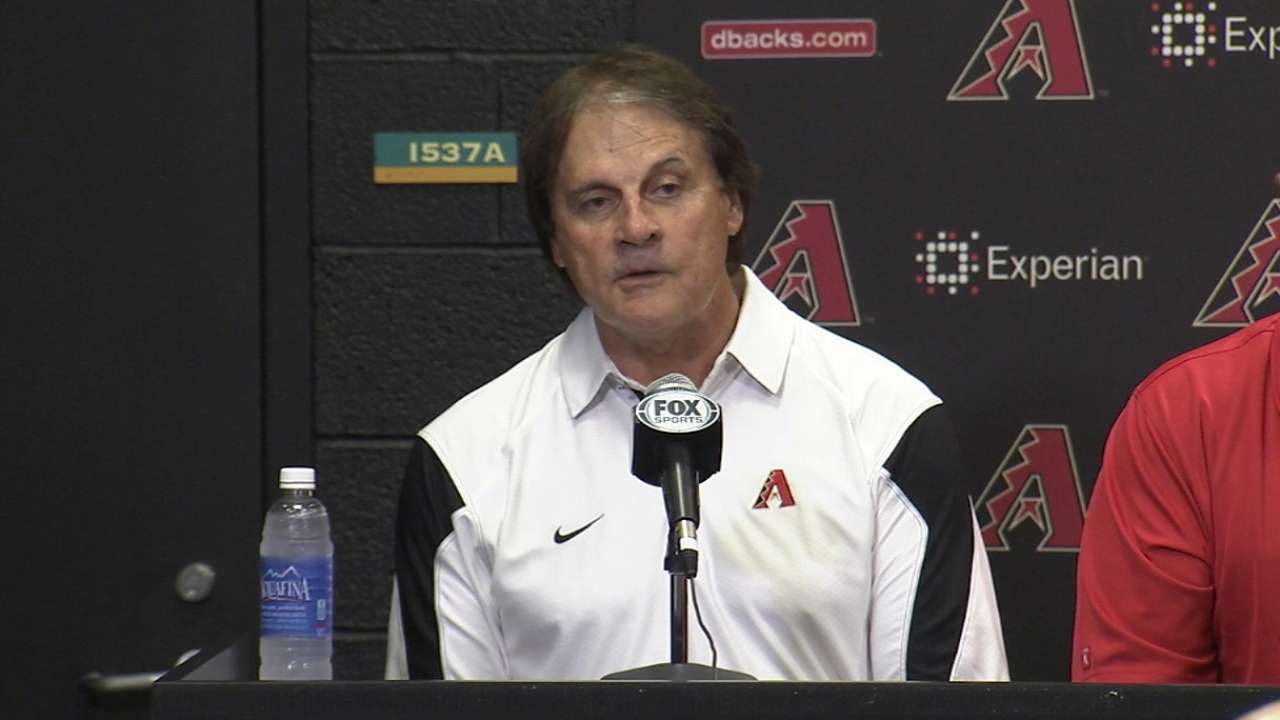 PHOENIX -- When he went to bed on Thursday night, Tony La Russa thought he had reached a decision on what to do about D-backs manager Kirk Gibson.
When he awoke on Friday, La Russa was sure it was time to dismiss Gibson and bench coach Alan Trammell.
In a strange twist, Trammell will remain to manage the final three games of the season.
La Russa had promised Gibson that as soon as he had decided his fate, whatever it might be and whenever it might happen, he would let him know immediately. So Friday morning, he went to meet with Gibson to give him the news face to face.
"That's the hardest [conversation] so far in 30 years of sending guys to Triple-A or releasing them," La Russa said. "A man of his stature. This is one of the greatest competitors of our generation and I saw it on the other side, and he and I, even before I got here, had developed a nice, respectful relationship."
Since being named chief baseball officer in May, La Russa had watched Gibson manage and he knew that Gibson was not dealt a fair hand with all the injuries, but in the end the decision was more about a new start.
"I really feel like for our organization and where we're going we start fresh with the manager," La Russa said. "We just decided that being fresh, starting fresh, with not just the upstairs leadership team but downstairs, is more consistent with what we are doing as an organization."
Gibson joined the D-backs as bench coach in 2007 and assumed the interim managerial title on July 1, 2010, before being name manager at the end of that season. The D-backs won the National League West in 2011 and Gibson was named NL Manager of the Year. During his four-year tenure as manager, the D-backs posted a 353-375 record (.485 winning percentage).
"I am extremely appreciative for this opportunity and I had a great experience with the Diamondbacks," Gibson said in a statement. "I know we had a tough year and people will look at this as a negative, but we accomplished a lot of good things here. I told the team that I have nothing but the utmost respect for this organization and the people I've met along the way. Most of all, I'd like to thank the players, coaches, staff and everyone within the organization for their unwavering support while I was here."
La Russa said that he met with new general manager Dave Stewart and senior vice president of baseball operations De Jon Watson and others in the organization on Thursday afternoon to discuss Gibson's status.
"Once they were in officially, we had a meeting yesterday afternoon with a group of guys in the organization who were welcomed to give their opinion as long as they knew that I'd been watching this thing closely for four months," La Russa said. "They've seen Gibby manage less than the other guys in that room, but they're observers and they had an opinion."
Letting Trammell go, just like with Gibson, cut deep with La Russa, who called Trammell one of his two all-time favorite players along with Harold Baines.
The rest of the coaching staff, including pitching coach Mike Harkey, third-base coach Glenn Sherlock, first-base coach Dave McKay, hitting coach Turner Ward, bullpen coach Mel Stottlemyre Jr. and assistant hitting coach Henry Blanco will have their statuses for 2015 resolved once the new manager is hired.
Steve Gilbert is a reporter for MLB.com. Read his blog, Inside the D-backs, and follow him on Twitter @SteveGilbertMLB. This story was not subject to the approval of Major League Baseball or its clubs.