Durable, reliable Abreu decides to retire after 18 seasons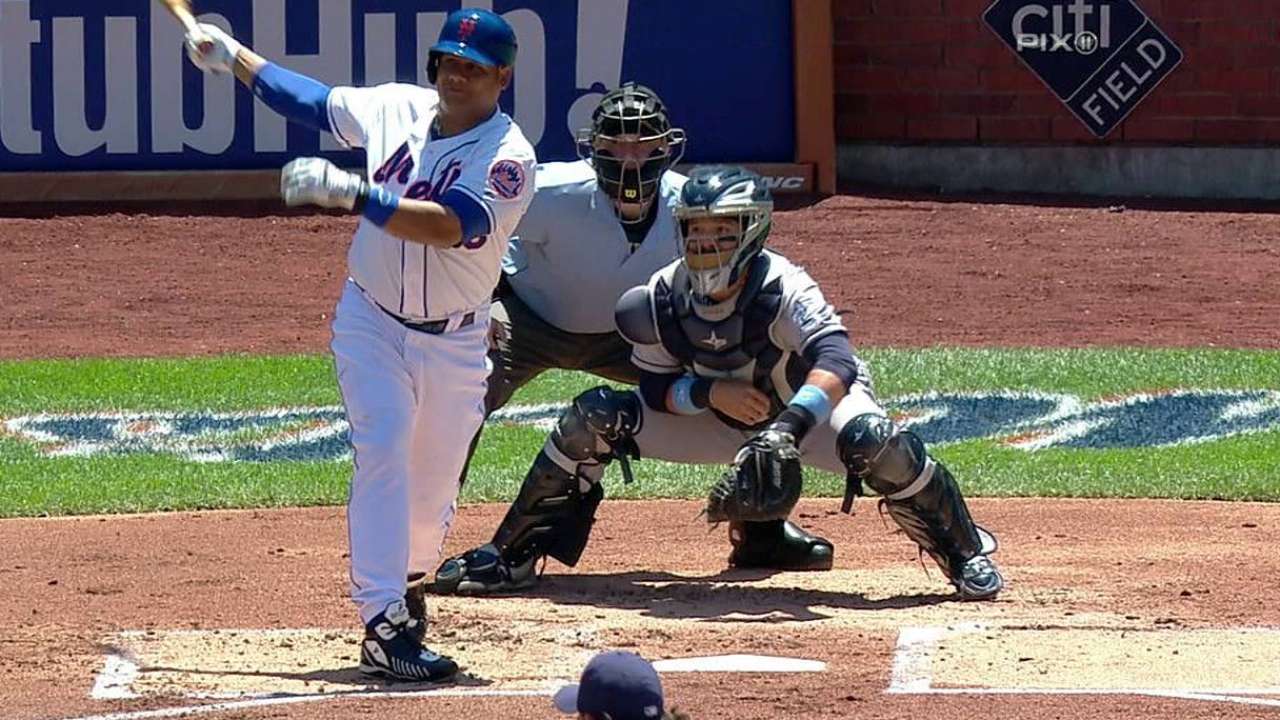 NEW YORK -- Standing at the end of a borderline Hall of Fame career arc, Bobby Abreu walked into Mets manager Terry Collins' office recently and relayed his intentions to retire after this season.
"Are you sure?" asked Collins, Abreu's first and final big league manager. "You have to be sure. You have to be 100-percent sure that enough's enough, because there's going to be a time when you're going to miss it."
Abreu, 40, was as certain as anyone can be, making an emotional announcement Friday afternoon at Citi Field. A player as well-known for his plate discipline as any in history, Abreu shied away from hype throughout his two-plus decades as a professional. Yet he entered Friday's play with a .291 average, .395 on-base percentage, 288 home runs and 400 stolen bases, making two All-Star Games during his nine years with the Phillies. Abreu also won a Gold Glove and a Silver Slugger and made seven MVP ballots overall, and is baseball's active leader in doubles and walks.
The Mets plan to discuss a way to honor Abreu appropriately on Sunday, Collins said, so that he can "walk off with his head held high."
"I feel happy with my career," Abreu said. "I feel blessed. We all create goals in my life, and me as a baseball player, I made all those goals."
Known also for his quiet clubhouse leadership over 18 seasons, Abreu said he would like to become a coach one day, but not before he settles several business ventures outside the game.
Philosophically, his attributes as a hitter would make him an ideal fit on New York's staff. A capable hitter with two strikes, Abreu ranks eighth all-time in pitches per plate appearances (for as long as Major League Baseball has tracked that stat). He walked more than 100 times in eight separate seasons, a statistic made possible by his durability. Over a nine-year span beginning in 1998 (and encompassing his entire Phillies tenure), Abreu averaged 157 games played per season, batting .305 with a .928 OPS and an average of 22 homers and 29 steals.
Those numbers make him a borderline Hall of Famer. Abreu's 59.9 career Wins Above Replacement rank 119th in history, ahead of such modern-day outfielders as Vladimir Guerrero, Ichiro Suzuki and Sammy Sosa. The case against Abreu is that that he never constructed a truly elite statistical season, instead compiling strong career totals via durability and longevity.
"He was probably a little bit underappreciated," Collins said. "But I think when it's all said and done, his numbers will speak up for themselves."
Statistics aside, Abreu established himself as strong clubhouse influence, particularly amongst his fellow Latin players. Collins leaned on him this season to mentor Mets outfielder Juan Lagares and shortstop Wilmer Flores -- the latter, like Abreu, a native Venezuelan. Such are the attributes that Collins believes will eventually make Abreu a valuable big league coach.
He should know. As manager of the Astros in 1996, Collins brought Abreu to the big leagues as a 22-year-old outfielder late that season. Eighteen years later, after a year away from the Majors, Abreu impressed former Mets hitting coach Dave Hudgens enough during Winter Ball to earn a Minor League contract in February. Abreu proved his skills at Triple-A Las Vegas, joined the Mets for a stint, then headed back to Vegas when the Mets designated him for assignment. Earlier this month, general manager Sandy Alderson rewarded him with a second callup, in part because he believed Abreu's plate approach set a strong example for his teammates.
"He's an example for all these young guys," Collins said. "When you've got one of the genuine, great players who is willing to go down and ride that bus and get on those 4 a.m. flights just to have the chance to get back to the big leagues, it says a lot."
This weekend, Abreu will make his final Major League appearances against the Astros, the team that first signed him as a 16-year-old in 1990. It will be an emotional experience for Abreu, just as announcing his retirement Friday was. Between tears, Abreu choked out his intentions in a conference room at Citi Field.
"I just want to say goodbye," Abreu said, struggling with the words. "And adios."
Anthony DiComo is a reporter for MLB.com. Follow him on Twitter @AnthonyDicomo. This story was not subject to the approval of Major League Baseball or its clubs.