New D-backs' front office will work in concert
GM Stewart, senior VP of baseball operations Watson introduced during press conference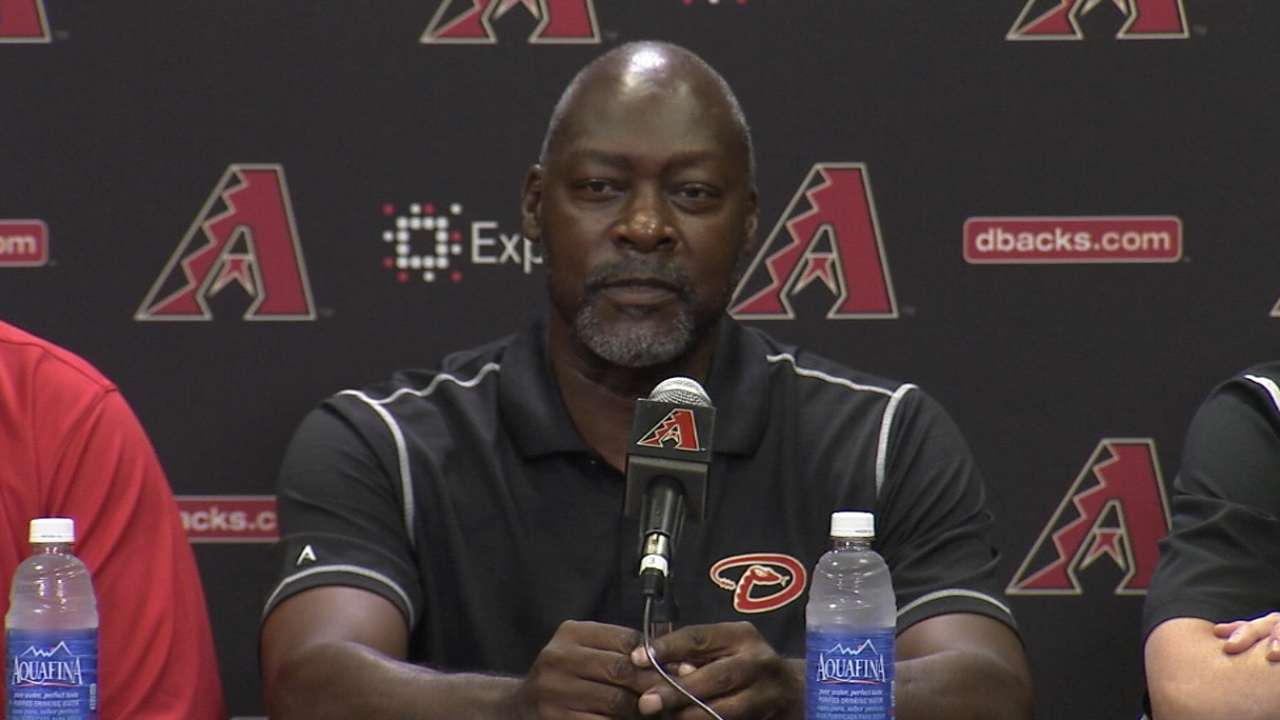 PHOENIX -- An example of how the dynamic will work between chief baseball officer Tony La Russa, general manager Dave Stewart and senior vice president of baseball operations De Jon Watson came during the press conference to introduce Stewart and Watson.
At one point, Watson leaned over and said something quietly to Stewart, who nodded.
"I'll show you have we have teamwork already," Stewart said with a smile. "De Jon reminded me of one thing I didn't do, and that was to recognize my family and the support from my family."
In short, La Russa will sit atop the department and Stewart will primarily be focused on the Major League club as well as contract negotiations while Watson will specialize more in overseeing scouting and player development.
There will be plenty of crossover, however.
"There's not like walls of demarcation here," La Russa said. "That's not how we do it. You've got your priority, but the key is going to be a lot of coming together and soliciting opinions. A lot of times out of that good baseball people, you produce a common decision. And if there's not the guy with the priority, or the trigger he pulls it."
La Russa believes that the model works because each of the three have different experiences and specialties. La Russa, as a former Hall of Fame manager, knows a thing or two about how a team should compete.
Stewart, meanwhile, has experience as an assistant GM in putting together rosters and as a successful player agent, he has developed an expertise in contract negotiations.
Watson has the most experience in player development and scouting during his years in the game. He will work with scouting director Ray Montgomery and farm director Mike Bell, both of whom have been asked to remain with the organization.
Stewart was a hot GM candidate around 2001, but after getting into the private sector as an agent not long after that, he did not think he would ever get another opportunity.
"I was in this game a long time ago and it's strange how things happen that the clock can wind back around," he said. "Now I'm sitting at an opportunity that I thought had gotten past me. What I can tell you -- the media and the public, the people that are watching -- I've never been away from the game. I'm a baseball guy, a baseball man, a baseball man through and through. I have very, very clear ideas of what champions look like and how champions play. That is what I'm expecting from this organization and from the players inside this organization."
Watson, meanwhile, had interviewed with the D-backs for the GM job that went to Kevin Towers in 2010.
"I'm really excited about working with the quality of people that are here, trying to enhance our overall process of how we do things and building out a championship-caliber organization," Watson said. "I think that's going to take a collective effort by everyone that's involved in this decision-making group."
There are still more pieces to be added to the front office group, including an analytics component.
As advanced metrics have continued to be more and more a part of the game, the D-backs have fallen behind in that regard. La Russa has acknowledged that the club needs to be stronger in that area.
"I think there's a place for it," Stewart said. "One thing we shouldn't be is we shouldn't be behind the train. We should at least be with the train. The train is moving in that direction, and I think, like everything, there's a way to use it. We shouldn't be overboard with it. We shouldn't under use it. There's a middle ground, and we're going to have to find out what that is. But I'm all for it. I think that there's a place for it -- I think there's a very good place for it within our organization."
Watson figures to play a big role in building the analytics department.
"It's something we had in-house with the Dodgers," Watson said. "We had a couple different things we were working with and working through. Looking forward to incorporating some of that here and finding a person that we really want to build something out with from an analytic standpoint. I think it's imperative that we grow our own culture internally of what's important for us, and identifying which analytics that are really going to weigh heavily with our decision-making process. I will definitely be heavily involved with identifying people who we're going to put in place for that."
Former GM Towers has been offered an unspecified job within the organization and it appears he will remain involved in baseball operations.
Stewart, who worked for Towers in San Diego in the late 90s, has said Towers has earned the right to be involved however much or little he wants to be.
Steve Gilbert is a reporter for MLB.com. Read his blog, Inside the D-backs, and follow him on Twitter @SteveGilbertMLB. This story was not subject to the approval of Major League Baseball or its clubs.