MLB.com Columnist
Jonathan Mayo
Constructing a winner: Tigers
How Detroit used the Draft, trades, free agency and international signings to build its playoff team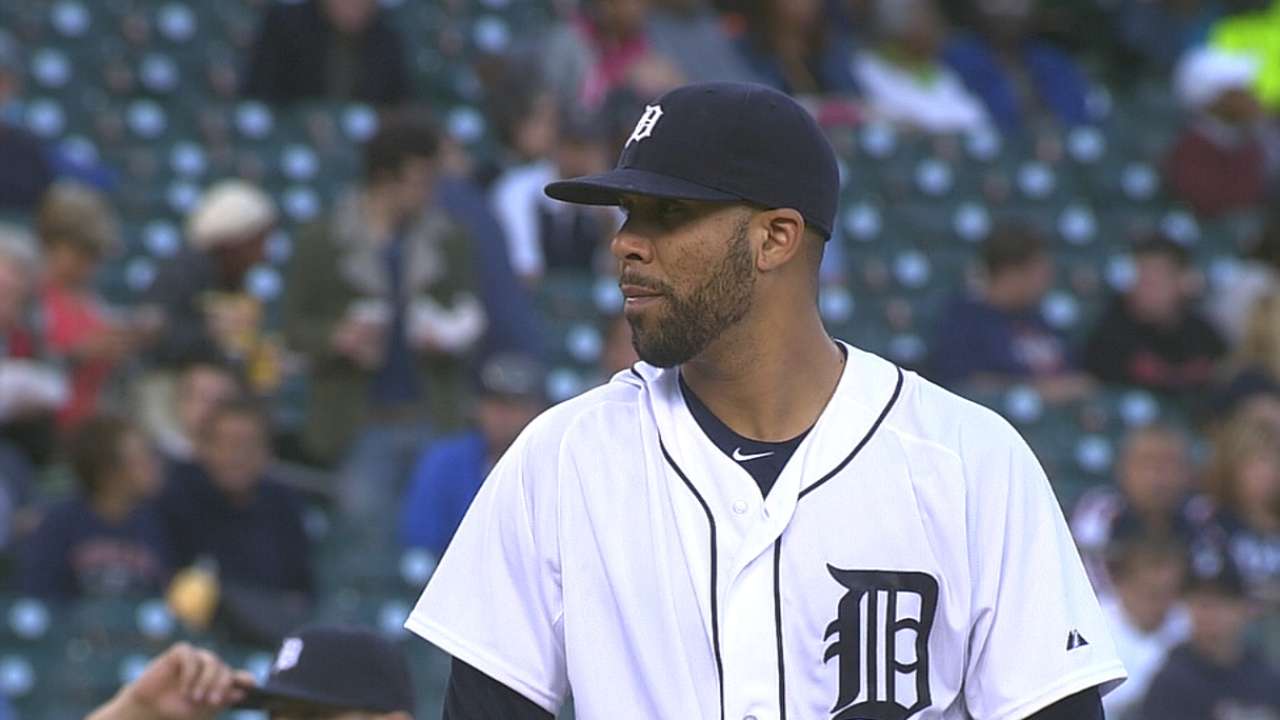 It's another postseason, so that means it's time for another Detroit Tigers run.
The playoffs and the Motor City have become synonymous of late, with 2014 being the fourth straight season Detroit has won the American League Central Division. The Tigers have made it to the American League Championship Series the past three, losing in the World Series to the San Francisco Giants in 2012.
That kind of prolonged success is surely difficult to maintain, and the Tigers have been very aggressive in the marketplace for big league players in order to stay at the top. But while the organization tends to have a reputation for trades and big free-agent signings, reports of its lack of homegrown players or ability to promote from within may have been, to borrow from Mark Twain, a bit exaggerated.
"This year, we do have an influx of young players who have helped us at the big league level," Tigers general manager Dave Dombrowski said. "We were playing the Royals recently. We were basically playing for first place, and we had three rookies in our lineup."
HOMEGROWN
Player, how acquired, year:
Alex Avila, Draft, 2008 (5th Round)
Nick Castellanos, Draft, 2010 (1st Rd Supplemental)
Bryan Holaday, Draft, 2010 (6th Round)
Hernan Perez, Int'l sign, 2007
Rick Porcello, Draft, 2007 (1st Round)
Eugenio Suarez, Int'l sign, 2008
Justin Verlander, Draft, 2004 (1st Round)
Those rookies -- Castellanos, Suarez and James McCann -- won't be in a postseason starting lineup together, but the point is valid. The Tigers' farm system, while not one of the deepest in baseball, has made some contributions. Some have been used in the trades the Tigers have been known for, but some will be asked to help get the Tigers deep into October this year.
Any discussion of homegrown talent in Detroit has to start with Verlander, who, despite his uneven 2014 season, will undoubtedly be asked to put his vast postseason resume (15 starts) to good use this fall. Porcello, taken No. 27 overall three years after Verlander was the No. 2 overall pick, has been a workhorse this season, topping 200 innings for the first time.
Both catchers, Avila and Holaday, come via the Draft, and Suarez and Perez represent the two international signings on the postseason roster. But it's Castellanos who truly stands out. The Tigers haven't developed a ton of position players over the past few years and Castellanos was a Draft gamble during a stretch when free-agent signings left the Tigers without a first-round pick. Detroit gave Castellanos $3 million to sign as the 44th overall pick in the 2010 Draft. The young third baseman was paid like a first-round talent, and so far, he's proven to be a worthwhile investment, establishing himself as a big league regular at age 22.
"He's a young player who's just coming along," said Dombrowski, pointing out that the lack of homegrown hitters has something to do with drafting pitching early in recent years. "He's hit well for a rookie season as a 22-year-old. From an offensive perspective, he has the chance to be a quality offensive player. Now he's made the transition back to third base. He's played adequately there. There's room for improvement."
Despite not having early picks, the Tigers' scouting staff has been productive. That 2010 Draft is looking like a big winner, with three current members of the playoff roster coming from that class.
"We haven't been drafting near the top of the first round, either," Dombrowski said. "A lot of times your premium position players are gone. But I wish we were drafting 30th every year."
TRADES/WAIVERS
Player, year, acquired from:
Miguel Cabrera, 2007, Marlins
Phil Coke, 2009, Yankees
Ian Kinsler, 2013, Rangers
Kyle Lobstein, 2012, Mets (for cash)
David Price, 2014, Rays
Andrew Romine, 2014, Angels
Anibal Sanchez, 2012, Marlins
Max Scherzer, 2009, D-backs
Joakim Soria, 2014, Rangers
A team's farm system, of course, is not used solely to supply players to the big league roster. Another sign that Detroit's system is perhaps better than many have thought has been Dombrowski's ability to make deals using prospects as pieces in trade talks.
The composition of each team's projected Division Series roster:
| National League | | | | | |
| --- | --- | --- | --- | --- | --- |
| Homegrown | 11 | 9 | 12 | 16 | 11 |
| - Draft | 6 | 7 | 11 | 14 | 11 |
| - Int'l signing | 5 | 2 | 1 | 2 | 0 |
| Trade/Waivers | 6 | 11 | 4 | 5 | 10 |
| Free Agency | 8 | 5 | 9 | 4 | 4 |
| American League | | | | | |
| Homegrown | 6 | 7 | 14 | 11 | 2 |
| - Draft | 4 | 6 | 11 | 10 | 2 |
| - Int'l signing | 2 | 1 | 3 | 1 | 0 |
| Trade/Waivers | 14 | 9 | 9 | 10 | 19 |
| Free Agency | 5 | 9 | 2 | 4 | 4 |
Bold numbers indicate that the team has the most players in the given category; red numbers indicate the team has the fewest players in the given category.
The big deal came in December 2007 when the Tigers added Cabrera. All he's done is make the last five All-Star Games, win the past two MVP Awards and finished in the top five on three other occasions. According to FanGraphs, no one has a higher WAR since Cabrera's first season in Detroit -- 2008 -- until now (40.2)
The Tigers don't shy away from Deadline deals either, landing perhaps the biggest prize in this year's trade market, Price. It was an atypical swap, with big leaguers exchanging hands more than prospects, though the Tigers did send a young homegrown lefty in Drew Smyly and interesting shortstop prospect Willy Adames to Tampa Bay in the three-team deal.
"We were able to make the moves we were able to make because of the young talent we had in our system," Dombrowski pointed out.
If nothing else, Dombrowski deserves credit for not shying away from pulling the trigger when he thinks it will help the club, even if it might make some scratch their heads when it's announced. Case in point: Last November, he sent Prince Fielder, the organization's big free-agent acquisition before the 2012 season, to the Texas Rangers for second baseman Kinsler. Fielder had enjoyed back-to-back All-Star seasons with the Tigers, recording more than 100 RBIs in each, but Detroit shed his salary (minus the $30 million over five years Detroit is sending to the Rangers), while allowing the Tigers to put players where they felt they most belonged. Oh, adding an All-Star-caliber second baseman didn't hurt, either.
"When we made the Prince trade, we knew we were trading a quality hitter," Dombrowski said. "He's a premium middle-of-the-order bat. We were able to get a quality second baseman back, he's played great all around and brought a different dimension.
"We were also able to move Cabrera to first, which is where we think he belongs in the long term. You know you're trading a good guy. Different circumstances dictate different moves. All different things come into play."
FREE AGENTS
Players, year:
Al Alburquerque, 2010
Ezequiel Carrera, 2014
Joba Chamberlain, 2013
Rajai Davis, 2013
Torii Hunter, 2012
Don Kelly, 2013
J.D. Martinez, 2014
Victor Martinez, 2010
Joe Nathan, 2013
The big free-agent signings will always be the ones to get the most attention. Fielder, Victor Martinez -- those are headline grabbers. Hunter was a big-name signing for the 2013 season, but one of an aging veteran. He's had a renaissance, of sorts, in Detroit, putting up good numbers over the past two seasons
But the 2014 version of the playoff-bound Tigers has found a lot of help from less-ballyhooed signings. Much of the bullpen has been put together via the free-agent market..
The offense has received two very big lifts from unexpected places. The Tigers signed J.D. Martinez to a Minor League deal after the Houston Astros released him in March and he picked up some of the run-producing chores left by Fielder's departure. Davis was a big league signing, for two years, prior to the 2014 season. He's also been productive, providing an element the Tigers haven't had a lot of in recent years: speed.
"When you're putting together a ballclub, you can't leave any stone unturned," Dombrowski said. "Not every move is for a 'big-ticket item.' The big names get the attention, but you're not going to have a club that's made up of all of that. No one can do that. You have to be aggressive and hope you can made good personnel decisions to augment it."
Jonathan Mayo is a reporter for MLBPipeline.com and writes a blog, B3. Follow @JonathanMayoB3 on Twitter. This story was not subject to the approval of Major League Baseball or its clubs.