Hutchison ends on high note to open final series
Pompey stars at plate, on D with three extra-base hits, diving catch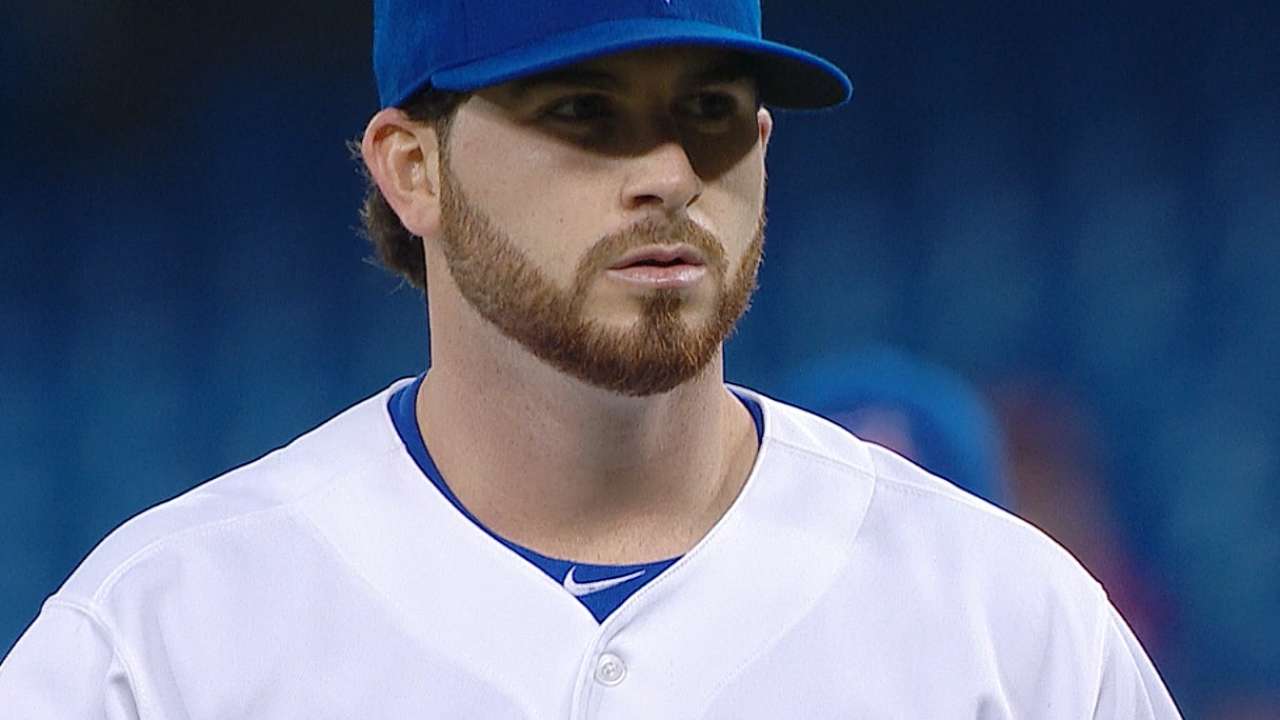 TORONTO -- When Drew Hutchison arrived at Spring Training earlier this year, the biggest question was whether he could pitch a full season. Eight months later, the answer is a definitive yes.
There were plenty of concerns about Hutchison back in February, because he was expected to be an integral part of the rotation yet was coming off a missed season following Tommy John surgery. In the end, none of that mattered as Hutchison closed the door on a successful season in a 4-2 victory over the Orioles on Friday night.
Hutchison tossed five strong innings and struck out eight in his final start of the year, while Dalton Pompey had a pair of triples and a double to lead the Blue Jays to a win in the series opener.
"Obviously, the first goal you have every year is to stay healthy and make all of your starts," Hutchison said. "I was able to do that and frankly I know there was a lot of concern about it, so obviously that's a plus. I would say the best way to summarize it, is that it's a good start, it's a good base to build off and continue to be better pitcher and continue to be better."
Hutchison finishes the year with an 11-13 record and a 4.48 ERA over 184 2/3 innings. It wasn't perfect and there are certainly some areas for improvement, but overall the season can be considered a success. There was a shutout over Yu Darvish and the Rangers on May 16, and he came within one out of another complete game vs. the Orioles on Aug. 6.
Then there's the fact that Hutchison finished the season with 184 strikeouts, which was a team high and the most by a Blue Jays pitcher since Brandon Morrow had 203 in 2011. Perhaps most impressive is that despite throwing more innings than he had at any point before, Hutchison finished the year by allowing three runs or fewer in six of his final seven starts.
In the future, there will be hope for more consistency, but overall the Blue Jays really couldn't have asked more from a pitcher who entered the year with all of 11 big league starts under his belt.
"He ran the table," Blue Jays manager John Gibbons said. "There were a couple spots in there where we moved him back a day, one where we gave him three extra days and he responded."
Toronto got almost all of its offensive production from Pompey. The rookie outfielder started his night in the second inning with a triple to the gap in right-center field, his first career three-bagger, and he later scored on an RBI bunt single by Munenori Kawasaki. In the third, Pompey came through again with an RBI double to right-center that scored Adam Lind.
Pompey was back at it again in the fifth with yet another triple. This time, it scored Edwin Encarnacion all the way from first base. Pompey became the first Blue Jays player to triple twice in the same game since Alex Rios did it on April 27, 2005. Pompey also became the third Blue Jays rookie to accomplish the feat after Alfredo Griffin did it in 1979 and Shannon Stewart did it in '97.
"It's been a dream come true for me, coming from where I started," said Pompey, who began the year at Class A Advanced Dunedin. "[My Minor League coaches], I wouldn't be [here] without those guys and everyone else who helped me along the way."
Encarnacion, Lind and Kawasaki also enjoyed multihit nights at the plate. Orioles right-hander Chris Tillman was charged with all four of the runs on 11 hits in his final tune-up before getting the call in Game 1 of the upcoming American League Division Series.
"[Tillman's] fine," Orioles manager Buck Showalter said. "He gave up some balls to Pompey. I made the mistake saying in Baltimore that I like the way this kid looks. He's a Canadian kid, right? He's a good-looking athlete and he's had a really good year at a lot of places.
"But it was more than that. We had a couple bunts we didn't defend very well."
Gregor Chisholm is a reporter for MLB.com. Read his blog, North of the Border, and follow him on Twitter @gregorMLB. This story was not subject to the approval of Major League Baseball or its clubs.