Dodgers honor top three prospects with Rickey Award
Urias named best pitcher; Seager and Pederson share position-player nod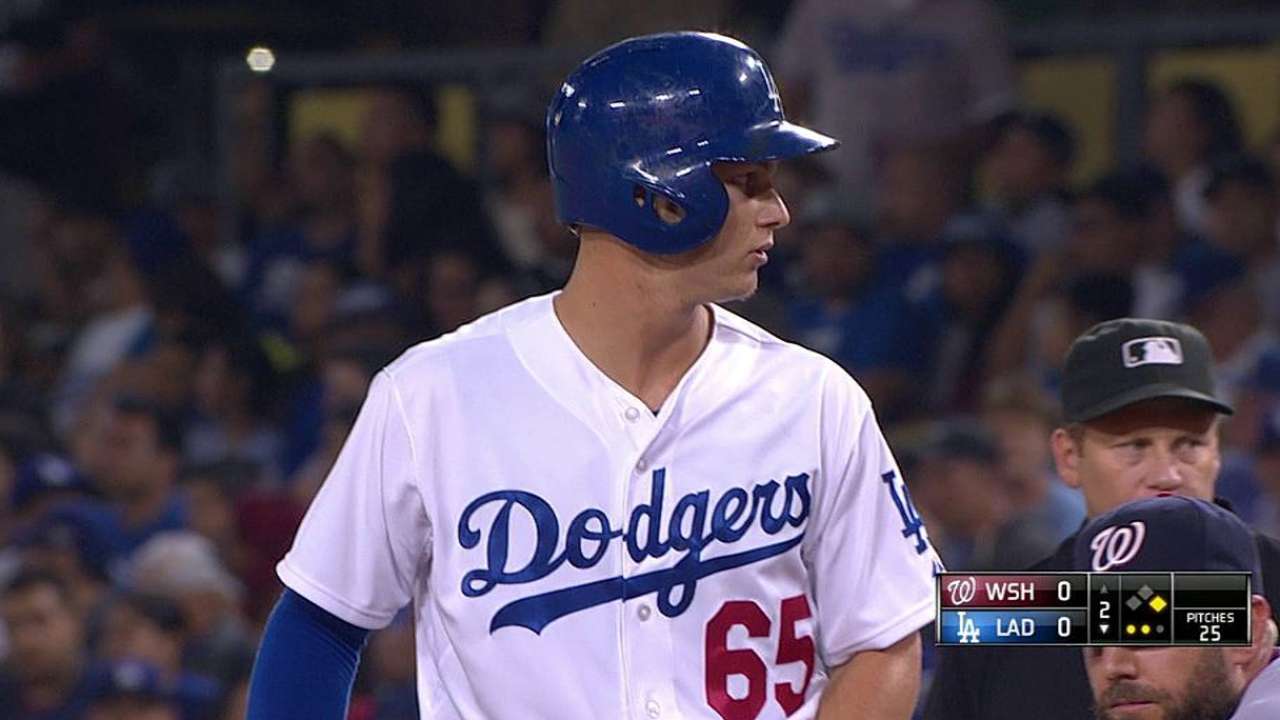 LOS ANGELES -- The Dodgers named all three of their untouchable top prospects as winners of the Branch Rickey Award for organization Minor League pitcher and co-players of the year.
Pitcher Julio Urias, outfielder Joc Pederson and infielder Corey Seager received the honors and will be saluted in an on-field ceremony at Friday night's Dodgers-Rockies game at Dodger Stadium. Seager (No. 1), Urias (No. 2) and Pederson (No. 3) are ranked by MLB.com as the club's top three prospects.
The awards, selected by the organization, have been presented every year since 1989, and this is the first year there were co-winners.
The left-handed Urias, who turned 18 last month, spent the season at Class A Rancho Cucamonga and went 2-2 with a 2.25 ERA. His innings as a starting pitcher were limited by management to 87 2/3 in an attempt to prevent injury. He was signed as a free agent out of Mexico by Mike Brito, who signed Fernando Valenzuela and said Urias is ready to pitch in the Major Leagues now.
Urias would not say when he expected to be a Major Leaguer but said his goal is next year. He was asked if he gets frustrated with the innings limitation.
"It's really frustrating sometimes," Urias said. "As a starting pitcher, you want to go out and win the game. At the same time, what they are doing are with my best interests in mind and the future in mind."
Seager, 20, split time between Rancho Cucamonga and Double-A Chattanooga, hitting .352 with the former and .345 with the latter. The first-round Draft pick from 2012 continues to play shortstop, although some scouts believe he's already grown out of the position and will end up at third base. He was signed by scout Lon Joyce.
Seager said he considers himself a shortstop but knows there is a possibility he will be moved and indicated he'd rather know sooner than later.
"It doesn't bother me," he said of the conversion talk. "I like shortstop. I'd rather learn to play it [third base] before I come up here than be thrown into the fire."
Seager will play in the upcoming Arizona Fall League and said he's been told he might be tried at third base there.
Pederson, 22, also was the organization's position player of the year in 2012 while playing at Rancho Cucamonga. This year at Triple-A Albuquerque, he became the fourth player in Pacific Coast League history to hit at least 30 homers with at least 30 steals. The 11th-round pick in the 2010 Draft has played in 15 games with the Dodgers during his first September callup. He was signed by scout Orsino Hill.
"It's humbling that I won the award again, and I got to win it with Corey Seager, who's had an awesome year and is an awesome player, and I'm excited to share the night with him," said Pederson.
Ken Gurnick is a reporter for MLB.com. This story was not subject to the approval of Major League Baseball or its clubs.