O's locked into AL's second seed after loss to Jays
Tillman allows more than three earned runs for first time since June 5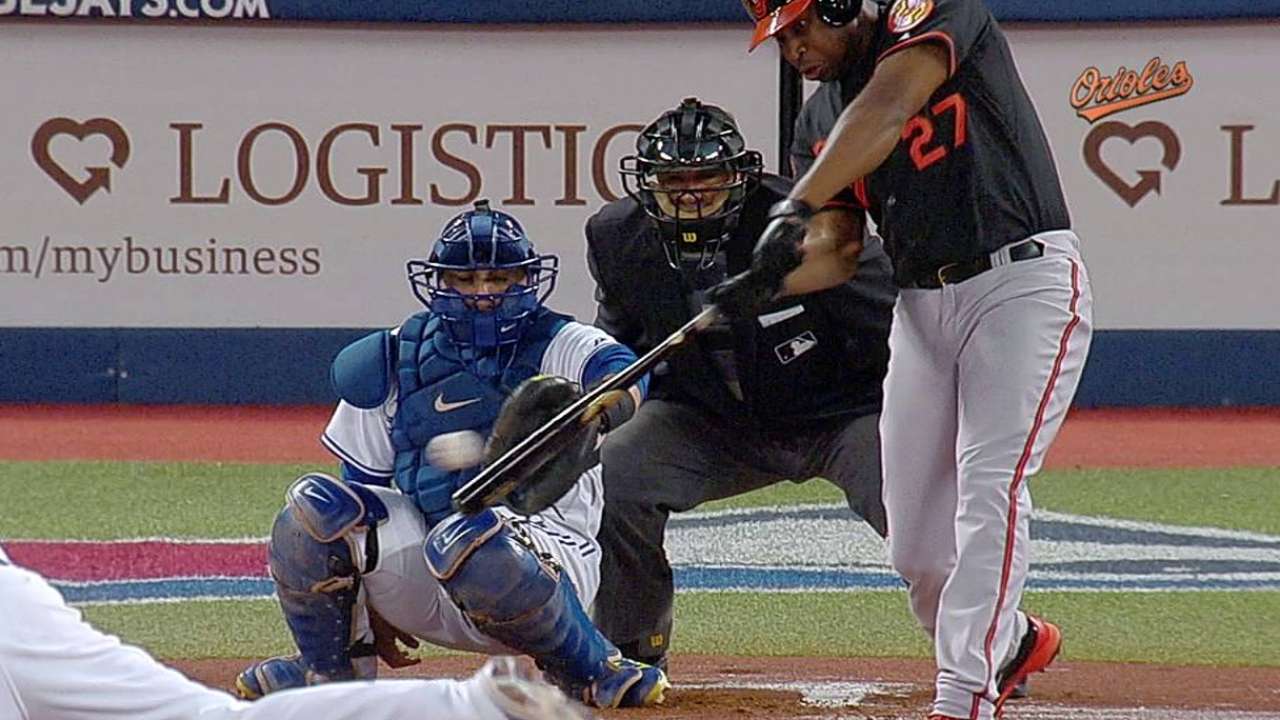 TORONTO -- The Baltimore Orioles wrapped up their division long ago, but the club was still playing for the top seed in the American League in its final weekend of the season. After a series-opening loss, however, the O's will have to settle for second.
Chris Tillman allowed more than three earned runs for the first time since June 5, while the Orioles' bats were quieted in a 4-2 defeat to the Blue Jays in front of 27,037 at Rogers Centre on Friday night.
"[First place] was something we were trying to attain, but in order to do it, you need to get cooperation from Anaheim and the team they're playing," manager Buck Showalter said. "It was a little bit out of our control, but we never gave in to that."
Baltimore's loss secured the Angels' home-field advantage throughout the entire postseason.
Tillman struggled through six innings and had a string of 20 consecutive starts without surrendering more than three earned runs snapped. The right-hander, whose streak was tied for the second longest in club history, allowed four runs on 11 hits while striking out five. It was Tillman's first loss in 16 road starts this season.
Despite the outcome, there were a few reasons why Tillman came away feeling good about his performance. He had no lingering pain after getting struck in the upper half on a hit by Adam Lind in the first inning, and he believed his fastball command was better than it has been all year.
Tillman also set a personal achievement by finishing the season with a career-high 207 1/3 innings pitched.
"Innings are important; I think as a starting pitcher you try to throw the most innings you possibly can," said Tillman, who went 13-6 with a 3.34 ERA over 34 starts. "I probably could have been a little better, but at the same time, we were able to work out of some stuff all year long. I'm happy with it."
It marked the second consecutive season Tillman has reached the 200-inning plateau, becoming the first Orioles pitcher to do so in back-to-back years since Jeremy Guthrie did it in three straight from 2009-11.
"Any time you get to 200, it's special," Tillman said.
It was Tillman's final tune-up before getting the ball for Game 1 of the AL Division Series on Thursday.
The Orioles got out to a 1-0 lead on an RBI single from Delmon Young in the first inning, but didn't stay up for long. Tillman allowed a run in the second on a bunt single from Munenori Kawasaki, and then two more in the third, which was all the Blue Jays needed to make starter Drew Hutchison a winner.
Dalton Pompey was a thorn in Tillman's side all night and turned in a big game on both sides of the field. The rookie made a diving grab in left to end the top of the second and followed it up with a leadoff triple in the home half of the frame.
Pompey added an RBI double his next time up, and he scored from second later in the inning on an infield single before smacking another triple in the fifth. He became the first Blue Jays player to record two triples in the same game since Alex Rios in 2005.
"He's a special kid, and I'm just not just talking about what he does on the field," Blue Jays manager John Gibbons said. "He's a first-class individual, very respectful, very intelligent, carries himself like a pro."
Hutchison continued his good run of success against the Orioles, throwing five innings of two-run ball with eight strikeouts. The 24-year-old went 3-1 with a 2.58 ERA in six starts against Baltimore this season.
"He has good stuff," Ryan Flaherty said. "You look out at the scoreboard and he's better than the numbers show. He has had some success against us; he's a good pitcher."
The O's, who dropped to 60-15 when scoring first, played without regulars Adam Jones, Nelson Cruz and J.J. Hardy, which is part of Showalter's plan to get his starters some rest before the postseason. Showalter said he will tinker with the lineup over the final two games of the series.
Toronto guaranteed its first winning season since 2010 with the victory.
Baltimore fell to 2-3 on its seven-game road trip.
Chris Toman is a contributor to MLB.com. This story was not subject to the approval of Major League Baseball or its clubs.