MLB.com Columnist
Bill Ladson
Nats grab top seed in NL on Fister's three-hit gem
Club gets home-field edge in NL playoffs, will face WC in Division Series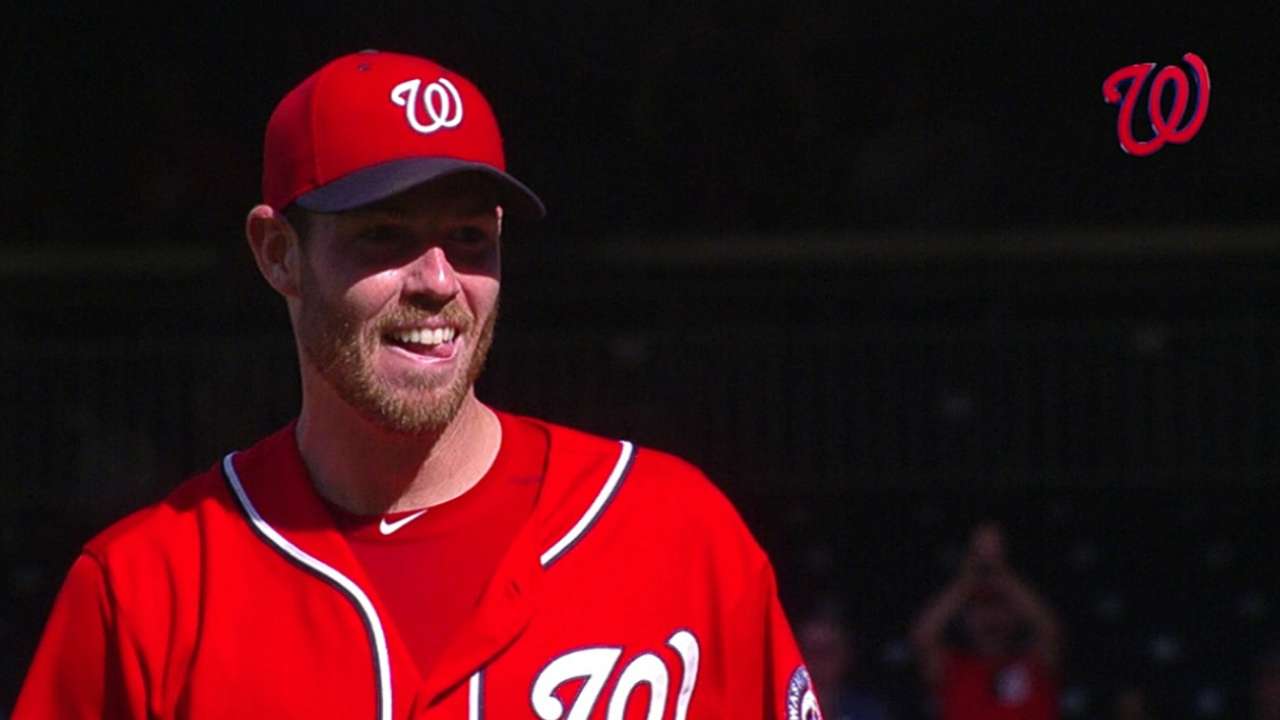 WASHINGTON -- Right-hander Doug Fister helped the Nationals reach another goal in a 4-0 victory over the Marlins on Friday afternoon at Nationals Park, the first game of a doubleheader.
With the win, Washington will finish the regular season in at least a tie for the best record in the National League, which means it will be the top seeded team, since it won its season series with the Dodgers. The Nats will have home-field advantage through the NL Championship Series, should they make it that far, and will face the NL Wild Card in the Division Series.
"I think it's important to have home-field advantage. If we want to get to where we want to get to, then that's important," manager Matt Williams said. "So that accomplished, I also think it's really important to play well the next three games and continue to push and play with some enthusiasm and determination, because that light switch doesn't turn on and off, so I think that's important for us, too."
Fister (16-6) tossed a three-hit shutout and struck out a season-high nine in his first complete game of the year. The Marlins didn't reach scoring position until Donovan's Solano's ninth-inning triple, and at one point, Fister retired 11 straight batters. The righty even helped himself with the bat, going 1-for-3 with a walk and run scored.
Williams said Fister didn't pitch from the stretch in the middle innings, and that gave the skipper every indication that the right-hander was going to go deep in the game. In fact, Fister didn't pitch with a runner in scoring position until the ninth inning, after the Solano triple.
"He was really good all day long," Williams said. "He threw the ball where he wanted to. He kept them off balance. [Starting with] the sixth inning, he threw a lot of curveballs. They were swings and misses and strikes taken. He was in command all day."
Fister was adamant about pitching the first game of the doubleheader. It had nothing to do with what was at stake. He just wanted to get up and go to work right away.
"I like getting here and being ready to play," Fister said. "I want to wake up and go. ... It's like a little kid who gets to go out and play Saturday morning games. That's the way we are. We get to come out here every day."
Fister didn't want to talk about what he accomplished on this day. He kept talking about a team victory.
"This is a team game. We are a team. We are all brothers in here. That's how we play it. That's how we want to play it. It's really something special in here," Fister said.
The Nationals were able to get to Marlins right-hander Jarred Cosart starting in the first inning. On a 2-1 pitch, Anthony Rendon hit a solo home run over the left-field wall, his 21st of the season. After Adam LaRoche singled, Ian Desmond doubled to right field to put runners on second and third. With Bryce Harper at the plate, LaRoche scored on a passed ball by Marlins catcher Jarrod Saltalamacchia to make it a 2-0 game.
The Nationals tacked on single runs in the fifth and sixth innings. With runners on second and third in the fifth, Asdrubal Cabrera hit the ball to deep short, but Adeiny Hechavarria was unable to make a play, and that allowed Ryan Zimmerman to score.
Cosart lasted five innings, allowed three runs (two earned) and walked eight batters. In retrospect, he is surprised the Nationals didn't score more runs.
"When you walk eight guys in a Major League game, I'm surprised it wasn't 12-0," Cosart said. "I guess that is a small positive. Just too many balls. Too many times being behind in the count. After a while, they stopped swinging. I don't blame them, because I wasn't even close."
Right-hander Sam Dyson was on the rubber for Miami when Washington scored its last run of the game in the sixth inning. Fister led off with a double and later scored on a single by Zimmerman.
Since winning the National League East title on Sept.16th, the Nationals are 7-2, showing that they aren't planning to let up before the playoffs. Center fielder Denard Span said the drive to win starts with Williams.
"It starts from the top, staying even keel," Span said. "Ever since we have clinched, he has been the same from Opening Day to now. I just think it has carried over to us on the field. Even though we have clinched, we have been playing just as hard as if we were fighting to get into the playoffs. I think that's been even more impressive, because you see a lot of guys take deep breaths once they clinch, and we haven't done that."
Bill Ladson is a reporter for MLB.com and writes an MLBlog, All Nats All the time. He also could be found on Twitter @WashingNats. This story was not subject to the approval of Major League Baseball or its clubs.