Cosart struggles with location in Game 1 loss
Righty walks eight, gives up three runs (two earned) in five innings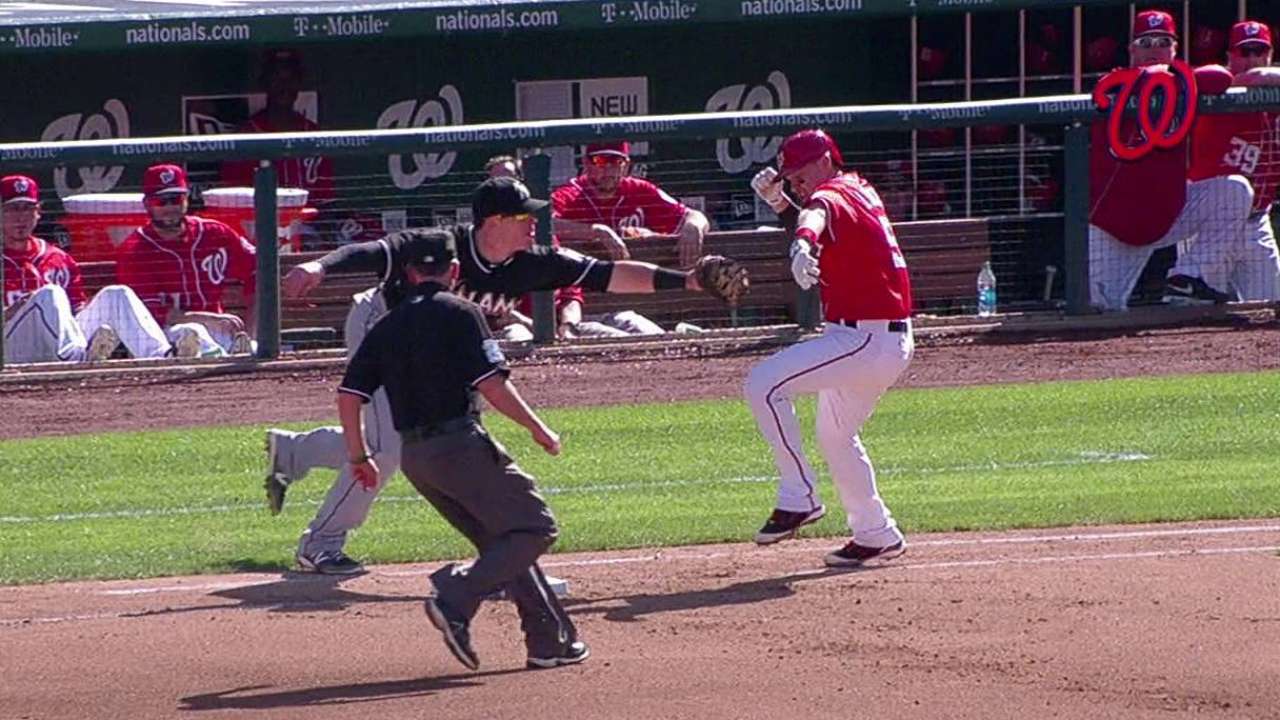 WASHINGTON -- With Jarred Cosart on the mound, the Marlins have become accustomed to a couple of things: The 24-year-old typically commands the strike zone and keeps the ball in the park.
In Game 1 on Friday afternoon at Nationals Park, the right-hander struggled in both areas. Cosart walked a career-high eight, while Doug Fister tossed a three-hit shutout in Washington's 4-0 victory over Miami.
Antony Rendon belted a first-inning home run, but the way Fister was breezing along, he didn't need much run support to help the Nationals wrap up the top seed in the National League, giving them home-field advantage throughout the NL playoffs.
"I didn't give my team a chance to have a quick inning and try to get some hits together," Cosart said. "It's on my shoulders. Hopefully, put this one behind [us] and get going next year.
"It's hard to get anything going against a guy like Fister when he's that good, and I'm out there having 20-minute innings, and my guys have to sit behind me and not get in there and try to get things going. But he was on his game today."
All three Miami hits were by Donovan Solano, who had two singles and a two-out triple in the ninth inning. Fister, who struck out a season-high nine, received a defensive lift with two outs in the ninth when Asdrubal Cabrera robbed Casey McGehee of a potential RBI hit.
By that point, Fister enjoyed a four-run cushion.
"He was really good all day long," Nationals manager Matt Williams said. "He threw the ball where he wanted it to. He kept them off balance. [Starting with] the sixth inning, he threw a lot of curveballs. There were swings and misses and strikes taken. He was in command all day."
Cosart, a bright spot since being acquired from the Astros on July 31, had his shortest outing with Miami. He gave up three runs (two earned) in five innings, while allowing four hits and striking out three.
"Hey, I chalk it up to a bad day for [Cosart]," Miami manager Mike Redmond said. "He's been really good for us. Today, it just seemed like he was fighting that fastball. He didn't have a great breaking ball to back that up. He was probably the opposite of Fister, right? He was having trouble getting his fastball down. He couldn't throw that breaking ball for a strike. It is what it is."
The walks were what stood out. Just six times in club history has a Miami pitcher issued eight or more bases on balls. The franchise mark is nine, set by A.J Burnett on the night he no-hit the Padres (May 12, 2001). Al Leiter walked nine on May 27, 1996.
Cosart joins Anibal Sanchez (Sept. 28, 2009), Pat Rapp (July 9, 1994), and Jesus Sanchez (Aug. 25, 2001) with eight. Cosart's previous high was six, set on Sept. 9, 2013, while he was with the Astros.
In four of his five innings, he stranded two on base.
"It's embarrassing," Cosart said. "I didn't give my team a chance from the beginning, at all."
The Nationals struck for two runs in the first inning, and Fister didn't look back. With one out in the first, Rendon went deep to left. Cosart entered the game having allowed just eight home runs in 175 1/3 innings this year, including one in 59 innings with Miami.
Since joining the Marlins, Cosart walked just 14 heading into Friday. But in the first three innings alone, he walked six.
After Rendon's 21st homer of the season got things rolling, Adam LaRoche singled and moved to third on Ian Desmond's double. LaRoche ended up scoring on Jarrod Saltalamacchia's passed ball with Bryce Harper at the plate.
The walks caught up to Cosart in the fifth inning, when he walked two. An infield RBI single by Cabrera gave Washington a three-run advantage.
Of Cosart's 99 pitches, 51 were strikes.
"It's one we're talking about wanting to forget and get ready for next year," Cosart said. "We've had too much good over the last few weeks to let this one ruin the season. It's definitely going to eat at me for a while. I didn't have it out there. I couldn't find the plate. That's pretty much it."
Joe Frisaro is a reporter for MLB.com. He writes a blog, called The Fish Pond. Follow him on Twitter @JoeFrisaro. This story was not subject to the approval of Major League Baseball or its clubs.