MLB.com Columnist
Tracy Ringolsby
J.D. rewarding Tigers' faith in his ability
After being cut loose by the Astros, outfielder has found a home in Detroit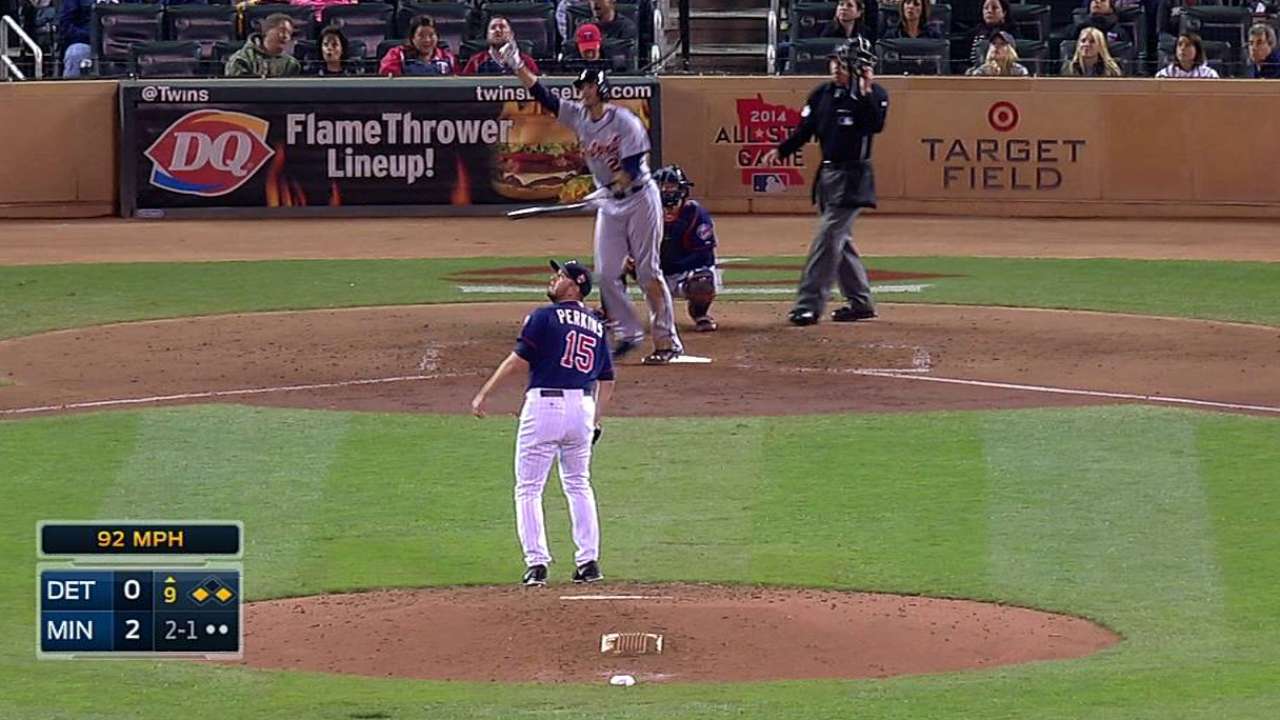 DETROIT -- J.D. Martinez never lost faith. He was taken off Houston's big league roster last November and wasn't picked up by any of the other 29 teams. He was given his outright release by the Astros during the final days of Spring Training when the club no longer had room for him in the Minor Leagues.
Oh, there were frustrations. However, there was always belief. Martinez knew he was a different hitter than he had ever been before. He spent time on the disabled list a year ago studying great hitters and reworking his swing path.
Most importantly to Martinez, he knew that there was a bigger force in his life.
"We only see the small picture of life," Martinez said. "God has such a bigger vision. Sometimes we may question Him, but He has a plan."
The Detroit Tigers certainly did.
The Tigers, Mariners and White Sox were in contact with Martinez in March as soon as he was released. It was an easy decision for Martinez. He had grown up in a Cuban community in south Florida, along with Tigers catcher Alex Avila, and Martinez knew Avila's father, Al, an assistant general manager with Detroit. And Dave Clark, who was hired last November as the Tigers' third-base coach, had been on the coaching staff with the Astros.
"Plus," said Martinez, "the fact they tried to trade for me last year showed that they had a real interest in me."
The Tigers thought Martinez could help. Nobody, not even Martinez, had any idea just how much help he could provide.
They originally sent Martinez to Triple-A Toledo, but not for long. He had 10 home runs and 22 RBIs in 17 games when the Major League promotion came
Andy Dirks, who was supposed to be a part of a left-field platoon with Rajai Davis, had undergone back surgery during Spring Training, and the Tigers needed an additional power threat in the lineup.
Four weeks and 14 games into his Tigers career, Martinez was hitting .231, had six RBIs, and hadn't hit a home run. Then came a pinch-hit home run at Cleveland on May 19, and another home run -- along with a single, three RBIs and two walks -- against the Indians two days later.
Now look at him. The Tigers go into Friday night's game against the Twins having already clinched a postseason spot and looking to wrap up a fourth consecutive American League Central title, and Martinez has become a critical part of Detroit's dangerous lineup, hitting fifth, behind the trifecta of Torii Hunter, Miguel Cabrera and Victor Martinez.
A .251 hitter with 24 home runs and 126 RBIs spread over 252 games in three seasons with the Astros, J.D. Martinez went into the final weekend of this season hitting .318 (second on the team to Victor Martinez) with 23 home runs (third on the team behind Victor Martinez and Cabrera) and 76 RBIs.
Surprised? Don't be. Martinez isn't.
He underwent a transformation as a hitter last year, and the Tigers have given him the opportunity to prove it.
Sidelined for 44 games last season with a left wrist injury, Martinez was frustrated with his inconsistency at the big league level. He studied videos of other hitters he admired, including Astros teammate Juan Castro. One day, it clicked. Castro had a swing path that allowed him to keep his bat head in the hitting zone much longer than Martinez.
"At that time … when I walked out of the video room, I saw a clip on television [of Ryan Braun swinging the bat], and he had that path," said Martinez. "I went back in the video room. I had the videos [of Castro and Braun] side by side. They were very similar with their swing path.
"I knew something was up. We were playing St. Louis and I looked at Allen Craig, Matt Holliday. They had different approaches, but they got to the same place. They had their bats in the zone so long. I'm looking at Hall of Famers, All-Stars, and comparing swings, and mine was not remotely close to them."
Now it is.
Martinez worked with a friend in California, who by the instructor's request Martinez hasn't identified. Martinez lowered his hands. He closed his stance, allowing him to expand his stride.
Encouraged by the adjustments, he went to Venezuela during the winter to play for the Leones de Caracas, and he hit .312 with 12 home runs in 24 games. He was anxious to get to Spring Training and reclaim his job with the Astros.
The opportunity never really came. However, a dose of reality did.
In the final days of Spring Training, Houston general manager Jeff Luhnow told Martinez he didn't fit in the Astros' plans -- in the Major Leagues or the Minor Leagues.
"I was shocked. I asked questions, but he didn't have a lot of answers," said Martinez, adding that he did not believe then-manager Bo Porter was a fan of his game, either. "I was frustrated, but I wasn't mad.
"And then I realized they did me a favor. If they didn't like me, I was better off being released than going to the Minor Leagues and being buried. I was better off going someplace where I could get a chance."
Martinez found the opportunity and capitalized.
It hasn't gone unnoticed, particularly not in Houston, where Martinez and the Tigers made a three-game visit in late June.
"Everybody was happy for me," said Martinez. "Even Jeff said he was proud of me. They knew how hard I had worked. They were all there when I was struggling and lost."
Tracy Ringolsby is a columnist for MLB.com. Read his blog, Write 'em Cowboy. This story was not subject to the approval of Major League Baseball or its clubs.