Fruits of '12 trade developing into core pieces for Miami
Deal brought Alvarez to Marlins, allowed club to trade for Cosart, Hernandez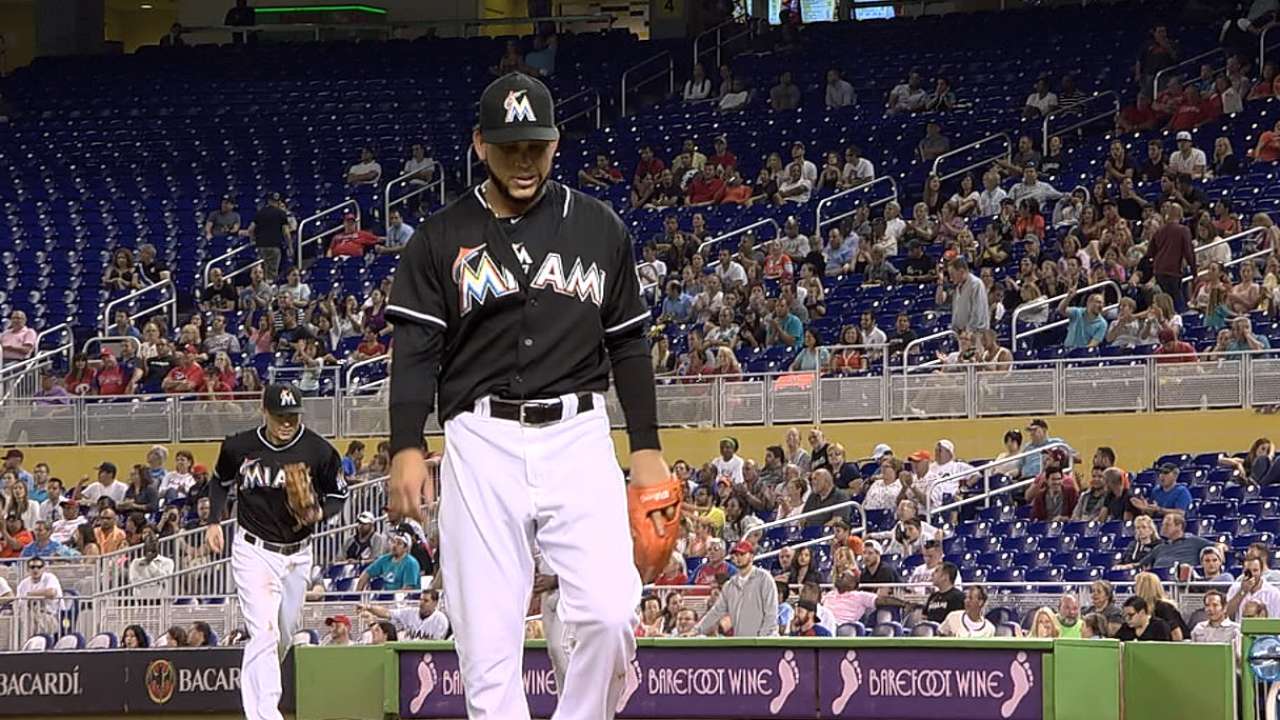 In return, Miami moved a number of high-priced and popular players, such as Jose Reyes, Mark Buehrle, Josh Johnson, Emilio Bonifacio and John Buck.
Because of the cost-cutting and breaking up the high-priced 2012 team after one season, the Marlins took a sizeable public relations hit. In terms of a baseball trade, however, now it is hard to argue with the results.
"I think now, when you look at that trade and the pieces that have come back, and what they are at the big league level and what they've turned into, it has ended up being a good baseball trade for both sides," Marlins general manager Dan Jennings said. "The problem was, at that time, the names we got in return were not household names like we gave up."
The actual trade was Reyes, Buehrle, Johnson, Bonifacio and Buck for Alvarez, Hechavarria, Mathis, Yunel Escobar, DeSclafani, Nicolino and Jake Marisnick.
Escobar was spun to the Rays for Dietrich.
In July, Marisnick and Colin Moran, the sixth overall pick in the 2013 First-Year Player Draft, were dealt to the Astros for Cosart and Hernandez. So the Toronto trade helped land Cosart and Hernandez, who may become a regular in 2015.
Alvarez was an All-Star this season and a top-of-the-rotation talent. Mathis is a respected backup catcher. Hechavarria is a front-line shortstop, while Cosart is a solid middle-of-the-rotation starter. DeSclafani will compete for a rotation or bullpen spot next year. And Nicolino was the Marlins' organizational pitcher of the year, coming off a championship at Double-A Jacksonville. Dietrich, who has dealt with injuries, was the Opening Day second baseman.
The Marlins understood the backlash in 2012, but they have built a strong foundation for 2015 with the pieces they've acquired.
"Everybody is entitled to their opinions, and we respect that," Jennings said. "But at the same time, we can't let outside opinions interfere with the decisions we make as an organization."
Joe Frisaro is a reporter for MLB.com. He writes a blog, called The Fish Pond. Follow him on Twitter @JoeFrisaro. This story was not subject to the approval of Major League Baseball or its clubs.