Twins pounce on Tigers early, cruise to blowout
Arcia, Dozier each go deep, drive in three runs to dent Detroit's plans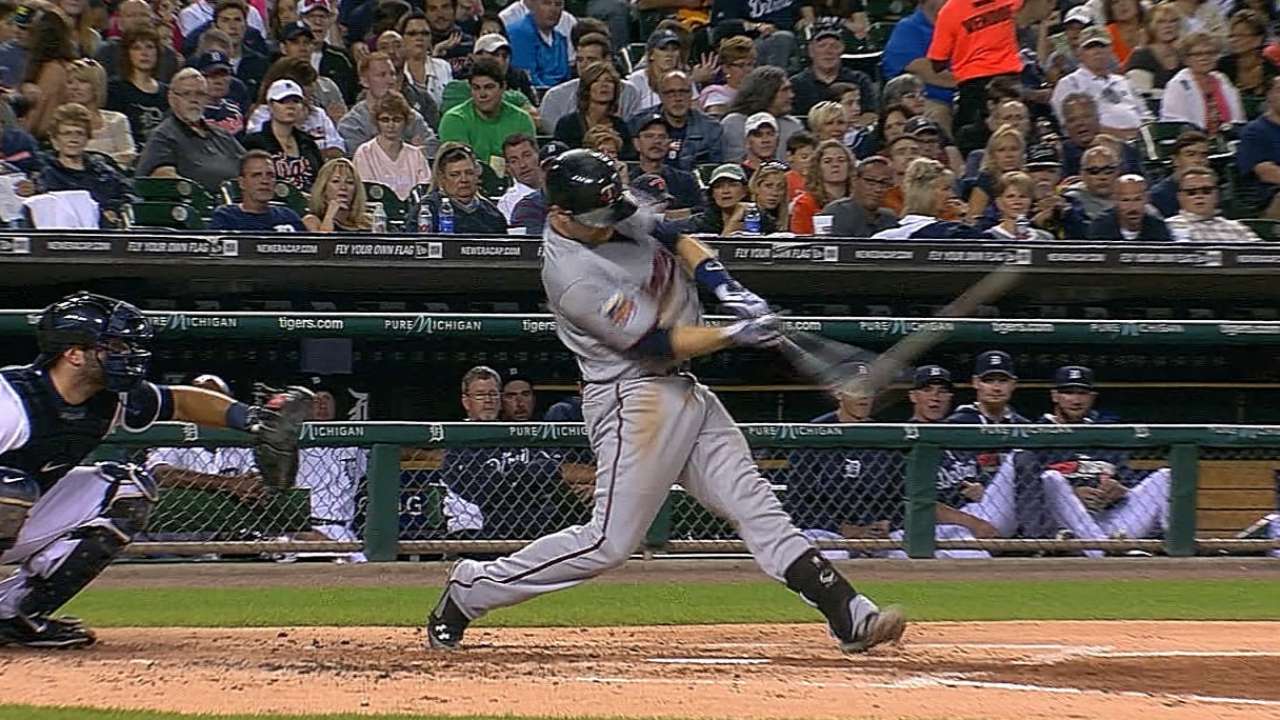 DETROIT -- The Twins would much rather be in contention this late in the season, but they've been a thorn in the Tigers' side all year and it was no different Friday night.
The Twins played the role of spoiler to perfection, as the offense knocked out Rick Porcello in the fourth inning en route to handing the first-place Tigers an 11-4 loss in the third-to-last game of the season at Comerica Park. Minnesota is 9-8 against Detroit, averaging 6.3 runs per game in those contests to help them to their most wins against the Tigers since 2009.
"We know what's at stake here and where these guys are," Twins manager Ron Gardenhire said. "We're here to respect the game of baseball and play as hard as we can. I expect these guys to have a good time. We've been rooting for each other for a long time. A lot of guys are having fun and playing hard."
The Twins saw big performances from Danny Santana and Brian Dozier, who both had three hits, with Dozier collecting three RBIs, including a solo homer in the third. Oswaldo Arcia also had three RBIs, while Kurt Suzuki drove in a pair to help pace the offense.
Minnesota scored three runs in the first, with the first coming on just the second pitch of the game, as Santana doubled before scoring on a first-pitch RBI single from Dozier. Arcia added two runs on his homer with two outs to reach the 20-homer mark for the first time.
The visitors tacked on another run in the third on Dozier's solo blast, his team-leading 22nd homer. The Twins scored two more in the fourth to chase Porcello. But he wasn't helped by his defense, as both runs scored on a throwing error from third baseman Nick Castellanos with two outs.
"It was kind of just a weird day," said Porcello, who gave up six runs (four earned) over 3 2/3 innings. "I threw two pitches and gave up a run in the first inning, and I don't know if I've ever done that. That home run in the first definitely was tough to swallow."
Right-hander Anthony Swarzak was staked to a six-run lead as a result, but couldn't get through five innings to get the win in his fourth and final start of the year.
"I gave it everything I had," said Swarzak, who finishes 2014 with a 4.60 ERA in 86 innings. "I wish I could've had better results in the fourth and fifth innings. But most importantly, we got the win. We didn't get to watch the Tigers celebrate or anything."
Swarzak didn't give up his first hit until the fourth on a one-out double from Miguel Cabrera, who came around to score Detroit's first run on a single from Victor Martinez.
The Tigers made it interesting with two runs in the fifth on a pair of RBI singles from Ian Kinsler and Cabrera. Right-hander A.J. Achter came in to face Martinez, who connected on a deep fly ball to right field, but it was caught by Arcia for the second out. Achter escaped the jam by getting J.D. Martinez to fly out to center.
Achter, who pitched at nearby Michigan State and had roughly a dozen family members in attendance, remained in the game and gave up one run over two innings to get his first Major League win. The lone run he gave up came on a solo shot from Cabrera in the sixth.
"For it to happen here," said Achter, a 46th-round Draft pick in 2010, who grew up 60 miles south of Detroit in Toledo, Ohio. "It's just another thing in my career that's been pretty unbelievable."
The Twins blew the game open with a four-run sixth. Minnesota opened the frame with four straight hits, including an RBI double from Eduardo Escobar and an RBI single from Dozier. Suzuki laced a two-run single with two outs to help the Twins reach double digits in runs.
Minnesota tacked on yet another run in the eighth on a RBI single from Arcia. It helped keep Detroit's magic number to clinch the American League Central at two with Kansas City's win.
"We wanted to play the spoiler role this weekend and we got one tonight," Swarzak said. "I tip my cap to the bullpen for doing a phenomenal job."
Rhett Bollinger is a reporter for MLB.com. Read his blog, Bollinger Beat, and follow him on Twitter @RhettBollinger. This story was not subject to the approval of Major League Baseball or its clubs.