Tigers fall to Twins, see AL Central lead cut to one
Detroit's offense unable to rebound from Porcello's latest rough outing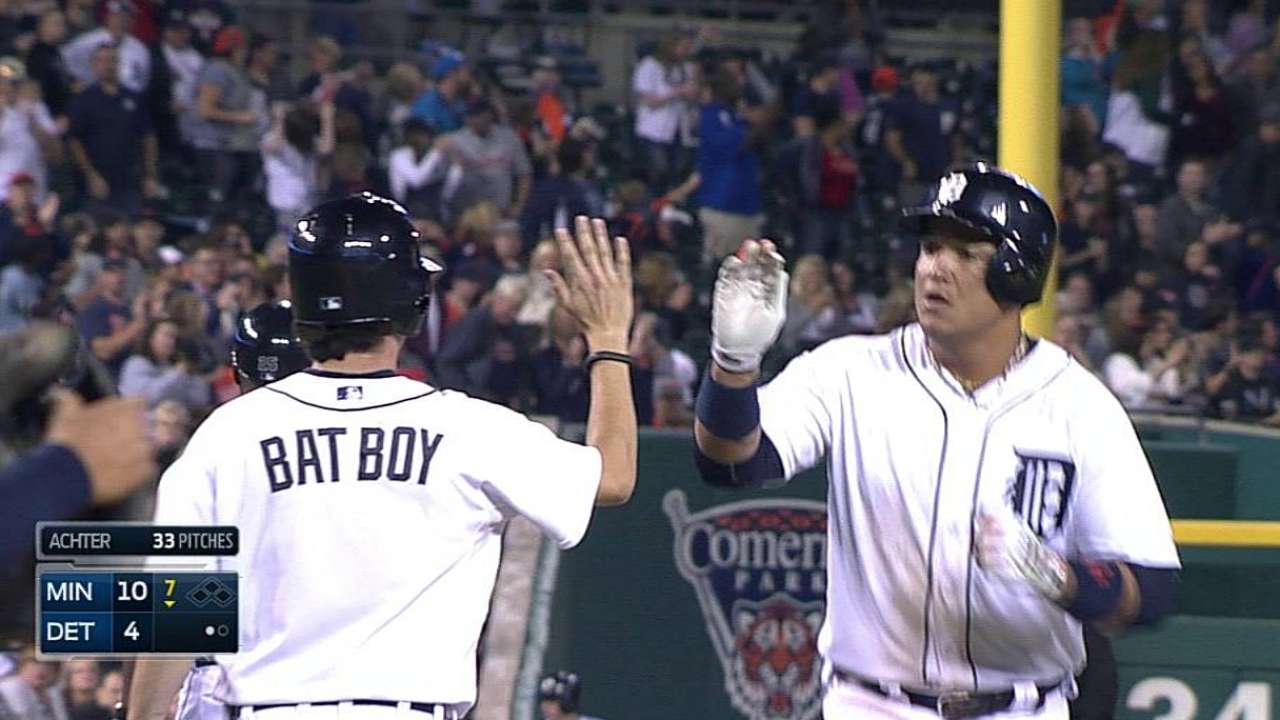 DETROIT -- The Tigers arrived at Comerica Park on Friday afternoon with hopes of celebrating another American League Central title by the end of the night. Instead, they filed out quietly with a division race that now could last to the end of the regular season -- and maybe a game beyond.
After Friday's 11-4 loss to the Twins, Detroit also left having to wonder about Rick Porcello, who struggled for the second time this week with a chance to wrap up the division.
Instead of a crowd of 33,178 watching the Royals and White Sox finish out on the scoreboard with a chance for the Tigers to clinch, as the team had planned, there was no sign of Kansas City clinching a postseason berth to be found -- on the scoreboard or in the clubhouse. While the Royals closed out the ninth to reduce Detroit's division lead to one game with two to play, Porcello met with reporters and tried to explain the September funk that has put a tarnish on what looked like a career breakout just a month ago.
The only celebrating going on in the bowels of Comerica Park involved Twins reliever A.J. Achter (1-0), the Toledo area native and Michigan State product who became the second northwest Ohio pitcher to earn his first Major League win in Detroit this week.
There were fireworks for the fans. There's a combustible situation for the players.
"Tonight was not a good night for us, wasn't a good night for our pitching staff overall," manager Brad Ausmus said, "but we've got to find a win."
Instead of waiting for a final score from Chicago, Porcello was waiting for his own game to end, having left in the fourth with a six-run deficit. Instead of a cause for celebration, Porcello's evening ended with cause for concern.
"Two big home runs," Porcello said. "That was the biggest thing. I got into bad counts in both of those situations and left fastballs over the middle of the plate and they put good swings on it."
His struggles go beyond that. It's not the way Porcello wanted to wrap up his regular season with a chance to be part of the Tigers' postseason rotation for the first time since 2011. But then, the Tigers still have to wrap up a division title.
Detroit's magic number remains at two. Wins Saturday and Sunday would clinch the division crown no matter what the Royals do. A loss would leave the Tigers needing the White Sox to help them out.
The Tigers can't do anything about the Royals-White Sox matchup, but with Porcello opposing Twins spot starter Anthony Swarzak, they had the kind of matchup Friday night that made their end of the deal seemingly safe.
Instead, Porcello trailed two pitches in and never recovered. Danny Santana hit his first pitch over the left-field fence on a ground-rule double, then Brian Dozier hit a chopper over Nick Castellanos' head for an RBI single.
Once Oswaldo Arcia homered three batters later, Porcello faced a 3-0 deficit. A solo homer from Dozier padded the lead in the third before a Chris Herrmann double and Aaron Hicks walk set up two runs on Nick Castellanos' two-out throwing error in the fourth.
Porcello (15-13), who also struggled Sunday in Kansas City with a chance to sweep the Royals and build a 3 1/2-game lead, gave up six runs (four earned) on six hits over 3 2/3 innings, walking three and striking out six.
Over his last six starts, Porcello had allowed 49 hits over 31 1/3 innings. Over his last three starts in particular, the sinkerballer has given up more fly balls and line drives than ground balls. He suffered his first multi-homer game at home since a Sunday night loss to the Rays on July 4 weekend.
"To me, the K.C. start, I didn't have a whole lot in that game," Porcello said. "That was basically the result. I was leaving the ball up and I didn't feel great that game. Tonight I felt pretty good.
"I think it's just a product of being up in the zone a little bit. They're able to lift the ball. I have the get back to getting the ball down, getting the sinker down in the zone and getting more ground balls. "
Porcello crossed the 200-inning mark for the first time Sunday, raising questions whether he could be running out of gas. Ausmus said before Friday's game that he didn't see any signs.
"I don't see a huge degradation in his stuff," Ausmus said afterward. "His ball's still sinking. His breaking ball's still good. It's just a matter of location. Like I said, I'm not blind to the fact that it could be related to innings, but we're at a point in the season where we can't not start Rick Porcello today. That's kind of where we're at."
Jason Beck is a reporter for MLB.com. Read Beck's Blog and follow him on Twitter @beckjason. This story was not subject to the approval of Major League Baseball or its clubs.