Sim game, workouts on tap for Nats to stay fresh
Washington has four days between end of regular season, start of NLDS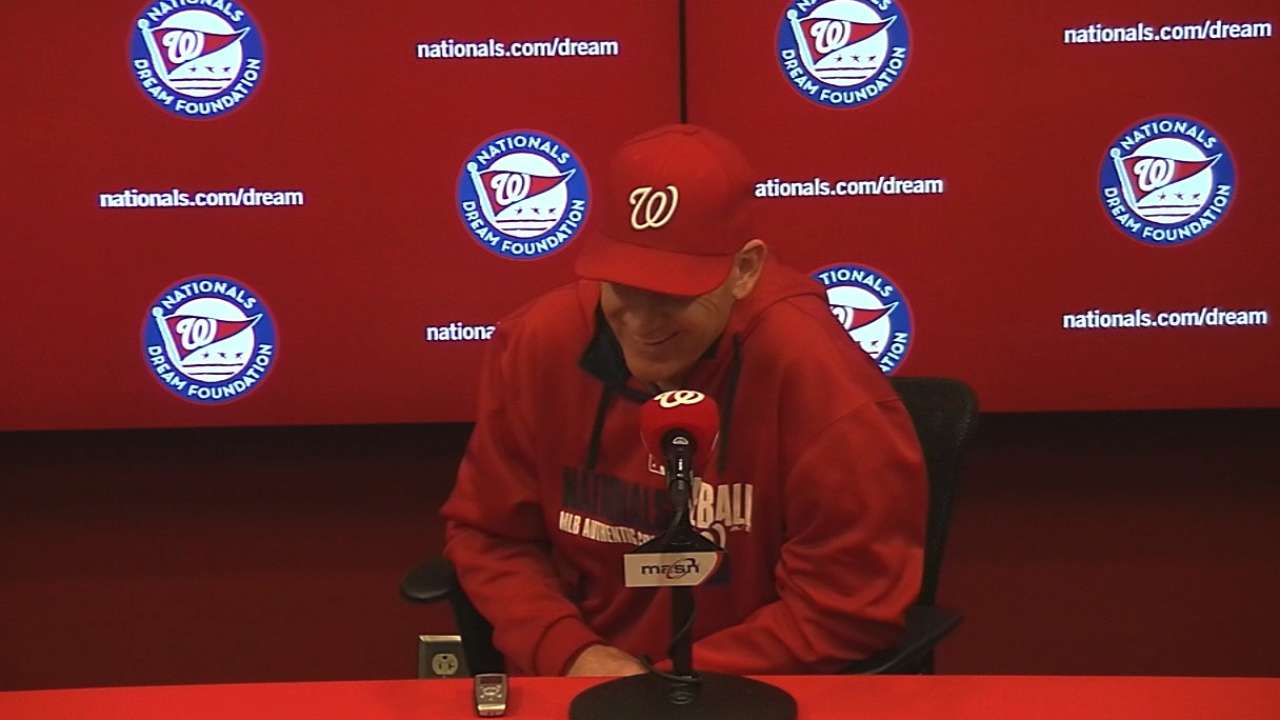 WASHINGTON -- By virtue of winning their division, the Nationals will have a four-day break between Sunday's regular-season finale and next Friday's National League Division Series opener. That schedule provides an opportunity to rest, but also to get rusty.
To combat that, Nats manager Matt Williams is working on a plan to ensure his club is ready for the postseason when it arrives.
"I think it's important for us to concentrate on staying as sharp as possible," he said. "It's difficult, because to create a game situation is difficult. And there's nothing like getting in the game and playing it and having some big, hairy guy throwing 98 mph at you."
While there is no perfect substitute for real game action, especially at playoff intensity, the Nats will do the best they can by setting up an intrasquad or simulated game on one of the off-days. Hitters will get the opportunity to face living pitching and vice versa. Fielders and baserunners will have to react at full speed.
For example, Williams said they could set up a situation with runners on first and second and nobody out. A batter and pitcher would square off, and the play would develop from there, just as it would normally.
"It's beneficial defensively, it's beneficial offensively and running the bases, as well," Williams said. "So just to have [four] days off and do nothing is not smart. So we'll try to simulate those situations as much as possible over one of the days and make sure we can get kind of in game mode."
Williams doesn't know what the exact schedule will look like, but there figures to be at least one day with the simulated game, one with a heavier workout and one with a lighter workout. The Nationals, who finish the season at home against the Marlins, will host Games 1 and 2 of the NLDS.
Andrew Simon is a reporter for MLB.com. Follow him on Twitter @AndrewSimonMLB. This story was not subject to the approval of Major League Baseball or its clubs.